During the wee hours of June 9, 2010, as I waited at the Bangalore International Airport to board my British Airways flight to London, tears poked holes through the napkins in my hand. I kept my head down and let my thoughts wander. In the next few minutes, I would board the first of two flights to get to Philadelphia to be with my beautiful wife – a journey I had been dreaming of for a while. I asked myself, "Why am I so emotional, weeping like a child?" The immediate answer was obvious – leaving behind Dad, Mom, and my brother not knowing when I would see them again.
The sight of children clinging on to their parents at the lounge struck the wrong chord.
As I flew over the dark skies of Bangalore, convinced that there is more to my emotions, I did some soul searching. In the tranquility, my inner eyes met the stare of a lifelong friend. MUSIC! A gift that I was passionate about, a tool to speak my mind. Somewhere in my subconscious, a fear had sunk in; a fear that almost convinced me that my gift belonged to the past and at best, a trigger to some fond memories. As I struggled to get a few minutes of shuteye, memories of hanging out with the guys from the band, playing gigs, and just having a ball flashed through my mind. Like a pianist frantically flipping pages of sheet music to get through a difficult passage. Just then, I heard an inner voice saying "Your gift is going with you." A reminder that my keyboard was safely tucked away in the cargo space of the aircraft.
"Take your gift with you. It's unique. Be a blessing."
I am a firm believer of receiving reassurances from people around, whatever the context be. In this scenario, it came from two people. First, a co-passenger with a small box in his lap. He seemed to care for the box like it was his child. During the course of the flight, I introduced myself and asked him about his musical background. With a warm smile and a European accent, Mike told me that he was a world traveler and a violin virtuoso who pursued a unique desire to jam with local musicians. He then asked if I play music and what my influences were. Before we landed in London, Mike said, "Take your gift with you. It's unique. Be a blessing." I was speechless and had gained a fresh perspective.
Upon landing in Philly, a customs officer saw me with a weird piece of luggage – my keyboard in a flight case. In a baritone voice, he asked, "You a musician?" I nodded my head. He then said, "Have fun. Make some good music." I was elated and couldn't wait to explore what was in store.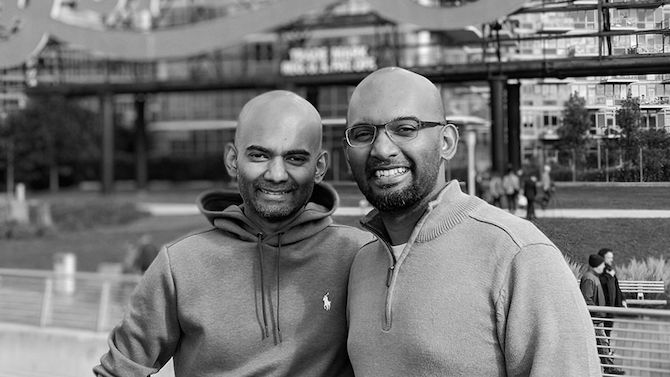 After taking a few months to settle down in the U.S., I began conversations with my brother and a few friends back home on how we can continue to pursue our passion. We were all on the same page; distance shouldn't stop us from creating music together and rocking hard! What birthed from several skype calls and phone conversations was a project that all of us hold close to our hearts – MILES APART.
The vision of Miles Apart is to collaborate with musicians across the world in the pursuit of creating music that will positively impact people.
Passion and technology are a magical duo. Every musician involved in a Miles Apart project would record their musical parts and finally, a sound guru would stitch all the pieces together.
Miles Apart has been able to successfully complete four projects, one of which is a tribute to my Dad. We worked on his lyrics, brought our myriad musical influences to the table, and put together a piece that Dad was able to enjoy and appreciate before he passed. This is my favorite musical accomplishment. If you are open to exploring new music, please check out Miles Apart's website. It even has our first official video that was launched last year!
Do you have a similar story? Is there a gift that you have hidden away for some reason? Please share your thoughts.
"Fuel your gift with some passion and you will see magic."