On May 27th, millions of Americans will take time off for solemn observance of Memorial Day to reflect on the selfless sacrifices of our fallen heroes. Meanwhile, the retail industry is too busy reflecting on how to lure consumers into shopping sprees. But this sacred military holiday is all about remembrance of the nation's deceased wartime veterans, not remembering to partake in retail sales extravaganzas. Yet it's almost impossible to escape the ubiquitous Memorial Day ads and commercials. They appear everywhere, from traditional media to social media — from TV, radio, and newspapers to Facebook, Instagram and Twitter.
Fact: more than one million Americans have died in military service since the Civil War, according to the U.S. Census Bureau.
"Memorial Day, originally called Decoration Day, is a day of remembrance for those who died in service to their country," says the Census Bureau. "The holiday was officially proclaimed in 1868 to honor Union and Confederate soldiers and was expanded after World War I to honor those who died in all wars."
That's why retailers should be more focused on the historic significance of Memorial Day, rather than ringing up cash registers to maximize profits.
It's a troubling trend that commercialism continues to cast a cloud over the true meaning of Memorial Day. This sets a bad example for our nation's youth, too many of whom are already obsessed with the latest high-tech smart devices and gadgets on any given day of the week. But young people should be encouraged to sacrifice just one day of the entire year to honor those in the military who made the ultimate sacrifice for America…with their lives. Materialism and consumer spending should not take precedence over paying tribute to military lives lost, especially on the year's most sacred holiday for the U.S. Armed Services.
Retailers' love affair with promotions and profits are anathema to the core values of the U.S. military, such as honor, respect, self-sacrifice and love of country.
Vacuous Values
The multi-billion dollar retail industry should be more mindful of the military on Memorial Day. Nevertheless, the retail sector continues to send the wrong message year after year by using revered military holidays to boost sales and profits.
The real message of Memorial Day is showing remembrance and gratitude for military lives lost worldwide in defense of American democracy.
But don't tell that to the retail industry, which will use any excuse to make money. Examples include Memorial Day car and travel deals, mattress, and appliance discounts, and a host of other superficial sales representing vacuous values.
According to Ad Week, "The average consumer will spend nearly $500 at retailers over the Memorial Day weekend."
American patriots did not die for their nation so that consumers could pay less at shopping malls and car dealerships. Our fallen heroes deserve more than callous commercialism to honor their selfless sacrifices.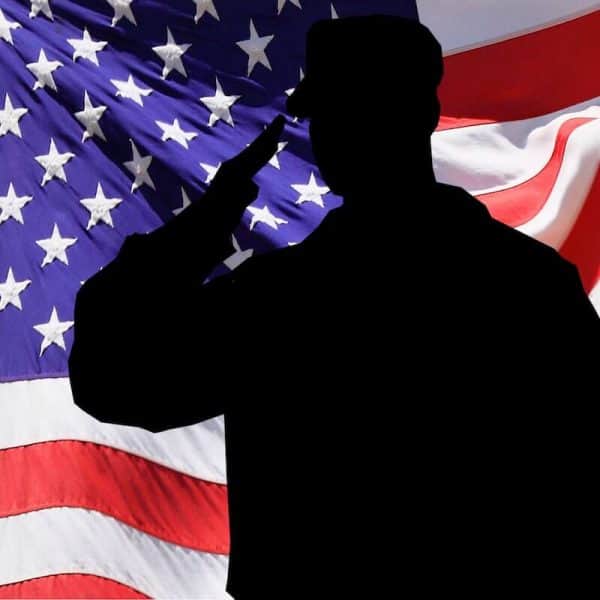 The U.S. Department of Veterans Affairs reminds us:
"To ensure the sacrifices of America's fallen heroes are never forgotten, in December 2000, the U.S. Congress passed and the president signed into law The National Moment of Remembrance Act, P.L. 106–579, creating the White House Commission on the National Moment of Remembrance."
"The commission's charter is to 'encourage the people of the United States to give something back to their country, which provides them so much freedom and opportunity' by encouraging and coordinating commemorations in the United States of Memorial Day and the National Moment of Remembrance."
Instead of engaging in shopping sprees, Americans should put away their wallets and open their hearts by participating in civic events paying homage to our deceased military heroes.
According to the U.S. Department of Defense:
"More than 1,000 Old Guard soldiers were placing flags at Arlington National Cemetery at each headstone and at every column in the Columbarium and niche walls as a part of the annual 'Flags In' ceremony ahead of Memorial Day."
Final Thoughts
Retailers should be more respectful to the military on Memorial Day by ignoring the profit motive and shuttering stores. Is this too much to ask?
The federal government closes. State and local governments close. Public schools close. The U.S. stock market closes. Retailers should close shop too.
The retail sector already launches Memorial Day advertising weeks in advance. Thus, it's time to give consumers a break and to give employees the day off to fully observe this revered military holiday.
Military values lift the spirit of America by exemplifying valor, patriotism and self-sacrifice to foster freedom on a global scale for the greater good. These are timeless lessons from which every generation can learn, especially a new generation of future leaders.
Closing retail stores would allow more Americans to fully participate in Memorial Day parades and other community events. Citizens have a civic duty to honor members of the military lost in battle from the Civil War to the present day. Patriotism should be prevalent on Memorial Day. All Americans should be focused on the infinite debt of gratitude we collectively owe to the immediate families and relatives of the military lives lost — instead of accruing more debt at malls and department store counters.
Let's remember all the war heroes who fought and died for America and the democratic ideals upon which this nation was founded.
Focusing too much time on spending sprees only shows that some citizens take for granted the fundamental freedoms woven into the fabric of American society. Every citizen should take some time on Monday for solemn observance of this sacred national holiday. Again, Memorial Day is a time for remembrance and tribute to the military men and women who lost their lives on the battlefields of history.
Our fallen heroes deserve no less.
Do you agree?