Today we'd like to introduce you to Elizabeth Urabe.
Hi Elizabeth, it's an honor to have you on the platform. Thanks for sharing your story with us – to start, maybe you can share some of your backstories with our readers.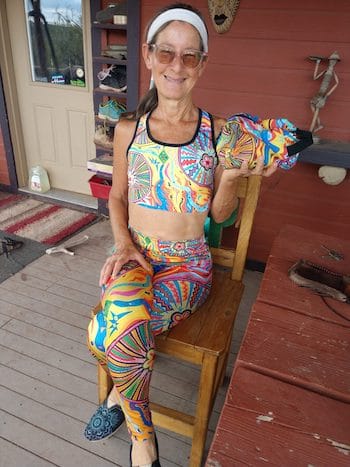 I was born with a strong sense of destiny and purpose. As a child, I never had anything I wanted to be when I grew up, and the only reason I went to college was to have something to do in between high school and pretending that I was ready to be an adult in a world where, truth be told, I'd never felt at home. I'm 61 years old and have never had a "real" job. The only period in my life where there was money to spare and share, I used it to build a retreat on the mountaintop in northern Arizona on the ten acres in front of my cabin. It now sits waiting for the right people to gather here in this sacred space and fulfill their destinies in helping our planet usher in a new age of being with each other and Nature. I'll include the Airbnb link in the comments as I'm only about 3 hours north of Phoenix! I began channeling Urabe Spirit Art, the foundation of my newly launched URABE brand website, in 1995, immediately realizing that something of momentous proportions was happening not just for me personally but globally. Still, I also instinctively knew that both the planet and I needed much more preparation and purification.
About a year ago, I finally started to feel like the URABE butterfly was almost ready to emerge from its cocoon and the website of 800+ divine products, featuring six URABE designs: Multidimensional, Freedom, Spirit Dance, Rainbow Soul, Cascading Grace, and Divine Unity, was put together in only three months. Our collections include ones for men, women, kids, babies, pets, home and living, many fun accessories, and even an eco-friendly organic collection. There is something special for every member of the family.
Here, today, as I watch and wait for more and more people to find their way to my work, I am continuing to walk the fine line between knowing when to act and when to be patient, just a little longer.
Opportunities like this one, to share a piece of my story on the Voyage Phoenix platform, are precious to me. Self-effort and Grace are perfectly balanced in the winged flight of a bird. Innately knowing when to flap and when to glide, its life is simple.
I'm sure you wouldn't say it's been obstacle-free, but so far would you say the journey has been smooth?
The greatest challenge has been learning to get out of my way. I believe that our life's work is akin to being guided to plant seeds but when those seeds sprout and mature is not in our hands. Tremendous faith and devotion are required, and the process is never-ending. One of my biggest challenges has been allowing myself to trust others fully. I've been a giver and a loner for much of my life. But I'm ready to learn how to let people in and receive.
Appreciate you sharing that. What else should we know about what you do?
I call myself a Spirit Art Medium; I began channeling the URABE Spirit Art designs in 1995, with no art training or interest in being an artist. But having lived my whole life in conscious surrender to a Power greater than myself, when the pictures started being born through me, there was no question of trying to resist the tsunamis of creativity that needed embodiment in our world. Because, in essence, what I "do" is translate the invisible, inaudible, intangible energies of other dimensions into a form to which more people can relate and, hopefully, from which receive the divine guidance that will assist them in transforming their lives.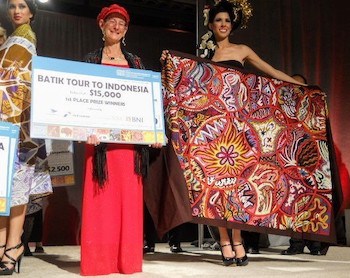 URABE OFFICIAL is destined to be a force for divine good and change the likes of which we've never seen before. Eleven years ago, I won first place in the 2011 American Batik Design Competition with my artwork DIVINE UNITY. That was an experience of unparalleled pride and joy. Today I am proud beyond words of the incredible website of divine products that my team of only two put together in three months.
I look forward to an ever-increasing number of people finding their way to the blessings offered therein. URABE Spirit Art designs are alive with life force. They radiate the Light of Consciousness, and I have no hesitation in stating that they form one of the most powerful reflections of Source energies available to humankind at this point in the evolution of consciousness. What sets me, especially the 800+ products currently for sale on the URABE OFFICIAL website apart, is that I have successfully bridged the gap between the material and spiritual worlds in a way that no one ever has. As a species, we are fast running out of time. People don't have the luxury of taking six-month courses from the countless coaches who claim to be able to help them wake up and heal. The truth is that each of us is already one with Source, and we don't need any long-term instruction from anyone or thing to be able to step up and claim our rightful places as Warriors of the Spirit. URABE specializes in helping us get deep-seated blocks out by the roots, liberating us to do the joyously fulfilling work that our Souls have chosen for us.
Before we let you go, we've got to ask if you have any advice for those just starting.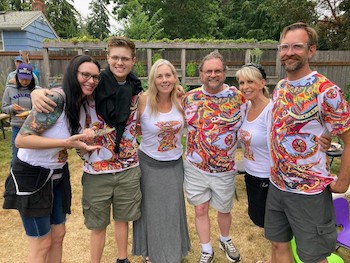 Follow the Command of the Heart and (learn to) ignore any voices, including your own, that seek to distract or sway you from what you know you were born to do and be. Relax and have fun. Realize that you are an Eternal spiritual Being in a temporal physical form and seek to uncover the highest Soul purpose for your incarnation at this point in the evolution of consciousness. Success and failure are just flip sides of the same coin, so if you can learn not to take yourself or the process too seriously, you'll be much more likely to get results that benefit you and countless others.
Contact Info:
Originally appeared in VoyagerPhoenix Magazine