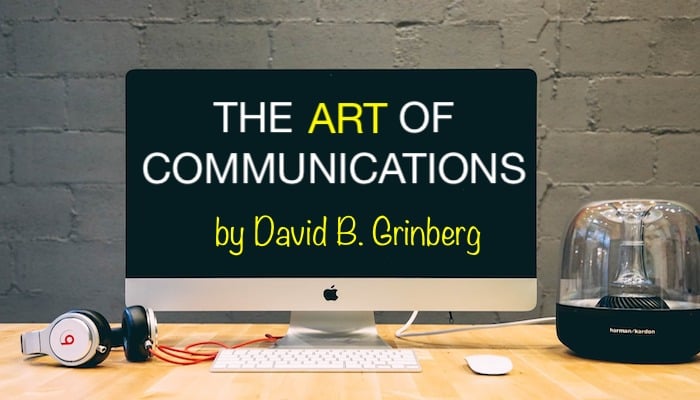 Personalizing relations = positive press
In my early 20s, I worked on Bill Clinton's presidential campaign straight out of college. Back then, campaign manager James Carville coined a now-famous political phrase which was prominently posted on the wall of campaign headquarters in Little Rock, Arkansas. Carville's goal was to make the campaign's core theme clear to staff internally to centralize messaging externally and get voters to the polls on election day. The three words he used are now well-known in the annals of modern political history:
The economy, stupid!
–James Carville
Carville's pithy yet cogent one-liner resonated among staff and, more importantly, was embraced by middle-class voters who helped propel a once-obscure Arkansas governor into the White House.
EDITOR'S NOTE: ENJOY PART 1 OF THIS SERIES BELOW:
Mastering Media Relations (Part 1) – Striking Appropriate Balance
In a similar manner, when it comes to mastering the art of media relations remember this maxim:
The relationship, stupid!
What sounds so obvious is often so misunderstood and undervalued by today's professional communicators. This is especially true among younger generations of PR practitioners, too many of whom are obsessed by social media alone. They always appear to have a closer relationship with their smart devices than with actual journalists.
Social Media Obsessed
In short, it's my observation that most Millennials and Gen Z communicators are too reliant on electronic means alone in disseminating information to the news media. This makes sense on a macro level because Gens Y and Z were born into the 21st-century high-tech Information Age with smartphones as veritable appendages. Therefore, many young people are addicted to social media and smart devices while lacking the "soft skills" which are integral aspects of communication in any profession
To wit: The Pew Research Center found in a January 2018 study that, "Younger adults are at the vanguard of the constantly connected: Roughly four-in-ten 18- to 29-year-olds (39%) now go online almost constantly and 49% go online multiple times per day." I wonder what a study would show about the rate of young PR folks who take the time to reach out to journalists in person by literally meeting the press. I'm guessing those statistics would be dismally low, to the detriment of maximizing media relations and excelling in the crowded PR space.
To reiterate what I wrote in my prior article here on March 17 (How to Tame the 'Media Beast' in Today's Wild West News World):
"The signs all point to younger generations being obsessed by social media alone. This can be problematic from a PR perspective."
"Despite the ubiquitous nature of social media, it's vital to strike the appropriate balance of leveraging new and old media — which are not mutually exclusive."
"Obtaining positive press today is about more than just social media marketing. Old-school media relations can still pay dividends in terms of favorable coverage in a volatile news environment."
Humanizing It
Now you might be wondering what steps to take in order to ace the art of media relations? "Humanizing it" is the first part of a 3-step process. Any veteran communicator will admit that it's not always easy to befriend the so-called Media Beast, much less tame it. Some reporters can be disagreeable and difficult. Others may look down on PR practitioners as untrustworthy "flacks" (a term referring to military flack jackets worn to protect against incoming enemy fire). Regardless of age, all generations of communicators need to be mindful of the human element in media relations.
Thus, I'm issuing a clarion call to my fellow communicators of every age who want to improve media relations and obtain more positive press: Try humanizing it!
Perhaps the human element is even more relevant today than ever, despite conventional wisdom to the contrary. The reason is that fewer PR pros appear to be honing this critically important skill. Thus, I'm issuing a clarion call to my fellow communicators of every age who want to improve media relations and obtain more positive press: Try humanizing it! Fostering mutually beneficial relationships with key journalists is an integral aspect of any effective PR or communications strategy. This should be obvious to anyone in these industries. Hence, the word "relations" after "media" to encapsulate the term's significance. Maybe there will always be generational differences in strategic communications in today's mobile, digital and virtual world of news consumption. Nevertheless, practicing effective media relations always involves outreach on a professional and personal level to those in the media with whom you regularly interact.
Forge Positive Relationships
First, always recognize that people are the key to successful communications. Moreover, it's crucial to comprehend that journalists are people too, despite their historically low approval ratings in public opinion polls and how they are depicted in popular culture. That's why if your job entails mastering media relations, it's wise to ask yourself these two vital questions and ponder the answers:
1) How much do I know about journalists who cover my company?
2) How do I ensure that media relations are non-adversarial and, hopefully, mutually beneficial?
The answers can reflect your ultimate PR success or failure to a considerable extent. Thus, a good place to start in maximizing media relations is by proactively forging positive relationships with reporters. This common sense practical advice should be a "no-brainer" by now. Yet there's nothing commonplace about today's fluid media landscape driven by digital transformation and advances in new technology (like artificial intelligence and virtual reality).
Forget about the "us versus them" mentality. Rather, get out of the trenches and meet reporters face-to-face instead of just on Facebook.
The news media continues to evolve in unforeseen ways. But, as the saying goes, sometimes "what's old is new." And even new media can be positively impacted by employing an old-school method that remains central to enhancing media relations: the relationship, stupid! Specifically, try getting to know journalists on a basic human level. This goes a long way toward building mutual respect, goodwill, and trust — all of which are essential parts of any good relationship. Forget about the "us versus them" mentality. Rather, get out of the trenches and meet reporters face-to-face instead of just on Facebook. Don't rely on social media and electronic communications alone. This approach can come across as too generic, routine and even insulting to some journalists with fragile egos.
I recall one reporter with the Associated Press telling me that he deletes all emails and texts from PR types unless they are personally addressed to him. Think about this the next time you hit the "send" button to issue a news release via an email blast. The magic in the approach of personalizing media relations is that it will stand out and separate you from others because it's so rare today. Further, it can't be underestimated how much journalists appreciate such attention from the organizations they cover. No professional wants to feel as if they're just another cog in a wheel. Most people yearn for recognition and a feeling of self-importance. This includes members of the media who must work with breakneck speed in a competitive and backstabbing 24/7 news environment.
Silencing Stereotypes
It's important to recognize that most journalists are decent people. They don't all fall into the typical stereotype of junkyard dogs intent on mauling you and your company's brand image. Further, most journalists are more than merely TV "talking heads" or bylines on a page. They are real people who deserve sincere respect and recognition for a job well done (as warranted and appropriate).
When a reporter does a good job, let him or her know. Ditto that when errors are made or clarifications are needed to balance out a story. But don't be a constant complainer to reporters with whom you interact because you don't think a story is perfect.
Also, don't contact a reporter's editor to castigate them unless absolutely necessary for egregious errors which aren't corrected in major stories. Rather, keep your "powder dry" for the times it really counts. I once made the rookie mistake of sending a nasty email to the editor of a publication because the reporter's conduct was unprofessional and inflammatory. So what do you think happened next? The editor sent back an email to me defending the reporter — like most good managers do to support their team — but he also made sure to copy the head of my organization. This is extra drama that nobody needs. Thus, choose your battles carefully and try not to burn bridges. Likewise, it's important for journalists to comprehend that professional communicators are more than just robotic mouthpieces trying to exert spin control over a story.