"Ours is not the task of fixing the entire world all at once, but of stretching out to mend the part of the world that is within our reach."
—Clarissa Pinkola Estes



C

an two words on a card and a simple gesture change two lives: the life of the person who gets the card and the person who gives it?
Yes, it can.
It's happening every day.
Last November I launched the You Matter Marathon – No Running Required – to create and enrich positive connections between people and within communities. 14,300 people from 50 states and 59 countries participated — they shared almost half-a-million business-sized cards with the words, "You Matter."
That was all.
Nothing more
You Matter.
Each individual who signed-up for the You Matter Marathon received 30-free You Matter cards to share during November.
The results are astounding: 61% of participants reported they gained a greater sense of gratitude and stronger connection with others. 51% felt more compassion for others, and 50% became happier.
This year we are determined to double our collective impact by sharing 1 Million You Matter cards during November.
We can do it.
These thoughts from two participants: "A card. A conversation. A connection. Is it really this simple? With every interaction, I continue to be no less amazed that two words, printed on a card, can have such a life-changing effect."
"In 42 years of practice, You Matter Marathon has been the most important, significant thing we have done."
The first You Matter Marathon was magical. With your help, we can spread even more magic.
You Matter.
[message type="custom" width="100%" start_color="#F0F0F0 " end_color="#F0F0F0 " border="#BBBBBB" color="#333333″]
3 WAYS TO CONTRIBUTE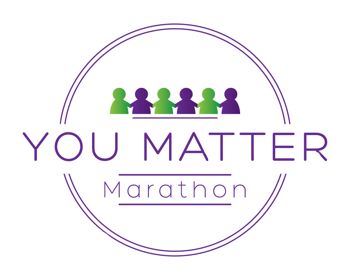 Donate

today! The more people who donate today, the greater our Campaign visibility!


Share our campaign with your friends on social media. Use this

link

, then click on the "Share on Facebook" button.

If you know or belong to an organization that values the You Matter message and might like to be a corporate sponsor, click

h

ere to learn of our sponsorship levels and incentives.
[/message]