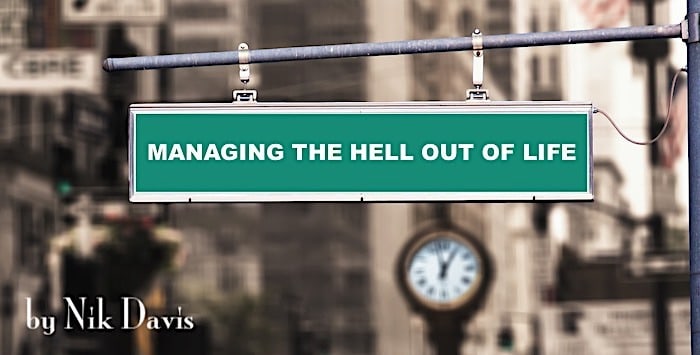 Catching people before they fall
I was out shopping with my children today. We walked past an elderly gentleman. I looked back, he had fallen, heavily on the floor.  I dropped my bags and ran back to help. The children followed, they know the drill. If someone needs help we go.
He was ok, we got a chair from the shop opposite to sit him on and luckily no major damage has been caused. His knee had simply given way whilst he was trying to walk.  His wife was there and holding my arm said: "thank you so much to everyone for all of your help". Her vulnerability and relief at the support and compassion of strangers was palpable. But it made me think, let's not wait for someone to fall in life before stepping in and let's not fall in life before asking for help.
EDITOR'S NOTE: SEE PART 6 AND PRIOR IN THIS AMAZING SERIES BELOW
Today was a good day, we got to help someone when they needed it.  It would be great to a achieve that every day.  That's a KPI I can work to.
Fear versus trust
A couple of thoughts on fear versus trust.  One is finite the other infinite.  One grows stagnant whilst the other flows. One becomes too full to allow anything or anyone in whilst the other always has room.  It doesn't have to be a 'leap of faith' choosing trust over fear, it can just be common sense.
Passion and purpose
I read a lot about finding your passion and your purpose in life. I may be atypical but I don't think it's that easy.  You don't just wake up one day and 'get it' nor do I believe that it's one constant thing throughout your life.  For me, Mother Nature, fate, reality whatever you what to call it has generally had to step in as I've been too blinkered, suborn and afraid of change to follow the signs. Somewhat ironic given my career in transformation but as the saying goes 'the cobblers children never have any shoes'. It has only been in the face of adversity that I finally get 'something', see a purpose and have allowed myself to feel and escape into a passion.
So, I guess it's not about waiting for a eureka moment, a revolution, finding a quick fix or being saved. It's just not going to happen and if it does it won't be sustainable. Just like crash diets ultimately fail so will a life without genuine intent and truth.
I think it's about:
Embracing life, both the good and the bad
Being open-minded and curious
Being patient
Following your gut instinct
Being brave enough to stick with your instinct no matter what conventional wisdom tells you
I haven't crashed and burned yet despite a few close calls so maybe there is something in this.
Presenting who you really are
I've changed my LinkedIn profile. I changed it because I don't want to present an 'airbrushed' version of my 'best self'. I want to present my true self. I decided to do this because I realised that I will not attract people with whom I can make a real connection or find 'my tribe' if I do not present my authentic self.
So I've taken out many of the professional buzzwords that people often search for and replaced them with words that more honestly represent who I am, what I am interested in and what I do. Again, it's not a classic career move but one that gives me a better chance of meeting people who I can truly learn from, share my journey and hopefully also help them on theirs. Let's re-define success based on who we really are not who other people think you should be.
The irony of life
The irony of life. It's all about reverse engineering. Upside down. Arse about face. Whatever description or metaphor you choose, it's an inverse relationship.
The beauty is always in the imperfection.
I only started to appreciate life when I saw others lose theirs.
I only started to accumulate real wealth when I reached my credit card limits
I only experienced authentic relationships when I was too vulnerable to make any
I only understood the impact of my actions when I looked at the scars inflicted on me by others
I only understood my value when I admitted my failings
I only worked out how to do something by getting it wrong in the first place
I only learnt how to be truly sorry when others couldn't forgive me
I'm not 'there', I'll never be 'there' but now that I can accept that, I can focus on what is within my gift not outside of it.