Let's change our reality
In public we only share a small portion of ourselves, let's say 25% which represents the good bits we want people to see. That creates false illusions and unrealistic standards. Even with family and friends, I suspect we still only share around 50% of ourselves, the good and the wobbly bits.
EDITOR'S NOTE: SEE PART 3 AND PRIOR IN THIS AMAZING SERIES BELOW:
That can create mid-understandings and confusion in situations and around responses. It is only with ourselves that we share 100% and sometimes, even then, we lie to ourselves. That creates loneliness, isolation and a feeling of being lost. What if we can change reality by simply showing all of ourselves. Showing that it's ok not to be ok. Tackling shame by shining a light on it and meeting it head-on with empathy and acceptance. Shatter our guilt by turning it into a lesson. Wouldn't that be a better reality?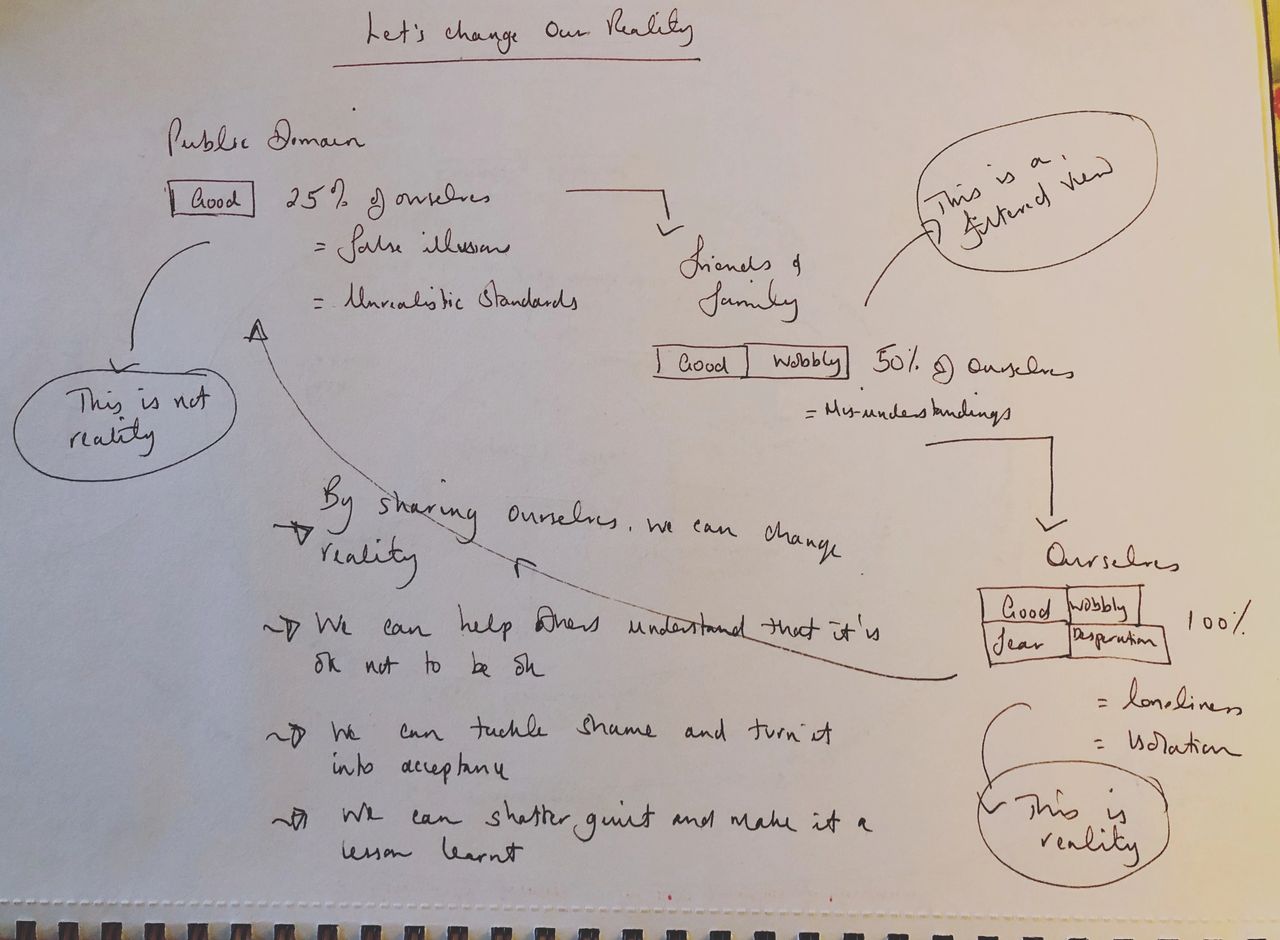 Ego and what people really think
An illustration of the inverse and unhelpful relationship between ego and judgement/people's perception. An ego has an insatiable appetite for praise and attention. It also has an over-active, paranoid imagination of what it thinks other people are thinking. People spend far less time and energy thinking about us than we imagine. There is so much wasted space, time and energy in the middle. The only things that truly matter are what you actually need (not want) from the outside world, what you think of yourself and what the people that matter think of you – which by definition is good as it will come from love, empathy, and compassion. Just think how much more time we would have if we only focused on the 2 circles at either end of the spectrums!
There is only one thing worse than having yourself judged and that is having no self to judge.

–Nik Davis
There is only one thing in life worse than being talked about and that is not being talked about

–Oscar Wilde
We can apply the same principle to the sharing of ourselves. Without connecting with each other through empathy and vulnerability, how on earth do we move forward as a human race?
How can we create new knowledge without learning from and sharing with others?
How can we develop relationships without stepping out and saying hello?
How can we understand and help others without listening to them?
How can we mend what is broken if we don't acknowledge that it is so?
So, taking Oscar Wilde as a starting point " there is only one thing worse than having yourself judged and that is having no self". Don't let the fear of what people may or may not think of you stop you contributing your value to a world much in need of brave new thoughts, compassion, and understanding.
Work versus life balance
I do not believe we need to resolve the conflict between work v life balance. I do believe we need to re-define work in order to remove the artificial boundary between the two.
Simply put, we have a life to live and to make the best off given the hand we are dealt. Work may be a large or small part of that. What matters is whether work can add to the purpose and value in our life. If it can then the conflict no longer exists.