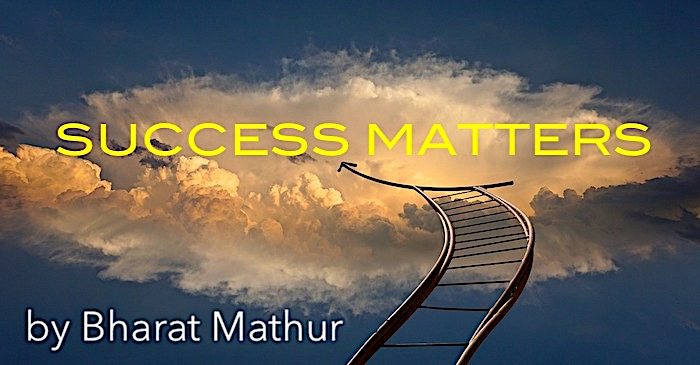 "Winners compare their achievements with their goals, while losers compare their achievements with those of other people."
–Nido Qubein, the well-recognized Lebanese-born American Author, Public Speaker par excellence, Entrepreneur, and Philanthropist.
Fortunately for me, the goals that I got into the habit of setting at a pretty early stage of my career, kept steering me through vicious storms that life has a habit of throwing at us from all directions. What I did differently, of my own choice, was to use these goals as stepping stones to higher targets.
Why would I do that, you may ask, instead of merely setting higher goals. Well, the answer lies in one's perception. If you have ever climbed stairs of any kind, and I am sure you have, you already know the process of climbing up step-by-step. Even if you took an elevator or an escalator for that matter, it would always go up inch-by-inch to bring you to the desired floor. No doubt, it shall be much faster though. I used the same principle to fulfill my life's objectives in a constantly trackable fashion.
Well, you may not want to know about my life, and that is fine by me. Why should you read it anyways? I am no celebrity, no Billionaire, not even a philanthropist doling out charities for the asking. So, who am I? I am just a simpleton like most common, run-of-the-mill people, or a Joe Blow, as the term goes in the U.S. However, I have one particularly invaluable gift I could share ONLY with the most discerning, the outstandingly sagacious Readers, Writers, Thinkers, and Change-makers reading this post. Please go on a few more lines, and you will find it, not hidden, I promise.
'What Price Success?' It is a time-honored phrase that demands sacrifice from those seeking daring enough to venture on this path. It does not mean you must leave your house and go to the forest to meditate or spend 6 hours a day practicing 'Yoga.' No, it demands an internal make-over, a change in the way you think, act, and interact with others. You may need to take a closer look at how you relax, the amount of respect you give others in your communication, the way you plan and execute your strategies, and so on and so forth.
Since times immemorial, sages on their stages, personality development gurus, globally recognized motivational speakers, coaches, and a host of other experts have left no stones unturned to enrich us with guiding principles of SUCCESS. They may not all agree on the same thing, all the time. However, they have all propounded a few fundamental theories that can help us determine what to do with our ambitions, plans, goals, and targets.
No matter where in the world you go, there is always some expert holding a large seminar, training camp or retreat to teach the less than successful attendees an easy way or two to make their millions within the next few years. How many of these people succeed, even after attending hundreds of these sessions is anybody's guess.
No matter where in the world you go, there is always some expert holding a large seminar, training camp or retreat to teach the less than successful attendees an easy way or two to make their millions within the next few years. How many of these people succeed, even after attending hundreds of these sessions is anybody's guess. The only person ever known to make the mega-bucks is the Speaker, supported by his super-articulate marketing machinery that pulls in these scapegoats and helps them lose their money in a 'heads I win, tails you lose' scenario.
The situation gets out of hand when laws of human interaction take over and make these gullible attendees forget most of the lecture even before they exit the large Convention Hall with its expensive chandeliers, ornate light fittings & fixtures, and the ultra-comfy chairs.
It is not my intention to show disrespect to anyone by any means. However, the point revolves around the real aim of the convention by itself. Is it possible to gauge the actual development of the attendees measurably?
In most cases, unfortunately, the only takeaway is to keep attending such events at frequent intervals to keep the momentum going. They equate such gatherings to the same significance in life as taking a shower every day to stay fresh. Do you agree? Sorry, I do not, and I say it categorically!
Unfortunately, I do not feel confident enough to claim my membership in the above group of the intelligentsia.
What makes me say that? Because, I am a "Guide by Your Side, Not a Sage on the Stage ©!"
Taking a shower is a matter of personal hygiene. Motivation, on the other hand, is something inborn and demands careful nurturing in tune with an individual's circumstances and goals. It requires introspection, self-realization, all-around assessment Vis-à-Vis possibilities, and opportunities. You can only get genuinely motivated upon setting a goal, no matter how ludicrous, but there must be a goal for you to chart a course.
As you take steps towards your goal, motivation starts taking roots. There can never be any motivation in the absence of a target to achieve. Compare this scenario to taking a bath and what do you get other than feeling fresh? Well, I leave it to your better judgment!
Right momentum comes in life by changing our perception and acting differently. It gets nourishment by our accountability so we could make necessary adjustments at the nick of time. It brings rewards when we overcome challenges and forge ahead.
Here is the gift I promised earlier: It comes to you in the shape of my real-life experiences that can provide both guidance and inspiration to anyone willing to go beyond the norm:
Just like anyone else, I have also experienced many extremely challenging, ultra-formidable and unimaginatively tricky situations in my career-building efforts. Due to the compelling lessons from my early life Mentors, including my parents and my maternal Grand Father, I managed to not only survive but also thrive.
I practiced an uncompromised focus on the ultimate target. It is my personal belief that re-aligning your goals is much more comfortable than to abandon them altogether in the face of difficulties. So long as the target remains your objective, you can find your ways to forge ahead. What if it takes a year or two longer to get there? Each goal you achieve on this road helps you recalibrate the journey.
It makes entirely no sense to keep working hard without a firm determination of where you are, where you intend to go, and how you will get there, without a roadmap, without a compass, and without a guide. It is a universally acknowledged fact that action without planning is no better than inaction.
Who am I to tell you how you should live your life?
Why do you do things that you need to look back upon and regret?
When exactly is a good time for you to decide what you should do in a given situation?
What makes you think you have every right not to face the consequences of your actions or lack thereof?
Where can you find answers to some of the challenging questions that you face in your life because of others' actions?
In my struggle for survival, I had to devise plans on an almost daily basis and then adjust them per the need of a given situation. In the process, I learned how to be resilient,  and to maintain my creative bent of mind at all times. No doubt, I juggled through many a challenging situation to be always goal-oriented, and to take all 'no's as thorns in a rose bush.
Adversity taught me some of the most important lessons in life, not because I was a gifted child, not because I was looking for ways out of stressful situations, also not because I was a meritorious student. On the contrary, I had no choice but to learn all those lessons.
My family situation did not permit me any luxuries with 'time,' the most precious, and irreplaceable resource Mother Nature has given us. My father was the sole bread-winner feeding a family of nine of his own. Not only that he also took care of his father, i.e., my Paternal Grand Father who was bedridden due to a stroke of paralysis.
Another thing I did differently was learning from the mistakes of others. Born the youngest of seven, I had the unique distinction of observing the antics, the habits, the mistakes, and the good deeds of my older siblings. That was a bonus on top of the guidance from my parents and others outside of the immediate family. The mistakes they did worked to my advantage. They helped me avoid a lot of aggravation and disappointment as I could change my course before hitting any roadblocks.
I never allowed defeats, failures, challenges, and negativity of the surrounding naysayers stick to me. I kept forging ahead, same as a valiant soldier with the 'Motto of Life' engraved on his forehead: "Keep Forging Ahead, Victory Shall Soon Find You!"
I learned how to Dream lofty dreams and then wrote them down. I took yet another crucial step in sharing the same with one or two others whom I dearly loved, liked or respected. What made me do that? I wanted to become answerable. You see, just writing down the goal is not the 'Mantra' by itself. Hold yourself accountable to someone else!
I learned to keep track of my surroundings with the intention to identify what I liked the most about it. I always took note of what I disliked, but that was not the end of it; I worked at finding the ways and means to make it likable. It helped me analyze what change I would like to see in there and what is it that I can change myself without depending on others
I made every possible effort to identify the route map that would take me to my goal with least possible resistance
I laid bare and critically analyzed my inventory of the tools that I might require on this long and arduous journey and what else could be useful past the point of no return
Most important of all, I reposed complete faith in my guide who had been there and accomplished an almost exact feat not once, not twice but many times and with astounding success each time!
'Fortunate are those that have great guides; successful is the one that follows them to the 'T'!
TRY IT; WHO KNOWS YOU MIGHT LIKE IT!