If I am not allowed to laugh in heaven, I don't want to go there.

~ Martin Luther
It takes a community to raise consciousness. In this time of wondering, worrying, wandering, and warrioring for a new sensibility about home and place in challenging times, we can use, quiet spaces to take a breather – little refuges from the intense winds of calamity, where we ponder more reflective questions.
Questions like: "What could possibly bring a smile to my lips?" 
The ability to smile holds the key to healing humour, this is key to healing humour, the kind of humour attitude Susan has dedicated herself to archiving, cultivating, elevating, and instilling in herself and all those she comes into contact with. A humour attitude can include multiple sorts: of humour: Exaggeration, irony, verbal, visual, auditory, physical, healing, you-had-to-be-there, and magic? Which does she prefer? Those who know her, know her response – "All of them please, all of them, from a subtle smile to a belly laugh – that-brings-tears-to-my eyes-and a snort-to-my-nose!!"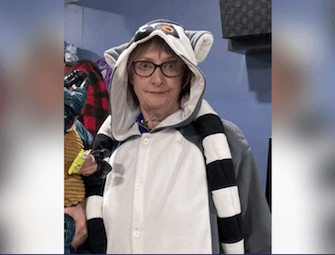 Who is Susan Sneath? (aka the Halloween Lemur)
As you know by now, Susan Sneath is really very quiet and subdued…when she sleeps! When she's awake she takes the business of humour very seriously – she loves to laugh.  A Healing Humour Attitude is the kind she devotes herself to, because it helps us all remember that life is never quite as serious as we might suppose and yet more precious than we ever dare take for granted for an instant.
Points covered in this episode – seriously!
How putting a humor attitude to work in our lives can mean to…
1 – Be open-minded, playful, and/or to create an atmosphere that brings a smile to your lips and releases tension
2 – Make someone's day
3 – Be a productive, resourceful leader, present for yourself and others
4 – Proactively choose your attitude and style of communication
As the saying goes: "Remember If you can find humour in anything, you can survive it."