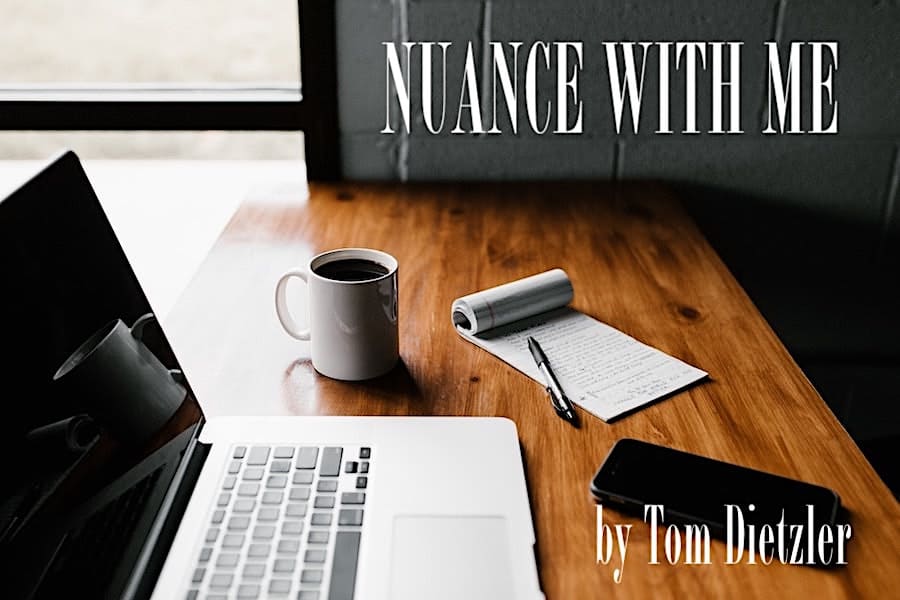 There was an interesting discussion on the radio the other day. I still listen to over the air radio in my car. When I walk around the neighborhood with my buddy, Oliver, chances are my wireless headphones are in and I am listening to some smart, funny, inspiring people on a podcast. In the car, it's music, information, sometimes sports. I heard one of the speakers on this radio program say this, and I am paraphrasing:
Certain people with certain beliefs are good people who have bad ideas, and I disagree with those ideas, but do not devalue their humanity because of their beliefs. Other people seem to believe that people who align themselves with certain beliefs, ideologies, or ideas are bad people and have little or no value as human beings.
Whew, read that over a few times. Fully digest it and be prepared to react to that. It's one of the things that has got me so enamored about the platform BizCatalyst 360° that Dennis Pitocco has put together. The big tent that we all sit under holds many people who hold many beliefs, expound on many topics, have many different experiences, come from different cultures, different backgrounds, many nationalities – you name it… See how many times I used the words "many" and "different?"
Please don't take me to be a suck-up. Dennis Pitocco does not need me to sing the praises of BC 360° for it to excel. I'm only one head under the tent. There are people under that tent with whom I disagree, imagine that. Sometimes I read their pieces just so that I can reinforce my belief that I disagree with them. It's not my thing, usually, to chime in on posts where I am in disagreement, unless I think that I can cogently, concisely, and clearly make a point that is relative to what the writer is sharing. But I love it when someone disagrees with me, challenges me, and gives me pause and cause to defend or better explain what I am talking about.
It's not new to feel that we can disagree without being disagreeable. My very first mentor in life shared that with me, and I will never forget it. I wish that I would always be able to follow that, but as a fallible, human, human being, I ain't perfect. That does tick me off, but I also know that it provides entertainment to my fellow humans.
Of course, I can't tiptoe through these tulips without applying BC 360° and this discussion of disagreement without applying it to our wider culture.
If we are going to dismiss those with whom we disagree to the scrap heap and assign them status outside of humanity, how soon until we are all yammering in our own echo chambers?
I purposefully, willfully, intentionally expose myself to all kinds of thoughts and discussions, so that I learn more about important topics and see how other people think and how some of these issues impact them.
We don't have to mainline every kind of discussion; you can tailor your listening and reading forays to your interests and your own bandwidth for tolerating disagreement. And we don't have to like or instantly gravitate to what we are reading or hearing… but knowing how other people think, feel and react is not a bad thing. Their feeling different from you does not make them bad people. How long haven't we been mouthing the words "Different does not equal bad."? Isn't it time that we don't immediately follow that with a "But, but, but… what about…?"
Should we get to pick or choose good guys and bad guys in the marketplace of ideas? I remember someone from high school, with whom I had a close friendship with, and he told me about exercises that they had to do on the debate team. I wish I had had the wherewithal and self-awareness to be on the debate team. They had to pick laws, philosophies, concepts, whatever, and make a case as strong as possible to their debate teammates. The coach would sometimes make them give a rebuttal to the very case that they just gave arguments about. Imagine if we had to do that in the real world.
Am I advocating that we do like parents do with their kids sometimes? If there is a squabble with a sibling, put them in a room together and they can't come out for a certain length of time… and chances are they will be giggling and finding common ground (maybe even if it's shared camaraderie around their parents' current treatment of them…) in a relatively short amount of time. Not practical, probably, not feasible or likely… but useful, maybe?
I love that Dennis Pitocco and the beautiful community of BC 360° are there for encouragement, sharing of ideas, educating one another, offering support, fellowship, and entertainment.
The bylaws don't call for everyone to be in lockstep agreement on all issues, what point would there be in that? The expectation that exists for all of us is that we show respect, dignity and honor everyone with equal regard to everyone's humanity. Is that so hard?
Now, go back up near the beginning, and if you took nothing else from my thought orgy here, please react to that statement, in the highlighted quote between the apostrophes in the second paragraph. No bickering or name-calling or you're in the room with your sister until you can act nice…