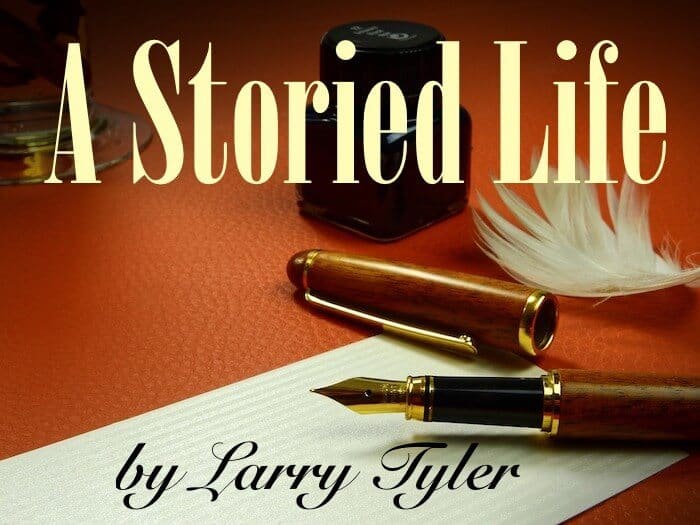 I often wonder why these four short words always sounded sinister to me.  When my sister told us these kinds of stories she would set the mood.  We would put blankets on the floor and light candles.  She would get us to sit still and listen to the silence.  She would wait until she was sure that we were listening and start with a quiet almost whispering sinister voice, "Legend has it that …".  These stories usually took us down a scary path where fearful things happen.  They usually involved darkness, old deserted houses, and lonely old people.  She would take us on a journey that involved facing our fears and in the end finding our courage.
Facing Your Fears, Part Three
There were four frightening events that happened in my life when I was very young.  They forever changed the way I lived my life going forward.  Like the legends of old the stories' outcomes are about facing fear and finding the way to walk life's path with courage and confidence.  I call these stories The Four Faces of Fear.  This is part three of my journey beyond fear.
Legend has it that In a distant land it was said that the people could be cruel and it was not safe there to be different.
The fear in my heart was like standing on the edge of the abyss and feeling the wind tearing at your clothing, the darkness, black like a night without the moon or the stars.  I faced a great unknown without even a glimpse or idea as to what may be there.
Daddy had told me at breakfast that we had to leave the farm and move to Myrtle Beach.  I had spent most of my childhood here on the farm.  I knew the forest, the fields, all the smells and sounds of my world.  I knew what was safe and what was harmful.  I knew what I could trust and what not to trust.  Could it really be true that we were leaving our home and friends?
Mom and Dad were loading everything we owned onto a big truck that his new job had given him to move us with.  The hardest part was leaving my dog with my cousins because Daddy said she was a country dog and would not be happy in the city.  She had been my faithful companion on all my adventures.  Now I had to go on my greatest adventure without her.
The fear I felt was a living thing.  Daddy was upset because I wasn't excited.  Mom was upset because I had upset Daddy.  My sister had been staying at the beach working in the summer to help make ends meet.  Her excitement, of course, came from being a teenager living and working on her own. At six I was too young to get excited about leaving my world behind.  All I knew was that I had stepped into that dark abyss.
We got moved into our new home and it was the first time in my life that I had seen an air conditioner.  We had a fenced yard that I immediately turned it into a fort and Daddy had built me a tree house and it had a tire swing.  So maybe it would be okay here.  Daddy had gotten me a new bike to ride to school.
The next day I proudly rode my bike to school and parked it at the bike stand.  I saw lots of kids playing and even though I was very uncertain I walked over to the boys playing baseball.  I was pretty good at that so I thought I could play and make friends.  As I walked over they all started laughing and calling me farmer brown, and country hick.  They pounced on me without mercy throwing me to the ground.  I could taste the dirt as they smashed my face into the sand.  I fought for a while getting a few good licks in.  I was not a stranger to a fight, but I was vastly outnumbered and it seemed funny to everyone but me.  Finally, I gave in to the beating and just let my mind drift away from the pain and hurt.  After a while they got bored.  I had worn overalls, work boots, and a clean white shirt.  They had torn the straps off my overalls, threw my boots into a dumpster and my new white shirt was red with my blood.
They left me there on the ground as the bell rang for class. They were still laughing and making farmer jokes.  I was so afraid that my Dad would be mad that I took a beating.  Finally, I got up and went to my bike and rode home in total shame, a defeat.  Daddy was getting ready for work when I got there and looked at me with concern.  He took a deep breath and said what happened.  I just sat there in silence looking at the floor.
Daddy took me into town and bought me a regular pair of blue jeans, a pair of PF Flyer sneakers and a new button-down collar shirt.  As we rode back to school Daddy was quiet.  I sat outside the principal's office while daddy went in to talk.  As Daddy left he said to me "son, I am proud of you.  You met them boys head on and you never ran."  He smiled and said go back on that baseball field at recess and face them boys again.  Daddy had also bought me a new bat, a glove and baseball hat.  I walked out on that field at recess and everyone wanted to see my glove and bat.  I told one of the boys that I could play or I could fight, makes no difference to me.  He looked at me for a long while and then said you can play on my team.
Point Of View
It was a year of new things.  I had to learn where I fit and how to fit.  I learned that life was not as simple as living on the farm, but I faced my fear and earned the respect and friendship of a lot of new friends, friends that are still friends to this day.  I also discovered the sea and the marshes and the many adventures they held.  I grew a little that day maybe more than a six-year-old should have to grow.
Fear is a crippling feeling.  It is a feeling that we must face if only to conquer it.  That day freed me up to live my life and to walk on that playground knowing that I could walk without fear.  I started another part of my journey that day.  I swore that I would always be strong, be fearless and be a dragon slayer.  I also knew that I would never stand by and let anyone hurt someone because of how they looked or where they came from.  Over the years I have had many opportunities to stand by a friend when they needed me.
Lastly, when I got home from school that day Daddy had a new puppy waiting for me.