I spent a good share of my career in IT (Information Technology) and will never forget the dreaded invitation: You are cordially required to attend an Error Recovery meeting for [insert project name]. Following that announcement was a narrative that detailed the results of a project that didn't go well, and in fact caused other production processes to not go well either. Those meetings were an example of why good problem-solving skills are a critical competency. Dissecting a broken system to determine the root cause of failure is fundamental to moving forward and not letting a setback become a stayback. Beyond business, though, the ability to discern and decide are valuable assets at work and at home.
In this guest post by Nat Greene, author of the book, Stop Guessing: The 9 Behaviors of Great Problems Solvers, Nat shares some key factors in root causes analysis and how to become more proficient at the task.
From Nat Greene:
I've witnessed and worked with major business setbacks both within my own consulting practice and within the organizations that we help. They're a massive challenge and can often leave a business paralyzed with shock. The recovery effort is often painfully mismanaged, but it doesn't have to be.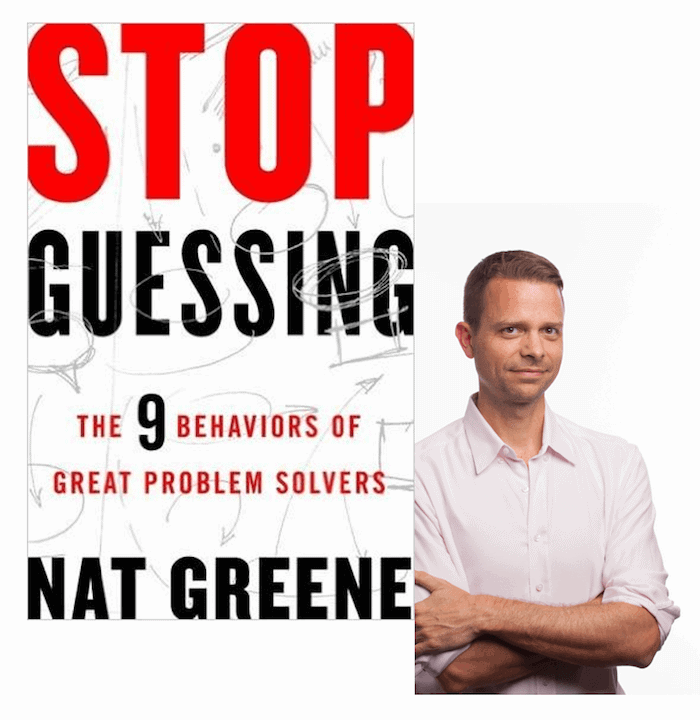 Much has been said about clearly finding and communicating to the business what went wrong, and communicating how to move forward. But even this advice outlines one of the core problems of bouncing back from setbacks: people assume they know what went wrong, and focus their energy on communicating and fixing it. Often, businesses fool themselves into believing they understand the root cause of a setback, only to find much later that their efforts were wasted on fixing the wrong problem. Before getting to work fixing or communicating, make sure you've correctly identified the root cause of the setback.
Stop Copying Others
One of the common first responses to a major setback is to look for deviations from "best practices," or to otherwise look to competitors for advice. If your company has suffered a setback and someone else in the industry hasn't, it can be tempting to believe that acting more like them will lead you to victory. But your business is often very different from your competitors', making copying a far from perfect approach. Even if you could, copying is a path to mediocrity at best and leaves your business vulnerable to your competitor's weak spots.
Don't Jump to Conclusions
After the panic of a setback has eased, business leaders will frequently call meetings to understand what went wrong. Everyone will share their ideas, their narrative, their understanding. But such an exercise is often a collecting of guesses about what the root cause might have been. People will bring their own biases and assumptions into the group's understanding of the setback. It can lead you astray.
Learn the Factors In and Out of Your Control
Most business setbacks are driven by a combination of factors in and out of your business's control. When people try to come up with the causes of their business's misfortunes, the guessing approach often causes them to focus on the external events. This is natural: we think of ourselves as competent and well-intentioned, and naturally tend towards blaming external sources for our problems.
To be able to bounce back from a setback, even if it's influenced by external causes, you need to focus and find the internal levers you can change. This takes you out of being a helpless passenger and puts you in the driver's seat.
Ask Hard Questions and Get to the Ground Truth
The assumptions and narratives that team members have about the setback's root cause need to be rigorously challenged. Think of yourself as a detective first: to solve the problems that led to the setback, you must first find the culprit. Frame your effort as a problem solving one, and apply the right problem-solving behaviors in order to effectively challenge your notions and identify the root cause.
In my own business, we saw a setback due in large part to being too highly concentrated in a few clients and industries–a common place for many service firms. When these industries faltered, many businesses cut their external help budgets first in order to reduce spending.
Instead of stopping there, a leader needs to rigorously understand what got the business to that concentrated position in the first place, or the problem will return. What incentives within the business drove the team to concentrate on a few clients and industries? What aspect of the culture and management structures allowed this to persist? Rigorously investigating such questions will help not only the problem-solving effort but vastly improve your ability to credibly communicate the causes and recovery plan to the business.
Before communicating what went wrong in the business make sure you understand the root cause behind what went wrong. Otherwise, you're likely to have a painful recovery.
---
Nathaniel Greene is the co-founder and current CEO of Stroud International, and author of Stop Guessing: The 9 Behaviors of Great Problem-Solvers. Nat has a Masters of Engineering from Oxford University and studied design, manufacturing, and management at Cambridge University, in addition to executive education coursework in Harvard Business School's Owner/President Management program.