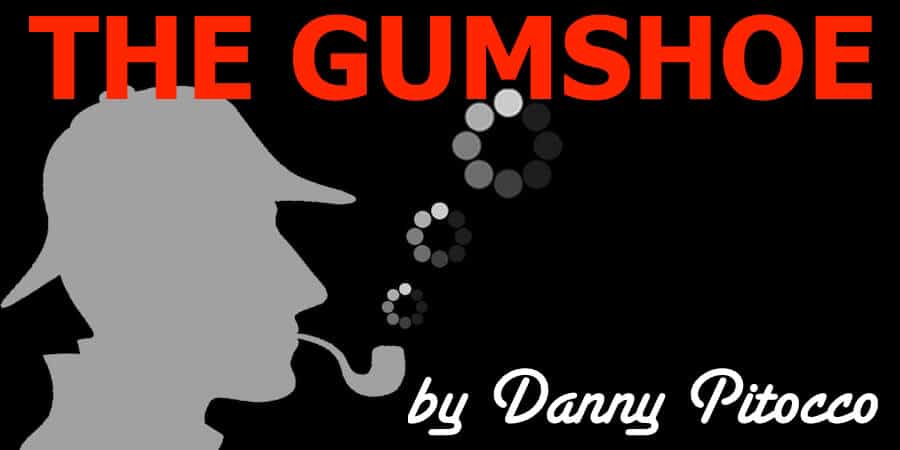 Gumshoe's late mother, Rita Dolores was actually able to resurrect the dying. Gumshoe will explain this remarkable claim later on dear readers. She also prepared adolescent Gumshoe for his future twelve week stay at the USMC Recruit Depot at Parris Island, South Carolina.  Uuuurah! Goodnight Chesty wherever you are!   There was not any Marine Corps Drill Instructor on that sand flea infested island in which she could readily put to shame.
Note:  Gumshoe will not repeat Rita Dolores' choice of her very descriptive and motivational language. Gumshoe will leave it to you kind reader's imagination.
Mom was very strong, resilient, never-say-die woman who asserted herself in all circumstances.  She was my father Dominic Daniel's right-hand partner for over sixty years plus. Mother Rita died exactly ten days after Dad Dominic passed away.  She had several medical maladies but her death certificate should have listed "a broken heart" as the proximate cause of her passing.
Together my parents reared eight of us kids. Mom was definitely in charge and she kept all of us in line while my dad held down a full-time job as well as a time-consuming part time job. We were a tight-knit family group who learned responsibility and accountability for one another.  Strength in numbers and in loyalty.
We all learned to "adapt and overcome" all through our formative years.  We all contributed to the family's income by working summer and after school jobs.   All of us siblings went on to become very successful in our own lives. We all graduated high school and the majority of us earned our graduate degrees.  None of us smoked, used alcohol, or "experimented" with drugs.
Mom was not a cook (God bless her soul) but we never went to bed hungry.
Mom would invent dinner fares such as hot dogs boiled in pea soup; fried baloney sandwiches; scrambled eggs (rock solid omelets) with can ham chunks; and eat plenty of bread (filler) from the day old outlet. Powdered milk, surplus government cheese blocks and corn meal mush blocks, (courtesy of the food  bank at the local volunteer fire department) along with other staples, supplemented our family table and diet. Gumshoe always has had an affinity to firefighters from that day since.
Note:  Gumshoe actually loved Marine chow and C-rats once I became a Jarhead.
My parents made do regardless of the tight financial circumstances with mom as the Master Sergeant.
Mom was not the type to hug or cuddle, nor coddle. Tough love to be sure, but sincere. She would not kiss the boo boo's. However, God help any one who would bad mouth or threaten any of her brood.
Now I did mention her ability to raise the dead. One summer afternoon my four brothers and I were running around the basement.  I decided to chase them all up the basement stairs to the first floor. All four of them, Mike, Paul, Nick and Dennis made it to the top doorway.  My brother Dennis, trailing behind the three, was almost within my grasp.
I was about to grab Dennis, at which time he managed to reach the upper opened door and slammed it directly into Gumshoe's kisser.  Wack! Smack! Owww! This resulted in Gumshoe falling backwards down the steps and then tumbling sideways over the staircase railing. Ahhhh!
Ahhhh! Gumshoe abruptly landed in a supine position onto the cold cement basement floor.
Plop!
Gumshoe felt both of his lungs immediately collapse and his life breath escaping out of his open gapping mouth.  He let out the sound sorta like a leaking flat tire.  Whoosh! Gumshoe knew that he was dying until . . . he heard (from his death rattle) the upper stairwell door open.
Sergeant Mom gave Gumshoe's crumpled body a parting glance and in her ear piercing commanding voice shouted:    "Get up! You're Okay, time for supper!" Gumshoe immediately sprang to his wobbly feet and felt like Lazarus coming out of his tomb, but in this case rising up and climbing the basement steps.  Alleluia!  Gumshoe lived. Gumshoe heard his mom's voice command reiterated, "Get up! Your okay!" throughout his four years in the Corps when the going got tough.    Gumshoe also heard her voice command, "Get up! You're Okay!" during his forty plus years in police work when things went to hell.
Gumshoe got up no matter what and he still hears her voice to this day.  Her shouted command was always Gumshoe's mantra and motivation.
Thanks mom, I love you but I don't miss your cooking!
Until next time gentle readers, always remember to love the ones who love you and try to love the ones who don't.
Coram Deo!
PS:  Get up and you'll be okay when life knocks you down.