For example – the George Shultz page tells us that his Xyleco history was added by the user 'Asalsman' (though there is no user page for that editor).

And from that page you can jump to all the other pages that user has edited.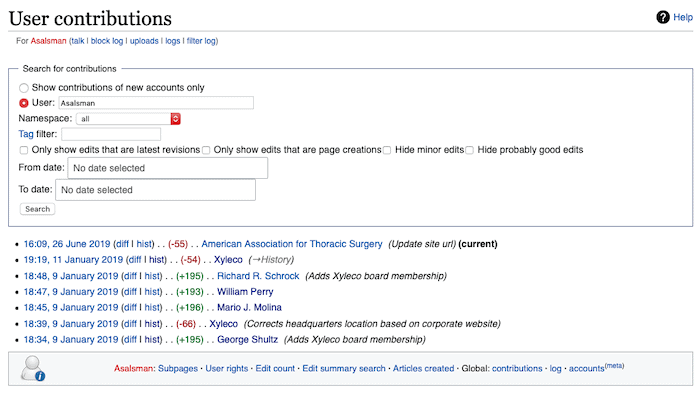 Asalman had edited 4 of those pages of board members on the same day and within a day of the CBS piece. And that is pretty much all 'Asalman' has ever done on Wikipedia.
And then I looked at that list again … George Shultz and William Perry – the very same people caught up in the Theranos scandal that I wrote about here on BizCatalyst, amongst other places.
Tell me it ain't so … time to go back to those sites calling 'scam' ….
Jim Lane – seems respectable enough as does Gihan Hewage, but  Mary Cummins – seriously? An investigative reporter and real estate appraiser?
MARY CUMMINS IS AN INVESTIGATIVE REPORTER, WRITER, SPEAKER AND VICTIMS RIGHTS ACTIVIST. CUMMINS IS ALSO A REAL ESTATE APPRAISER IN LOS ANGELES, CALIFORNIA.
and finally Alice Friedemann who runs the site Energy Skeptic
What Alice had to say, noting that she published this (as far as the site says at least just two days later. What Mary Had to say. Some fascinating background.
But here's the thing. Who are these people? Why would you believe them?
Spoiler alert – the point of me writing this article is not to call out a news scam. I just happen to be one person who did some very rapid triangulation on a story that I wanted to include in a newsletter. In five minutes it didn't smell right and here I am after about two to three hours of research and writing, I have unearthed these sites and have found no positive words about the company … anywhere.
Now as a passing observer who do you believe … Lesley Stahl, 60 Minutes and CBS or these niche sites that sometimes seem to be on the edge of conspiracy theory? I think I know what you would like to answer, but it does make you stop and think. Me, I will keep a loose eye on what is going on. I will share this article with various people one it is published and who knows – maybe I will get my 15 minutes of fame.
One final thought. Theranos was finally undone by John Carreyrou of The Wall Street Journal with significant help from Theranos insider Tyler Shultz (George's Grandson). Since then Tyler has set up a company called Ethics in Entrepreneurship that CNN highlighted in April.
Maybe we should ask Tyler to take a closer look. Better still – perhaps he could set up a division fully focussed on the companies that his Grandad gets involved with. It would save us all a lot of time.
For my part. I am not qualified to fall on one side or the other, but I know enough already to be highly suspicious of the Xyleco claims and so should you.
Hopefully I have encouraged you to at the very least question everything.