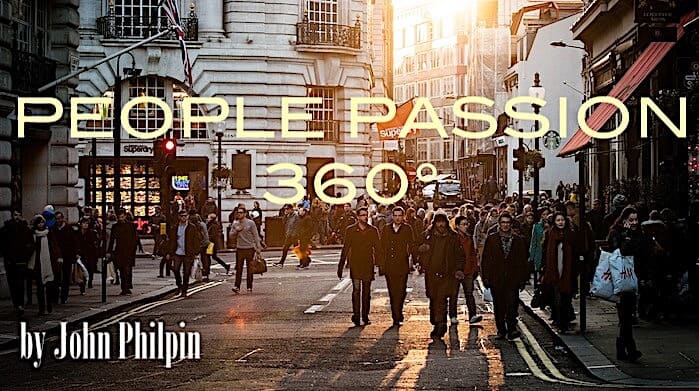 I really didn't know what to title this article with – here are some other suggestions …
'This Stuff Is Hard'
'Investigative Journalism'
'Fake News'
'Fact versus Fiction'
'Triangulating The Information'
'Question Everything'
…. what would you have settled on?
I'd never heard of Marshall Medoff until I saw a '60 Minutes' interview with him. The video linked to is only available with CBS All Access, but there's a pretty solid transcript if you click through. It was a compelling story. Marshall is 81 years old, doesn't have a science degree but that didn't stop him spending 15 years developing a process to convert biomass into useful products. Etc. Etc.
And this was on CBS. Lesley Stahl was the correspondent. I had filed the piece away to come back to later.
Just this past week I was preparing my weekly newsletter for People First which was going to be focussed on several real-life stories about Passion and Purpose. Marshall was one person I was going to include. Seemed perfect really. I mean as CBS wrote …
Who says things like that? Marshall Medoff does. He's a man on a mission who decided one day that he was going stop global warming.
So in order to fill out the story a little, I decided to check out some other facts and went over to their web site. All looked good. The site's company page describing the board reveals some pretty solid people with credentials that seem to be impeccable … professors, leaders of industry, Nobel prize winners …..
Marshall had sequestered himself away for many years so initially not a surprise that there was so little information about him … but his company Xyleco? Surely there should be more beyond their main web site. I mean for a company that is 'leading the sustainable industrial revolution' (as their web site claims) I would expect more than a count of 94,000 when searching for the company name and a Twitter account with more than 942 followers.
Time for Google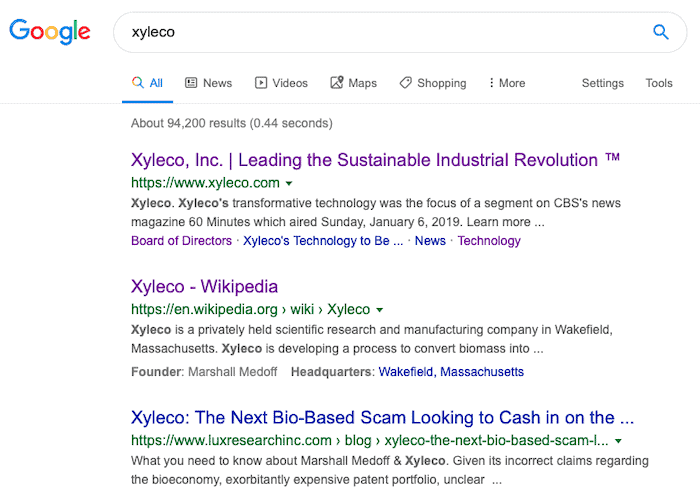 Uh Oh. Check out that third hit. Not only that, but five of the top ten results are job board sites, with two links take you to articles that are suggesting that Xyleco is a scam. BUT … who the hell is Mary Cummins or Alice Friedemann or Jim Lane? What do they know that Lesley Stahl and CBS don't?
Back to Xyleco's site and that board of directors.
I googled each board member, found their entry on Wikipedia and confirmed that Wikipedia at least listed them as board members. But something sat oddly.
ROBERT C. ARMSTRONG: Announced 2016
SIR JOHN S. JENNINGS: outside of the Xyleco website I could find no mention of his Xyleco affiliation – although on the site there is a quote attributed to him!
STEVEN CHU – Wikipedia: "Chu is on the board of directors of Xyleco, a company developing alternate energy." (retrieved Jan 6th, 2019)
MARIO J. MOLINA – Wikipedia: "Dr. Molina currently sits on the board of directors for Xyleco" (retrieved Jan 9th, 2019)
WILLIAM J. PERRY – Wikipedia: "Perry currently sits on the board of directors for Xyleco"
(retrieved Jan 9th, 2019)
RICHARD R. SCHROCK – Wikipedia: "Schrock currently sits on the board of directors for Xyleco" (retrieved Jan 9th, 2019)
GEORGE P. SHULTZ – Wikipedia: "Shultz sits on the board of directors for Xyleco." (retrieved Jan 9th, 2019)
A quick reminder. The original CBS program aired on January 7th, 2019 (note the retrieval dates of the last 5 entries). And in case you don't know, Wikipedia allows you to check editing history to understand not just when a page got edited. But who edited it.