Have you ever tried something that made a lot of sense, that you and other folks thought would work wonderfully well, that you agreed would be a great way to make everyone happy?
How did it work out?
I live in a small condo village that was started in the 1930s by the land owner who couldn't have realized how it would grow from a casual "tent city" in the summertime to 265 small cottages over the 25+ acres right on a large bay in Massachusetts.
Over the years, things changed slowly, but I think in the last 25 more quickly than many homeowners realized they would.
It went from being pretty much a disorganized summer colony of tents to a few folks turning their tents into tiny cottages, adding insulation to walls (although it was often just newspapers), and even finding ways to heat them. To more and more folks doing that.
It went from being separate cottages that happened to be in the same area to being a condo community, helping keep things organized for the ever-larger number of year-round owners and visitors.
It is a wonderful place to live in or visit!
Of course, along the way, the memories of "how it used to be" grew, and some took on lives of their own.
I moved here fulltime in 2014, so I'm a total newcomer, with few memories of what was; I only know what is.
For many years they held an ice cream social at the old office every Saturday in the summer, selling tiny dishes of ice cream with whipped cream, nuts, sprinkles – all for pennies on the dollar. The folks would walk to it around 6:30, sit on the walls, watch the kids eat and play on the street – it was a really fun time! I saw it for just two summers.
Then 5 or 6 years ago, the cottage that held the office was sold to a private owner, and the office moved up near the original owner's mansion, as an addition to the huge garage.
We kept up the tradition of the social, although even I could see it wasn't the same. Quite a few homes had changed hands, and although many folks did hike up to the new place (at the top of the hill), get their kids that small dish with toppings, they didn't often stay around, even though we have tables and chairs in an open area. But they seemed to enjoy it, and we had no plans to change it. It was a part of the history, after all!
Then 2020.
No way we could hold the social in person; none of us (I was organizing it by then) would dare be inside with anyone else.
What to do?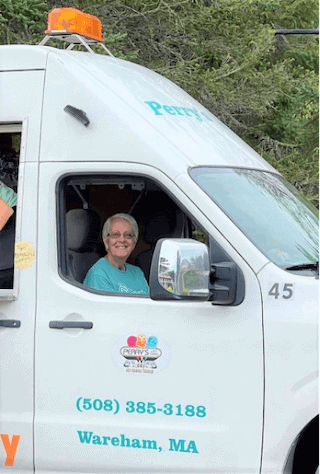 Someone suggested one of those ice cream trucks that we as adults used to hear all summer with their unceasing music … we loved it … not sure the parents did … and we'd dance around waiting for it to stop at OUR area!
The driver would remain in the truck and hand out the treats, take in the money, and drive to the next street!
GENIUS!
A local firm, Perry's Last Stand, in Wareham, MA, the next town to ours, was recruited, and it was a huge hit. I drove with the truck, because our village's roads are weird, with a few one way only, and a few with tight turns that are tough to navigate.
I mapped out an efficient route, told everyone where and when, and everyone loved it!
This year, since Covid seems less scary, we thought we'd  blend the old with the new. We decided to park the truck at our playground, which is in a central spot.
No hills to climb. Tables and benches. Playground equipment. A chance to be more social, especially after the last two years.
What's not to love?
We let all the owners know on our FB page and in emails.
We waited to see them stream down the streets to enjoy all the ice cream treats.
It didn't go well.
We did run the truck around prior to it to get everyone excited, but even with having told them of the new plan, when they heard the truck's music, they expected it to stop.
They didn't see it as a Pied Piper kind of thing; they expected their treats right then and there, so they were more than a little confused.
Bottom line: Didn't work as we'd hoped.
New plan as of last night: Go back to Plan A.
Drive around, blare the music, and make our usual 8 stops.
Watch the kids dancing in the street, running to line up with their parents' money, see them laughing and enjoying the fun. And they came out in droves!
Sometimes what seems so sensible just doesn't work as planned, but at least we're seeing the sparkle in the eyes of parents and kids again, and they know when to expect us.
Now I'm sure I'm not the only one who's experienced something that seemed so sensible, so practical, so right at the time …
What have YOU been involved in that didn't work the way you expected? How did you rescue it?