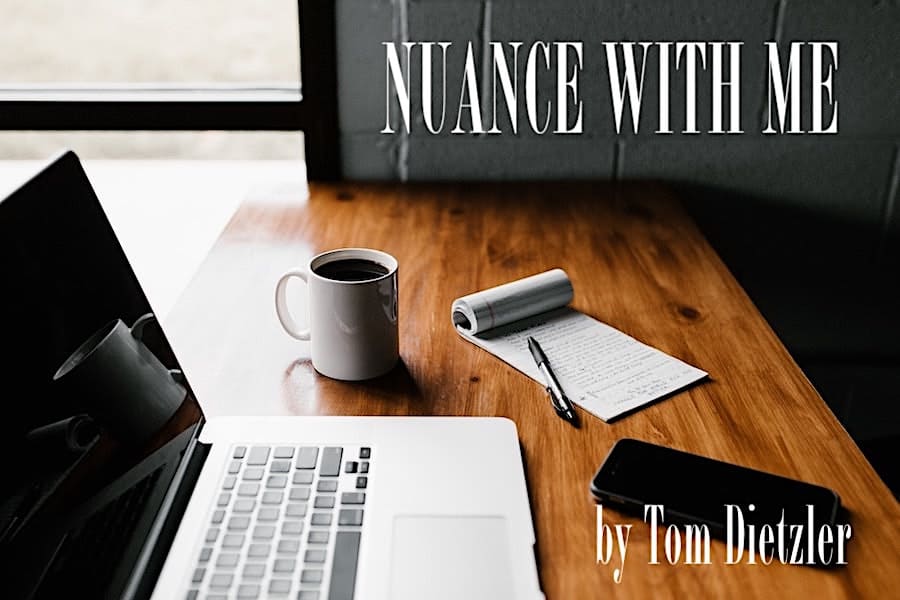 Recently, three of my siblings and I spent some time on my brother's patio, sharing stories of our childhood and taking turns skewering each other with memories of places where we lived, old friends, old neighbors, old times. We jumped around from our house on Third Street, to the house on Maes Avenue, and a few from the place on Kimberly Avenue, too. I was two when we moved from Third to Maes and was starting high school when we moved to Kimberly Avenue, the only one of us still in school. We laughed about how the times now are like the '60s and '70s – gas is less than a dollar a gallon and we're all grounded. Mom and Dad laughed right along with us. None of us embraced, but we all wanted to, and we cherished a time that we could all see each other's faces.
We stayed far enough apart as to be safe and healthy, and were happy to be in the sun, outside on a decent spring Wisconsin day.
I had to defend myself again to our only sister, as my 62nd birthday approaches she still bears the bitterness that my birth betrayed her. She didn't need another brother, she already had three. I was supposed to be a sister. I apologized again, and everyone laughed when I said that "certainly, things would've been better if I had better had I been stillborn, than to be another boy, for God's sake." That I was the last child of our clan is somewhat of a miracle, my mom was 29 when she had me, and they are good Catholics. With her penchant for anxiety, depression, and overthinking everything, I am thankful that there were no more of us than this. For a family that really puts the fun in dysfunction, we have a great time together, we love each other, and I know that in the family lottery system, I hit it rich. Perfect is so far from where we are, but I kinda think perfect is somewhat akin to boring, and I'm not going to quibble about what might have been when there is so much to cherish about what is.
The government leaders making these decisions are in a no-win situation, and I get that. Too often, government doesn't try to do nuance or minimize collateral damage or unintended consequences.
We're all tired of the lockdown, and we all swapped stories of how this is turning into overreach, and we're all concerned that there will be vastly worse unintended consequences, the businesses failing, all the neglected non-COVID medical issues boomeranging into bigger medical crises than anyone wants to think about. We are definitely not all of the same political ilk, but everyone sees that this current pandemic has multi-faceted issues, and trying to do a one-size-fits-all solution is wreaking havoc that very few people can wrap their heads around. It became clear that government is trying to control every type of activity, and many of the regulations are pointed at the lowest common denominators of society – the people who use any kind of liberty or freedom to go to any extreme, whose thoughts never involve anyone else, whose lives rarely ever pause to reflect on how what they might be doing now might be having repercussions far beyond today and way beyond themselves. The government leaders making these decisions are in a no-win situation, and I get that. Too often, government doesn't try to do nuance or minimize collateral damage or unintended consequences. We are sold a bill of "this is best for everyone right now…" Remember your mom telling you to "Eat this, like it and shut up"?
None of that matters. There are plenty of hills for us to die upon this day or any day of the pandemic. We can be victims to whatever degree that we allow ourselves to be. The part that bugs me is that we can really be treated however we want right now by the government in the name of "keeping us safe."
In the past, a quarantine was all about keeping the sick people in a safe and secure place away from the general population. Today it is about keeping everyone away from each other.
Are we unfeeling if we care as much about people feeling (and being) isolated, about people's livelihoods being taken away from them? I often use the example of a traffic light. Some people see our current situation as green – let's go, let's keep going, this COVID thing has not turned into the huge threat that we once thought. Or the red-light folks – let's stop, stop everything, stay stopped and wait until things improve. And there is the yellow light, proceed, or stop, look around… proceed with caution. The red-light people aren't bad, and neither is the green light people. It seems that we are more intent on picking sides than on overcoming what is right in front of us.
We are not the enemy. Both sides have currency and validity to their positions. I don't like the fact that we had a very nice time on Sunday, gathering as a family, doing all the things that we are supposed to do, and yet we felt that we were doing something wrong. Besides the sickness and death and strain on our health care system, we've added to the downside of this thing by making believe that others are wrong for caring about; 1) We have to stop the spread of this thing, so stop getting together in groups, stop gathering in any number; or 2) The mental health of this country is paramount, isolation and neglect are going to kill more of us than any disease ever can, or 3) People need to stay home, wear masks, disinfect everything and act like the next interaction could be the one that kills us 4) This whole thing has been a huge overreaction, we can do this without treating each other like we are walking globs of virus. 5) The economy is being strangled to the point of irretrievable damage.
Is it insane to think that there are aspects of all five things that may be right? Granted, if you think we should all be locked down and staying put, there ain't much wiggle room. Honestly, I see the validity and honest sincerity in all those positions. Anyone holding to any one of those, vigorously, is not a terrorist or radical or nutjob. Can y'all see my #4 Adaptability strength (from Clifton's StrengthsFinders) shining through here?
And isolation is taking us places that we never dreamed of before. This started out as a mostly happy, reflective piece about wandering down memory lane with my family. We did some awesome reminiscing, and I heard stories that I had not heard before. My oldest brother was eight and a half when I was born, and my parents apparently farmed him out to the family across the street for the time that mom went to the hospital to have me. The family across the street had eight kids, eventually, just six at the time that I came on the scene. All six were boys. I asked my brother if they even noticed one more boy in the mix when he came over. His primary memory was of standing in their yard, looking across the street at our house, feeling lost and forlorn and homesick. I thought that was a powerful reminder: what was a temporary condition, just a couple days, and just across the street, could seem so disruptive and disorienting to someone who was not prepared.
This thing is affecting absolutely everyone. And none of us in the same way. We're all disoriented and off our game, and it doesn't help that we're not taking time to realize that someone else's reality is different than our own.
I went to get a black-market haircut this week. I reached out to my stylist the other day and was thrilled to know that she was taking appointments in her home. She is a single mom trying to raise two girls and was put out of business (hopefully it is only temporary) by our governor's "Safer at Home" order in March. The only money that she has received since then is her stimulus check. I was glad that she could help me out, and I gave her a generous tip. Should both of us have to be made to feel like criminals because 1) I needed a haircut and 2) she was willing to cut my hair? How does she make herself, not even whole, but a functioning, contributing member of society again? Can anyone answer that question for me?
The whole idea of some businesses being labeled as "essential" and other as "non-essential" is kind of insulting and childish, but I get it, they had to do something. People were labeled the same way. I guess that the government felt that doing something is better than nothing.
And here is where my stream of consciousness goes from dark to darker. I have "Ideation" – thinking and generating ideas – in my top five (Clifton's again). I have no idea how to support or do anything for my mother-in-law. I'm including this as a gentle reminder to all of you. If you think whatever you are going through is tough, and I'm not in the judgment business, so if you want, I'll say "Yeah, that's tough, you win" so we can get past that. There is nothing in all my ideation, my creativity, my thought processes that I can do for my 95-year-old mother-in-law. If you're having a tough day, here is her life: Eat. Sleep. Go to the bathroom. Repeat.
Technology doesn't have an answer for her. She can barely see anything. A phone call is like yelling at someone who is pushing their lawnmower.
She used to be the life of the party – kind of an unpaid Activities Director, making sure that she included people in board games, card games, she even led exercises from her walker. She fell and broke her hip a few years ago, had the surgery and made it back to full use of her legs, with the aid of her walker. Her eyesight and hearing failed, so the game playing ceased, and she couldn't see to lead the exercises. But she could still visit with other patients and have people to come to see her. COVID took that way. My wife went to see her a week or so ago. She brought some supplies to the assisted living facility where her mom lives. A CNA met her at the door to take the stuff to Grandma's room. My wife asked the CNA to bring her mom to the window and was quickly told that she couldn't open the window. She wasn't being asked to open a window. She just wanted to see her mom. So, 95-year-old mom and 59-year-old daughter touched the windowpane at the same time. She was squinting hard into the bright sunshine, not sure what she was looking at, the CNA said: "It's Rhonda, your daughter." Grandma's hands went to her face, and she cried "Oh," and she sat in her chair. And cried. We can't do anything for her. Technology doesn't have an answer for her. She can barely see anything. A phone call is like yelling at someone who is pushing their lawnmower.
Do we pray that Grandma could just go to sleep some night and wake up in heaven? Yes, we do. Knowing that she would be dying alone, we'd take that right now. Because she certainly isn't living now. Pick your death sentence, isolation, or COVID. Please pray for Grandma, and pray that you don't end up like her.