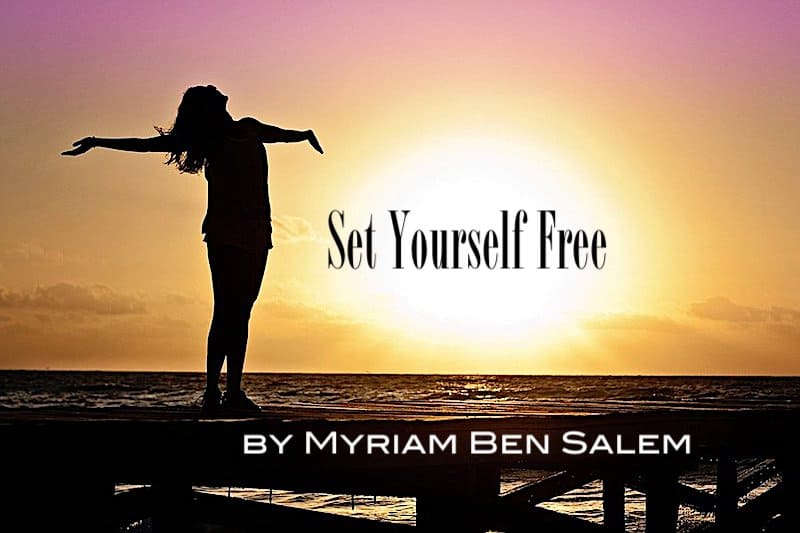 I reach the supermarket at around 11 am. The queue is already huge! What were you thinking, silly Myriam 😊 It's a day before the 24/7 lockdown! Is this pissing me off? Excellent question!
Of whom exactly? Of my government for taking serious measures against the pandemic to protect lives? Or of the supermarket for beautifully respecting the new preventive rules? Or of people in the queue who came to buy groceries for themselves & their families, and happened to be in front of me in the queue? Or of myself for not coming earlier? Or of the Corona Virus: the source of those chaotic times we're experiencing — even though this remains to be proven? We will come back to the last question later!
I'm guessing you got my point. None of those questions could be considered as a valid excuse if we can be self-aware. More to the point, if we're not trapped in our anxious mind — aka our invasive subconscious program.
To come back to the queue, there is a heterosexual couple in front of me and a guy behind me. The woman looks at me and, noticing I'm observing (I just love doing it in any context) the queue, starts complaining. I smile to her before adding "Don't you worry; I have the feeling it will be quick! You'll see!". She seems confused, but somehow a bit reassured. Yasss!  The guy behind me asks me a question in Italian. I recognize the language; still, I don't get the request. Luckily, he can speak french! He wants to know whether this supermarket would be closing its doors during the lockdown. At the same time, he is expressing how annoying it would be since this is the only one where he can find his Italian food.
"I'm sorry, but I have no clue about the supermarket plan! Regarding your food, imagine there were no single place selling it? How would you feel?"
Him: Too sad, I guess?
"Now, think about the chance you currently have to buy your needs for the six coming months. How do you feel?
Him: (A moment of silence) Lucky? Definitely better…
You've just started developing an incredible virtue we call gratitude; congratulations!
We have a lovely discussion around my visit to Italy a few years ago, and then I feel like singing. The woman in front of the couple turns to me with a surprised — even a bit judgemental facial expression. I wave to her with a welcoming smile. She seems embarrassed and waves back!
We're finally inside. Oops! Another queue… The same woman loses her cool: "This can't be happening! Who's the genius who decided such a stupid layout?" I go to her direction and say with a friendly tone putting an arm on her shoulder: "You should have asked me for another song; next time, don't be shy. She takes a moment before realizing it was a joke and starts laughing. I even get a hug!
When inside, I am trying my best to be as quick as possible — wearing my usual peaceful smile, knowing the number of people waiting for their turn. There is a woman. She asks me about the milk. We meet again in 3 other shelves and smile at each other. The 5th and last time, I just can't help but tell her "If we had a previous appointment in this big supermarket, we probably would have missed each other" before starting giggling. Since it's contagious, she does the same and then thanks me so warmly before adding: "It has been a while I didn't laugh!". What a blast…
I am in front of my car looking for my keys. They aren't anywhere. I go back to the supermarket, look for the 'lost stuff department'. They assure me not receiving any keys and advise that I look myself on all the shelves I visited. I ask every responsible I met earlier. One of the security guys checks with me whether I found them; to which I answer with a large smile: "Nothing so far; guess I'm spending the night here!". He can't believe his ears and eyes, and adds: "How can you even smile in such circumstances?!"
"If I get stressed out and lose my nerve, will I miraculously find my keys?"
Him: I don't think so…
"So why not laughing at myself then!"
He smiles, admits it's making perfect sense and wishes me the best of luck before joining his colleagues.
A few minutes later, I receive a call from the 'lost stuff department'. I run to its direction, enters there applauding and celebrating them! They laugh like kids after waking up from their shock. Their manager accompanies me and his last words are: "Do you wanna do us a favor and lose something every time you visit? You've just made our day!"
Moral of the story: Am I a super woman? Definitely not! I am only a 'human guinea pig', the product of a painful transformational adventure to which I committed because I had no choice anyway… It was either literally reinventing myself from within through re-writing my program or dying…
Now, does keeping a positive outlook despite the crisis mean being insensitive about what's happening? Absolutely not… It only means I am trying my best to inspire and uplift people I am interacting with as much as I can, to implicitly guide them to get outside of their anxious mind, particularly in the current circumstances involving the immunity.
Why is that relevant at all? Well, simply because according to some very serious studies, continuous stress is, unfortunately, shutting down the immune system. How come? Fear of the COVID-19 is perceived as a threat.
When the consciousness of protection is required, then the biology will adapt to a protection response: The "fight-or-flight — the adrenal system or mechanism. The same one triggered when running away from a real external danger: a tiger attacking us for instance. On what do you think our energy should be focused? Digesting a food? Fighting a bacterial infection? Hell no! Arms and legs. I need my muscles to escape. The state of fear releases stress hormones, such as Cortisol. Its function is to shut down anything in the body that's using energy and not supporting the escape from the tiger: the visceral functions of the body, the gut whose fonction is growth and maintenance of the body. Stress is the major cause of the immune system dysfunction. It shuts down the immune system to conserve energy.

~ Dr. Bruce Lipton
By keeping my positive outlook, I am trying to decrease people's stress levels and contribute to saving their lives. It is important to understand that one of the most amazing outcomes of the transformational journey is acquiring the highest level of empathy, since it's a crucial component of developing the emotional intelligence fueled by coming back to our original Center we were granted at our conception — the Principles.
What many people don't know about me, though, is that, in spite of being joyful and positive, I probably cry way more than they do; almost every day. My heart is, of course, bleeding for all the hurt caused by this pandemic. But, I have been crying way before this crisis.
People were dying every day before the Corona Virus: from hunger, cold, giving birth, all kinds of diseases. I've been crying the cruel unfairness of the world: extreme poverty, homelessness, wars and people escaping from their homeland to save their lives and find themselves in some refugees camps lacking the basics of human dignity…
I need to admit to you folks I'm truly happy and enthusiastic about this COVID-19! Nobody deserves death or to suffer this way, but a global awakening comes at a price, unfortunately… Yes, it is way harsher than what we could ever have imagined, but the world is extremely imbalanced as well! It's just correlated…
I hope we will all start pondering, reviewing our distorted beings making our lives and the world that imbalanced in the first place… The universe is sending a coded message. Hope everybody will open their heart and listen to it… Hoping is all that I can control anyway.
With love, Myriam