Inspired by posts by Susan Rooks and Melissa Hughes, I have been thinking back to what I have heard from and told my children when they were devastated by feelings of inadequacy.
Let me start with a little math.  Sorry, it is hard to talk IQ without this graph.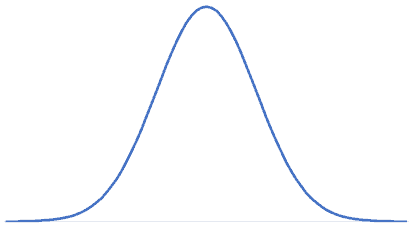 This is a Bell curve. It is the graph for what in statistics is known as a normal distribution.
The beauty of a Bell curve is that the datapoints are evenly distributed around the mean. Half of the data points will be to the right of the line in the middle, and half will be to the left.
(If the data were all from Lake Wobegon, every single inhabitant would allegedly score higher than average and thus be in the right half of the curve. It should not require a mathematical proof to point out the impossibility of such a thing.)
If this curve described the distribution of intelligence quotients, the vertical line would be IQ=100.
There is not just one Bell curve of IQ – there is one related to every age group. It would not make sense to ask a two-year-old to finish a number pattern like this:
1, 2, 4, 8, 16, __   (or even 1, 2, 3, 4, 5, __)
My first exposure to the built-in fallacy of IQ tests came from reading Rudyard Kipling's Kim. While I am aware that much of Kipling's writing must be a hard read for people from India, with my then limited understanding or investment in the political entanglements, I found much in this children's book on the subject of knowledge.  One important takeaway was that learning Latin made not as much sense as having good observation, memory, and acting skills if one was to function in the British Secret Service.
So Kim or his memory teacher, another bright young boy, might not score very high on the IQ test – because the concepts covered in the test were irrelevant to them.  On the other hand, Kim was able to make friends with the locals and thus survive the winter in the Himalayas; a feat that would come hard to many a Ph.D. with a perfect SAT score.
Susan Rooks asked in her post; What Were the Odds? "how are you smart?" – not "how smart are you?" – and little Kim from Benares came right back to my mind.  Street smart, not book smart.
By pure chance, I was early to an appointment the week following Susan's post and spent the waiting time in the nearby bookstore where I picked up David Epstein's book Range, Why generalists triumph in a specialized world.  It describes this phenomenon of context in its horrible up-to-date consequence:  Should we ever enter an institution of higher learning,  we will all "learn Latin" but not how to "survive Himalayan winters".
As Google can give you perfect translations of Latin, and Artificial Intelligence already is better at retrieving knowledge from big datasets and libraries, our "how" in "how are you smart?" should not be to regurgitate years of data crammed into our heads but, above all, knowing how to think.
In her TEDx talk, Melissa Hughes talked about imposter syndrome and the feeling of not being good enough.
I am sure I am not the only woman who has been bummed that she doesn't look like Kate Winslet.  Or that I don't speak Mandarin.  Or that I am not as good a cook as Alice Walters of Chez Panisse in Berkeley.  Or…
But I am also pretty sure that Alice Walters doesn't look like Kate Winslet and I would be surprised if she was fluent in Mandarin.  I can't speak for Kate Winslet's cooking abilities or Mandarin proficiency but they are probably not that much better than mine.  (If I am wrong, good for them.)
My point here is that there is always someone prettier, stronger, taller, richer, …, better at something.  Sure, if you are Jeff Bezos there are probably few richer, and if you have an Olympic gold medal, you were the best at whatever that medal was for. But you still don't look like Kate Winslet or cook like Alice Walters regardless of which language you speak.
While you may be at the very top of the Bell curve, in IQ, language abilities, beauty, height, flexibility, strength, wealth, whatever… –  you are not on top of all the curves. Ever. Nobody is.
So if I compare myself with whoever is at the top of that particular Bell curve regardless of which trait or talent I look at, I will always come out short (/poor/ugly/slow/ignorant/…).
Reverse Lake Wobegon. Don't do it.  Comparing like that is not a productive way to think.
And that is what I taught and still teach my children:  "Yes, she may be better at math than you, but how is she on…?"
Can they cook?  Are they trustworthy?  Do they have a sense of humor?  Are they kind?  Are they curious?  Can they listen?  Do they know how to think?
Those are character traits and real-life skills not shown on report cards.  And such traits and skills are more important than Latin for surviving whatever "Himalayan winters" throw at you.
Just because we don't measure something doesn't mean it is not important.
So let me rephrase Susan's question: How are you smart in something IQ doesn't measure?