We have several social media apps at the moment, but the engagement that Instagram offers is amazing. The way the platform is designed and the latest updates like detailed insights have made it a heaven for social media businesses.
You can simply start selling online right after creating a business profile and listing your products. Getting to the point, we have the insights section located at the top right corner with detailed statistics that are necessary to measure business' growth:
What are Instagram Insights?
Instagram Insights is a built-in analytics tool that provides data on follower's demographics and reactions. It also features statistics about the content you post. This analytics tool is available only for businesses so if you're having a personal account, convert into a business one.
Total impressions, reach, and profile views are what that shows up on Insights first page. You can swipe and view website clicks and call-to-action button clicks including Email, Call, Directions, etc.
How do Instagram Insights work?
Instagram Insights have three sections in total:
Content: This part of Insights is focused on weekly stats about feed posts, stories, and promotions.
Activity: Activity talks about your appearance in Instagram searches. Answering how much profits visits have been made in the last week?
Audience: This section is specific about your followers, their gender details, geographical data and interests.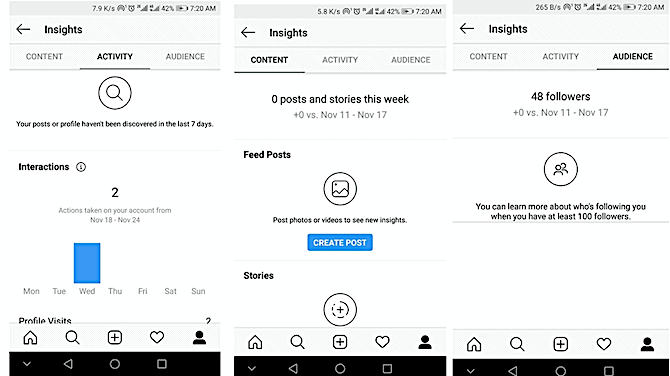 What Instagram Insights Metrics are Crucial For Your Business?
It's not about the greatness that Instagram offers, rather it is about how you utilize those stats to learn user's interest and create products that rock the market.
Here are some crucial metrics for business scalability, expansion and growth:
#1. Followers Growth
Instagram Insights offer in-depth stats how your profile is growing?
How many followers are you're getting every day?
How many followers are are engaging with your daily posts?
If you're receiving 100 followers a day during the second week when your followers were 500, your growth rate will be 10% – which is great! But for the next week, if you receive 50 followers a day your growth rate will be 5% – which is very low in comparison.
Looking at the followers statistics, you can find:
How is your following is growing?
How is your content is performing?
With an answer to these questions, you can find content that has the highest follower conversion rates. Keep posting that type of content and multiply your followers.
#2. Website Traffic
Although Instagram allows a single link placement only in bio, you can use Stories for placing maximum links to your website. However, there are no clickable links in the post but you can still catch website traffic with an easy strategy -using Stories (discussed later).
In the activity section, you can learn about the total clicks received in the last week. Have an exclusive bio and check bio clicks once a day to find the visits you are receiving. Third-party tools like Google Analytics also share traffic stats on choosing social media as a source. If you're interested in more details about each visit, use short links tools like Bit.ly – a recommended URL shortener.
#3. Reach
On social media, the reach factor tells everything about your business. Have a look at the screenshot: For a specific post, we have a discovery section that features reach and impression from the Instagram wide user database.
#4. Comments Per Post
Instagram is the most engaging social app as users are very comfortable using it. For liking the post, just a double-tap is needed. However, if you are receiving comments, it means you've caught the real interest of users. Thus, comments per post is an accurate metric to define the engagement you're getting for your content. To utilize this metric, analyze average comments you receive on your posts each week. Suppose that if you're getting 100 comments every week, your engagement rate is 100%. If for the next week, you receive 90%, your engagement rate will be down to 90%. This way, you can find out whether your content is rightly addressing the user's interest or not.
Evaluating Instagram Stories:
Instagram stories offer great conversion rates only if you have a verified profile with which you can place a link to your website or online store. In the Insights -> Stories, you can find impressions and relevant data for the past two weeks. You can change that by clicking the time and specifying 24 hours/7 days or 14 days. 1080 x 1920 pixels dimensioned stories are enough to list your products or services effectively - a fine choice for marketing your business. You can offer digital services, too like Bronte Price who's a civil celebrant and a favourite choice of couples.
The Bottom Line
No other social app offers such built-in insights. You can find data about every post, links you have placed, stories you have shared, and appearances in searches. If the insights weren't there, there is no manual way to find stats. What is your business reach, how your business profile is performing? What number of clicks your site link is receiving and a lot more questions to answer.
This is how Instagram insights work, utilize them effectively. And yes, don't forget to implement the insights features - the way we discussed!
Author Bio: Shantanu works as an inbound content marketer at GayCelebrant.Melbourne & has helped develop it to cater to the LGBTIQ Wedding industry since 2018. He has closely worked with Bronte Price to learn the traits of the Australian wedding industry and loves to share his acute observations through blogging, weaving them into a brand story. He also loves to cook, trek, travel, dance and claims to have found his "why" in helping small business owners bloom into established brands.