Few skills are as valuable as influence. Trying to get a promotion or a raise? You'll need influence. Aiming to become a better leader and earn the trust of your team? Yep, you'll need influence for that too. The concept even applies to your personal life — just ask any mom who's ever successfully managed to get a fussy toddler out the door on schedule.
In fact, a recent study, the World Economic Forum found that "Influence and Social Skills" are one of the 10 most "growing skill sets" for 2022.  I suspect that has accelerated quite a bit, because of recent events, ie. Covid, which has required most of us to work from home.  While this has presented some convenience reducing commute times, it has also given us new challenges in terms of communicating effectively and influencing remotely.
Decisions that used to take minutes in an informal team gathering now may take days of Zoom meetings, re-scheduling, and mis-communication.
The Oxford dictionary defines influence as "the capacity to have an effect on the character, development, or behavior of someone or something, or the effect itself." Having influence is basically like having a superpower.
And if you think it's a dirty word, think again. It's all about how you direct that power. I like to say it's like electricity or nuclear power and it can be used for good or ill.
I have to ask myself: What are my intentions? Are my intentions honorable when I'm attempting to influence a person? Am I intending to give them some benefit or added value? And the other measure is, what is the effect on the other person? Do they feel used or exploited?  Or have they learned something, achieved some goal?  If I can answer "yes" to the last two, then I would say it's Positive Influence.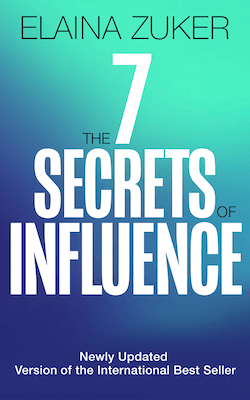 Ready to become a master influencer and reap the many career and life benefits of developing the sought-after skill of influence? One positive aspect of our "annus horribulus" has been giving me some space and time to edit and streamline my bestselling book  "7 SECRETS OF INFLUENCE"  to a new, revised 2021 Edition (available in paperback and Kindle formats) which not only tells you ABOUT Influence, but actually TEACHES you HOW to do it. You can also get a FREE informational booklet about Influence by clicking here.