Y

ou may recall our outreach (Article Below) on behalf of Mayor Nicholas Victorin and his impoverished City of Pignon, Haiti, still recovering from the devastation brought about by the Earthquake of 2010.
Since publishing the above Article, I've had the distinct pleasure of meeting Mayor Nicholas for the first time here in Tampa Bay not long ago. Nicholas embodies the spirit of "giving back" in all that he does – and was here in Tampa to raise awareness of the plight of his City and particularly his starving senior population. Quoting from Nicholas:
"Haiti is unfortunately divided into citizens in the city and the ones in the rural areas. Roads that lead to those places are not accessible by cars so people who leave in places like that are usually left on their own and not cared for by others or by the Haitian government. My heart touched for the many elders who are sick, hungry and have no-one to take care of them. I have been trying hard to reach out to those needy ones, we go where others would not want to go to reach them."

After the 2010 earthquake in Haiti, countries around the world, including the U.S., sent a great deal of assistance to the devastated country. The U.S. has given about $13 billion to Haiti in foreign aid. Despite these efforts, the people of Haiti still face elevated poverty and hunger levels. In October 2016, Haiti faced one of its worst hurricanes to date. Hurricane Matthew was a category four storm that caused severe damage and killed approximately 600 people. Many organizations continue to help repair the damage Matthew and earlier storms brought to Haiti. To understand the severity of the crisis, look below for the top 10 facts about hunger in Haiti:
Top 10 Facts About Hunger in Haiti
In April 2017, Haiti had the lowest food availability in the world. The Dominican Republic was the second lowest with Chad following in third. In the U.S., food availability is measured to be about 3,750 calories per person each day. In Haiti, there are about 1,976 calories per person available each day. This does not mean that each person has the opportunity to consume these many calories. Some Haitians consume far above this number while many consume far below it.

Roughly 50 percent of Haiti's population is undernourished. Even before the 2010 earthquake, 40 percent of households were undernourished. The already high number has risen as a consequence of repeated natural disasters in the country, like Hurricane Matthew.

One-in-five Haitian children are malnourished. One-in-10 Haitian children are acutely malnourished. One-in-14 will die before age five.

Haiti is the poorest country in the Northern hemisphere. Two out of three Haitians live on less than $2 per day. In comparison, the average American spends around $140 per day.

Haiti's main staple food is rice, importing 80 percent of it, despite the fact that 50 percent of the jobs in the country are related to agriculture and 25 percent of the country's GDP comes from agriculture.

Only 10 percent of Haitian agricultural lands are irrigated, which leaves the country extremely dependent on rain. This makes the country especially vulnerable as droughts can have an amplified impact on the population's health and well-being.

Haiti is the third most affected country by extreme weather. The weather has a severe impact on food resources available to Haitians because it can destroy crops and land. Haiti's hunger and poverty levels are repeatedly exacerbated by cases of drought and hurricanes. Though these events are extremely tragic, the relief efforts that have followed such disasters have allowed other countries to see exactly how bad the hunger and poverty crises are. This has sparked an increased effort to provide aid and growth initiatives to Haiti.

Fifty-nine percent of Haitian people live in poverty and almost 25 percent live in extreme poverty. The poverty rate in the U.S. fluctuates between 10 and 15 percent.

Fewer than 50 percent of households in Haiti have access to clean water. Only 25 percent of households in Haiti have access to adequate sanitation. A lack of access to clean water and adequate sanitation make the population more prone to diseases.

A third of all women and children in Haiti suffer from anemia. Anemia is a condition that arises when a person does not have enough red blood cells. The disease often results when one faces deficiencies of particular nutrients – especially iron. It is particularly common in women because they lose blood at high rates through menstrual cycles. Anemia can cause severe organ damage if left untreated.
These top 10 facts about hunger in Haiti highlight the dire conditions in the country. Though the hunger crisis persists, there are organizations working tirelessly to help the country and its people – and with your help, we are one of them….
THIS HOLIDAY SEASON – HELP US FEED THE ELDERS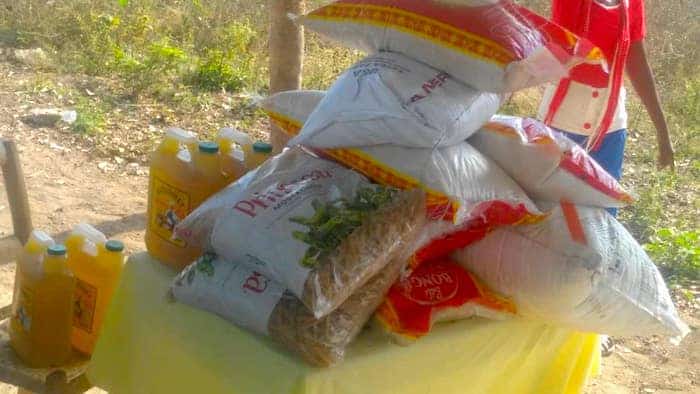 We've met Mayor Nicholas, he's real, the need is real, with Elders in the rural areas of Pignon literally starving to death. Mayor Nicholas tells us that it would cost just $50.00 for a 50kg (over 100lbs) Bag Of Rice – each divided up and hand delivered by the Mayor and his community volunteers. PLEASE Capture the true spirit of this holiday season by helping us feed the elders of Pignon, Haiti. Your Donations matter…
And once you've donated, please become our global goodwill ambassadors by sharing this plea across ALL of your social media networks. On behalf of the entire

GoodWorks 360°

and BC360° Teams, thank you for stepping up to stop the starvation. We'll be sure to update you when our campaign comes to a close at year-end.
---