Not.
I read a news article recently that hockey great Wayne Gretzky's rookie trading card sold for $3.75 million.
A trading or "collectible" card, if you're not familiar with the concept, has the picture of an athlete on one side along with a short bio and his or her sports stats printed on the other.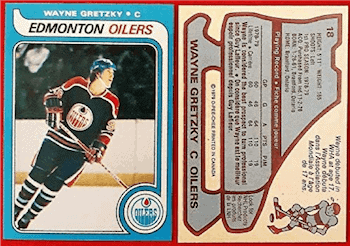 The cards are printed on heavy stock and measure approximately 2.5" x 3.5".
When I was a kid growing up, the cards usually came in a pack of 5 along with a thin slice of pink bubble gum. Many an afternoon on my way home from elementary school, I would stop with my chums at "George's," a slightly larger than a telephone-booth sized emporium that purveyed every type of penny candy imaginable.
We would gleefully rip open the packs and either add cards to our shoe-box container collections or trade them among each other for cards we didn't have.
And yes, we chewed the gum. And we made an art of disposing those sticky pink blobs.
I have nothing but the highest regard for Wayne Gretzky. I saw him play several times against my beloved Chicago Blackhawks, and he absolutely deserved his nickname, "The Great One." At the time of his retirement in 1999, he held 61 National Hockey League records: 40 regular-season records, 15 playoff records, and 6 All-Star records. At the time, he was the only player to score 200 points in one season. He did a lot as an ambassador for a more refined style of hockey, not the melee pit that it sometimes lowers itself to.
Gretzky had a simple playing philosophy — "Find open ice." — which he honed into one of the greatest pieces of sports wisdom that ever graced our haloed stadiums of ice, grass, or AstroTurf:
I skate to where the puck is going to be, not to where it has been.
That phrase has since become a guiding mantra for savvy business strategists or recent MBA graduates trying to impress company leadership with their first PowerPoint.
But still, $3.75 million is a lot of money for some paper!
I guess what irked me about that figure is that these and other types of sports memorabilia are just another way we elevate what are already highly elevated sports figures. I'm not advocating that we deny subsequent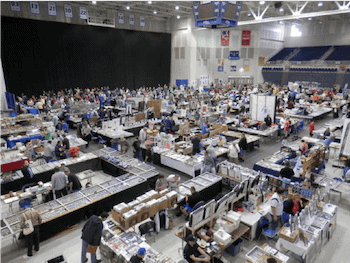 generations of young kids the rite of passage that comes with collecting cards or that we close down the enormous convention hall gatherings of buyers and sellers. I would soon be dodging anonymous social media arrows or worse accusing me of "cancel culture."
But I did start to imagine what collectible cards would look like for some of the remarkable people I've had the privilege to work with or met if only virtually via my career, podcast, and book.
What if there were a collectible card for JoAnne who led an elementary school through COVID and was just awarded administrator of the year in her district?
What if there were a collectible card for Dennis who has started a series of award-winning forums that bring people together from diverse backgrounds with diverse perspectives for civil engagement?
What if there were a collectible card for Sarah who through her podcast, writing consulting, speaking, and coaching helps people frame their personal stories and the skills that speak to them?
There would also be cards for Kimberly, Evan, and Christine! Carol, Laura, and Mac! Kirsten, Frank, and Mike!  Susan, John, and Joe! Hannah, Barbara, and Ken! Charlotte, Ariel, and Jim! Melissa, Shelley, and Diane. And there would be still more cards for. . . .
So many everyday people deserving their own collectible trading card. So many everyday people doing extraordinarily meaningful things, all connected via the universal theme of supporting others.
Yeah, I know; it's not going to happen. But that reminds me of another great Gretzky quote:
You miss 100% of the shots you never take.
So, in that spirit, don't pass up the opportunity to recognize your "collectibles," and let them know you wouldn't trade them for the world.
Hey, and you won't have to worry about your mom pointing to a sticky pink blob with "Is this yours?"