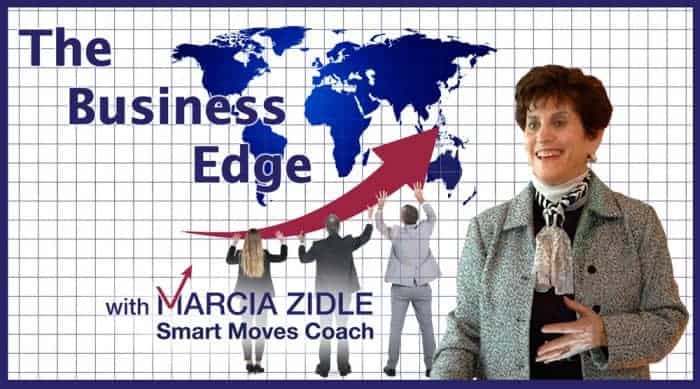 by Marcia Zidle, Columnist & Featured Contributor

[su_dropcap style="flat"]D[/su_dropcap]O YOU WANT TO GET off the monotonous treadmill of your job, and seek a different running path on your journey toward career satisfaction? Then, according to a Fast Company Article, stop searching for happiness; start pursuing meaning in your work.
You might ask: Is it possible to find meaning at what I do? I don't save lives; I don' find cures for cancer. I'm just a ……. You fill in the blank. It's not what your job description says; it's how you approach your job every day!
There Are No Small Jobs
Each job can be fulfilling and rewarding. It's how you view your job that counts. For example: Mary, a receptionist for a marketing firm, sees her job as an ambassador for the company. She greets visitors with an enormous smile, offers refreshments and engages them in conversation.
The next time you come into the office she will automatically offer you cold water, what you had requested before, ask about your recent ski holiday or how your son's soccer team is doing, and make you feel good about doing business with this company.
Everyone in the company understands and appreciates her role and considers Mary an important factor in the firm's success. She is not just a receptionist; she IS the company when people come in. She knows she makes a difference
No matter what kind of job you do, it is important to someone. It should also be important to you as well. The way you do your job, says a lot about you. Even if you are doing something that doesn't seem too impressive, or is definitely not your dream job, it is possible to find meaning in your everyday tasks. There's a classic story about starfish that illustrates this point rather well
A man walks on a beach one day, and he sees another man up ahead acting strangely. As he gets closer, he realizes the other man is picking up starfish and throwing them back into the water. The starfish have been stranded on the sand by the tide change and there are thousands of them on the beach.
"Don't you think you're wasting your time?" asks the first man. "You can't possibly pick up all these starfish. What you're doing isn't going to make any difference."
The second man just looks at him, and then throws yet another starfish into the water. "I just made a difference for that one," he replies simply.
What does this story show us? One of our most basic human needs is to make a difference. We often fall into the trap that to "make a difference," our actions have to be huge or substantial. If we can't save the world, we think that we might as well do nothing.
You Too Can Make a Difference
1. Practice Small Acts of Kindness
If you want to find meaning in your day-to-day work, then start by making a difference to the very people with whom you interact with every day. For examples, if one of your colleagues is struggling with a project, offer some advice or try to help the person complete it. Or if one of your co-workers is having a rough day or going through a bad time, take the person out to lunch or offer a hot cup of coffee. You might be surprised at how much these little things will impact how you think and feel about your job.
2. Shift Your Focus From You to Them
In other words, look at on how what you do contributes to others.. For example, if you sell clothing, then that clothing helps people stay warm, or look beautiful, or "make a statement" about themselves. If you sell office furniture, those products help people perform better by giving them a practical, comfortable place to work. Don't focus on how this sale is going to help YOU (for example, with a commission or recognition from your boss). Focus on how this sale is truly going to help your customer.
You've now gone from being "just a salesperson" to being a person who helps customers purchase products that are going to benefit their business or day-to-day lives. This subtle shift can make a big difference in how you feel about your work.
3. Review and Celebrate Your Impact

It's very easy for us to get wrapped up in our day-to-day "to do" lists or the next big project. We tend to focus forward on what we have NOT yet done, and we rarely stop to look back at what we HAVE done that's made a difference.
Build a personal "I did it list" to keep track of "good" things that you've done during the week. Perhaps once a month, spend five minutes reviewing what you've achieve. Some months you'll have more things added than others. That's OK…as long as you continue to make a difference in other's lives as well as in your company.
Smart Moves Tip
Finding meaning in your career is a journey, not a destination. It's not something that will happen overnight. If you're willing to look at what you do in a new way, you can find meaning in your work. Sometimes even small acts can make a big difference. Many times these actions will bring more joy and fulfillment to you than the person you're helping. And the bonus for organizations is this: Employees who have a sense of meaningfulness at work is one of the most potent ways to increase productivity, engagement, and performance.
As a leader, how are you finding meaning at work? How are you helping your people find meaning?
---