When I was younger, I wanted to be a singer.  In fact, I was sure I would become a singer.  Like most young girls, my hairbrush was my favorite microphone AND then I started playing guitar.  My first taste of stardom besides playing and singing in front of my parent's friends in our family room was at camp, Chippewa Ranch Camp, a Wisconsin Camp for bratty spoiled girls from the North Shore.  Yes, judgmental, I know and don't care, especially because someone laced my shampoo with Sun-In, a 70s spray-on product that was supposed to give you just a "kiss" of blonde as if the big ole sun herself had done it however that fake "kiss" gave me more like a "slap" of brassy, copper kettle color hair.
This was at a very vulnerable age as in PUBERTY and all the accouterments that go with it. That being said, my undeniable musical talents catapulted me into temporary popularity, for at least 3-5 minutes, the length of your average 70's song, I was positioned as the lead guitarist and singer for our cabin's act at the mid-summer talent show.  I led my cabin mates in a balls-out rockin' song that only I could strum on a 6-string nylon acoustic guitar to the theme from "Welcome Back Kotter."  "Well, we tease him a lot cause we got him on the spot, welcome back.  Welcome Back, Welcome Back, Welcome Baaaaaak…infinity".  Riveting!
Here is an excerpt from the Chippewa Ranch Camp website.  My comments are in parentheses:
We believe that at Chippewa, each camper will find the opportunity to see her own strengths and find a greater sense of self through community living (Bullshit). We realize that not every child is an athlete, or a dancer, or a horseback rider… and that's the true goal of Chippewa: to let every camper find her niche in a low pressure but encouraging atmosphere (Bullshit).
Here is how I would write the truth as I saw it from my younger eyes:
We believe that at Chippewa, some campers will find the opportunity to see her own lack of strength and find a greater sense of insecurity through living with a bunch of mean-spirited bullies!!!
Man, that puberty is season is a hard one!  I went from being moderately popular, defined by being invited to most, not all bar mitzvahs and some, not all of the popular girl's "boy-girl" parties to being shunned, teased and slightly suicidal as evidenced by my taking 3 aspirin instead of 2 with the hopes it would end it all!
I bet you are thinking, "Wow!  That's serious!  3 Aspirin?  Suicidal thinking at such a young age?  Poor little Shelley.  This just can't be."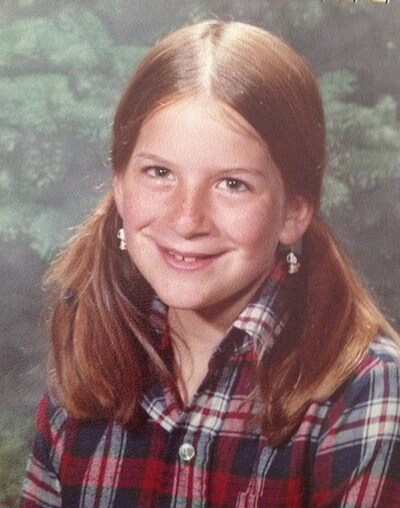 Yes, it could and now I'll give you the back-story.  So when I was in 7th grade at age 12 or 13, I was abnormally obsessed with having my period and "developing". I was like a real-life "Are you there God?  It's me, Margaret."  I was fascinated by the big and small breast growth of my 7th-grade peers and could not wait to start my period and spout some boobs.  Holy Hormones! I know you are thinking…Oh never mind.  I don't care what you're thinking, it's my true story of what happened so go think what you want or write a weird comment.  I was so fixated I started filling out a little notebook along with a friend who shall remain nameless.  (Rhymes with "Bobbin") I referred to this notebook as the "People Book" and in it I drew pictures of my 7th-grade female peers with their growing buds with a "Y" or "N" indicating if they had begun menses, a fancy word learned during a filmstrip.  How I knew for sure? I have no idea.
One day we were in music class.  My favorite class because as you now know, I wanted to be a singer.  Sometimes we would sing in front of the class. I belted out solos like "Send In the Clowns" or "Tomorrow" from Annie.  Sometimes we would break out into groups.  Upon returning from a group one day, I discovered someone found the "People Book".   This was the beginning of the end of my moderate popularity.  From then on I was teased incessantly however; his was not yet the 3 aspirin episode, it gets much worse.
Unpopular me was invited along with a popular girl to a popular boy's house.  I didn't think to question why. Popular boy's parents weren't home so it was 2 popular boys, a popular girl and me.  Popular boys escort each of to a different room in the unsupervised house.  Being unpopular me with some daddy issues, while I didn't go "All The Way", I did a little more with this popular boy than was appropriate.  Next thing you know, popular boy opens the blinds to reveal a bunch of kids from school standing outside laughing.  It was a set-up.
The next school day when I opened my locker, what seemed like hundreds of pieces of paper came spilling out of my locker with words scrawled on them including "Tool", "Whore" and "Slut".  I was 13.
Any after school special, those crises derailed my music career, that and my family moved to the city. I went to a private school lacking the infrastructure to support a true music curriculum.  My school did, however, support teenage smoking by supplying a student smoking lounge.  In many ways, it was a blessing.  I was no longer bullied and I fit in with the rest of my schoolmates with the common denominators of sex, drugs, cigarettes and rock and roll.  Unlike public school where my mother had me tested for a learning disability because I was so traumatized, I couldn't focus, I got good grades and graduated 3rd in my class.  Subsequently, the #1 kid in the class died tragically in a lawnmower accident so I guess for all intent and purposes, I can say I am #2 in my class.
The point of this story, and there is a point is that I am a singer, maybe not a Rock Star but a singer of songs unsung.  I sing my songs in the form of writing. I write in my own authentic voice and just as you can hear a guitar lick and identify the guitar player, my hope is that my own writing voice is uniquely identifiable.
I write because I have to like a singer who has to sing or a musician who has to make music.  I write not so much as to have people read my writing, I write to connect, to engage, to feel less alone and allow others to feel related to, to laugh, to cry, to identify within themselves similar feelings and to evoke a memory.
I used to think my journey was so unique but it's not and for that I am grateful.
If I can't be a Rockstar, then I will be a Write Star even if in my own eyes.
~From the "Weird Girl" archives Circa 2014