Create your Instagram content ahead of time
While you should certainly leave room for timely content and spur-of-the-moment content, it's best to plan as much as possible ahead of time.
That's because not only will you create higher quality content this way, but you'll also be able to make sure that your content supports your set Instagram marketing objectives. This means planning your regular, every-day content, as well as content for specific marketing campaigns, upcoming product releases or new features, upcoming events you have planned and so on.
As for how to create awesome Instagram content, you have a plethora of tools at your disposal to help you create images, videos, memes, Stories and any other type of content you need to create – especially when you have the time to plan them ahead of time.
The most notable and popular social media content creation tool is probably Canva; it's very easy to use and it has a bunch of beautiful templates to choose from (unless you want to start your project completely from scratch). You can use it to create both Instagram posts and Instagram Stories (with pre-set dimensions and appropriate templates for each):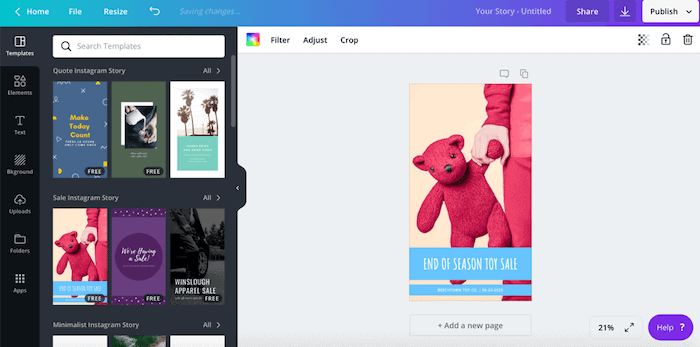 Another useful tool – and likewise, very easy to use – is Quick by GoPro, a video editing tool that pretty much creates your video for you – you just need to add at least 5 images and video clips, choose the theme you like and customize your video with text overlay. Or, if you'd rather create horizontal videos, you can use the Horizon app, available in both the iOS App Store and the Google Play Store.
Plus, don't forget to leverage Instagram's tools as well: Boomerang from Instagram allows you to create fun, looping videos, Layout lets you put together photo collages and finally, the Hyperlapse app which helps you create beautiful time-lapse videos (unfortunately, this one is only available in the iOS App Store and not in the Google Play Store).
Test, measure and optimise your Instagram strategy
No one can know with absolute certainty whether the content they've planned out will work – this you learn through testing and by measuring your results religiously to understand what works and what doesn't.
And furthermore, by optimising your strategy as you go along based on your results and findings.
Make sure to keep a close eye on your analytics to see which posts perform best (or worst), particularly when it comes to your objectives, without focusing solely on engagement and views (unless those are your objectives) – are your updates helping you achieve your goals? Or should you try a different approach?
It's also worth trying our different types of updates to test their performance in terms of your objectives; for example, if you wanted to boost brand awareness, try different forms of content to see which generate the most views and reach the most people – should you use more Stories in your strategy or more regular videos? Are certain topics helping you reach more people and generate more engagement?
The more you learn from your results, the better you will be able to actually improve them.
Conclusion
Instagram is undoubtedly one of the most popular social networks in the world – and thankfully, it's perfect for those who want to use it for marketing purposes. Make the most out of your Instagram presence by following the tips and advice in this blog post and by creating an Instagram visual content and marketing strategy that will help you get closer to reaching your marketing goals.