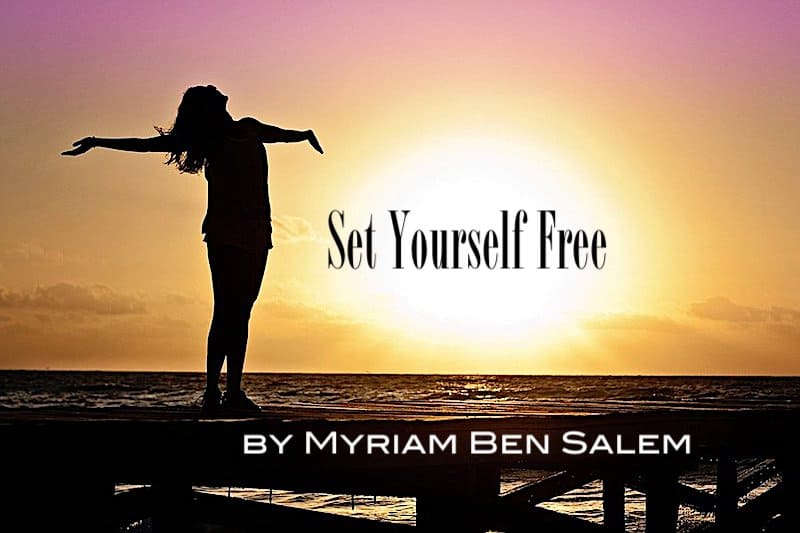 Children have one kind of silliness, as you know, and grown-ups have another kind.

~ C. S. Lewis
I owe the guy a lot of respect, but I need to disagree and add "until we re-write the program!" Does this mean we can become as free as kids again? Oh yes, and this only one of the multiple outcomes and acquired virtues!
The gym locker room
I enter the gym locker room with a friend after two of my favorite cardio classes. My endorphins are at their highest levels. I am hovering and extremely excited, talking and laughing nonstop! My friend goes to take her shower. So what? I have many other friends in the room! I am in the same place for 25 min. People who arrived after me are ready to leave. I am still in my sweating clothes. I pause, look at myself, and say "goodness; can't believe how slow I am!".
The room is crowded with girls I've never seen before. Their facial expressions are showing their confusion. I notice it and giggle internally before adding: "well, we're here partially to maintain our muscles. My tongue is also a muscle; isn't it?" with a large smile.
I hear many beautiful giggles! For the shyest of them, I can clearly see a smile from the eyes!
The dancing class technical issue video
You will do foolish things, but do them with enthusiasm.

~ Colette
It is our Sh'bam dancing class Halloween's party. There is a technical problem. The music keeps being shut down. The dancing keeps being interrupted. People are becoming bothered and impatient. I am on stage with a few regulars. No panic! Let's entertain this audience, shall we?
I am not on the stage anymore. I am drinking some water when somebody hugs me from behind. I turn to see a girl I don't know. She says "Can you please make sure not to miss the class again? It is definitely not the same without you!".
I am so humbled. The feeling is just priceless. She is a good friend today.
The HRD Congress in India
Silliness makes your soul smile.

~ Doe Zantamata
Sure, but there is a bonus to which we'll come back later!
I was invited to India to give a talk. It was a huge 3-day-event. Each day, there were 5 talks each 30 minutes.


I was late to the first ceremony. I had such an exhausting 22-hour-trip. I didn't sleep the whole night and needed to take some rest. I had to deliver my speech the following day. I met the coordinator. We had a quick chat, and I headed for the buffet. I was starving; you guessed right!
There was a guy. He approached me, pushed my passion button and I started talking, and talking… and talking. The guy was listening and only interrupted me for a second to say: "You need to know that I'm the talker in general, that I can rarely listen to someone for more than one minute". That was moving…
Many were observing the scene and joined our table! They asked me for my card, to which I answered: "I don't have any, and this is intentional. I am my card. If I succeed in building a rapport, you will not need it to remember me"
Because I'll need pages to write about the whole fabulous stay, I will just tell you this before finishing with the silliness part: I ate all my meals cold and the sentence I heard the most was "Please eat; I'm sorry I triggered your passion in any way!"
During the last ceremony party, my guy took this video. Nobody asked him to. I don't even remember to take pictures. My mom is always frustrated because of it :
The following guy was sitting next to me. I was moved to my core by his following testimonial: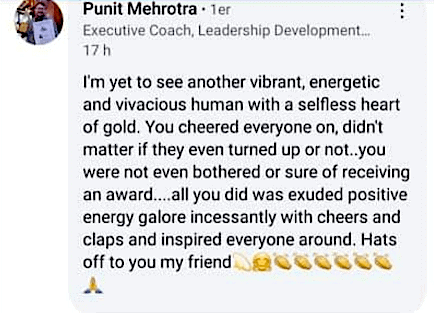 Moral of the stories: we can act absolutely as a 5-year-old while our biological age is 50. Is that a learned skill? No. It is the result of the reconnection with our inner-kid through the transformational journey. Why are people who are laughing at a self-deprecating joke having smiling eyes? Because their soul is being nurtured.
What is being extremely silly actually triggering for people around you? Making them pause and not take themselves too seriously when facing hardship (the technical issue story). Giving them the permission to start liberating themselves. Giving them hope that, maybe one day, it could be their turn to be free – free from the adulthood biased concept; free from the stigmas; free from the limiting beliefs; free from the draining rules; free from their unhealthy ego's grip.
Why am I so in love with being publicly silly? Simply because nothing is making me fulfilled as much as being in service and helping in any possible way. I truly hope you will all be able to experience the freedom sensation one day. Fingers crossed!
With love, Myriam