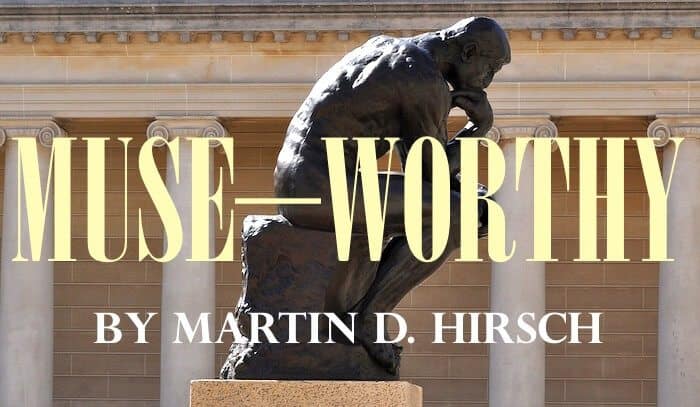 A couple of years back, an ad in the New Yorker caught my eye about a best-selling book called "The Life-Changing Magic of Tidying Up: The Japanese Art of Decluttering and Organizing." As a lifelong neat freak, the title drew me in. So did the photo of the book's adorable author, 30-something Marie Kondo, founder of the global phenomenon known as the KonMari Method, a rigorously Zen-like spiritual discipline designed to clear your mind by purging your living space of unnecessary stuff, putting what's left in its proper place, and keeping it there.
A Girl Thing
Interestingly, when I began asking friends and work colleagues if they'd heard of the book, not a single guy had, but nearly every woman not only knew of it but had read it. Before long, "The Japanese Art of Decluttering" had found a discrete place in my man bag, where I could keep its blaring femininity hidden but its contents handy, offering up a morsel of the KonMari Method whenever I had a moment.
And so on a tram ride to town or during a coffee break, I could discover a priceless gem of practical organizational wisdom, like how to roll up and store your socks without ruining the elastic, or scoff at one of Marie Kondo's nonsensical anthropomorphisms, like gratefully thanking your clothes for keeping you warm or making you look beautiful. The practical parts offered the kind of common sense advice that, like exhortations to eat healthily and exercise regularly, are hard to dispute, yet even harder to turn into daily habits. The KonMari thesis – that an uncluttered and well-organized home can be conducive to a clear, tranquil and blissful mind – makes exquisite sense to me and sets a goal I'm motivated to achieve. It's the method that gave me pause – or at least parts of it.
Defying Everything My Mother Taught Me
Marie Kondo's first rule contradicts everything my mother taught me about tackling difficult tasks – that I should take it a step at a time and not strive for perfection. According to the KonMari Method, "If you tidy up in one shot, rather than little by little, you can dramatically change your mindset," change it so profoundly that "your emotions will irresistibly affect your way of thinking and your lifestyle habits." Moreover, the method demands perfection in purging and placing items in your home and guarantees it can be achieved by two things: deciding what to dispose of, and deciding where to put it. Once you make those two choices, says Kondo, you're on your way to a life reset that will free you.
And how does that feel? Pretty awesome, as Kondo describes it. Once she went cold turkey tidy, her world was an oasis of tranquility. She now had "time to experience bliss in my quiet space, where even the air feels fresh and clean; time to sit and sip herbal tea while I reflect on my day. As I look around, my glance falls on a painting that I particularly love, purchased overseas, and a vase of fresh flowers in one corner. Although not large, the space I live in is graced only with those things that speak to my heart. My lifestyle brings me joy."
I Want What She's Having
After 10 years of married life spanning three successively larger homes in Manhattan and the New York suburbs, my work brought me to Switzerland, where we shipped and stored a lot of our things and accumulated much more. In what turned out to be an unexpected 16-year stint abroad, we were able to travel extensively and we collected artwork and memorabilia from around the world.
When I retired at the end of last year and returned to New York with my wife, we found ourselves faced with the mother of all tidying up and decluttering challenges. With each of our previous moves, we failed to get rid of as much as we should have. Plus, I seemed to always have crises going on at work when move times came and felt like each one was a replay of the Saigon airlift; we dumped our belongings in cursorily marked boxes, took our personal possessions with us in our suitcases and carry-ons, and figured we'd sort things out later.
This time, like many older couples, my wife and I moved into a small apartment after living in a relatively large space and had to pair down considerably. We put a ton of stuff in a storage facility, which was like renting out a studio apartment for our possessions. (What a lucrative business the storage industry is! But that's another story.) What I wouldn't give to be able to wave Marie Kondo's magic wand and find our Manhattan apartment tidy and uncluttered, but adorned with our favorite keepsakes, precisely arranged for maximum appreciation while still maintaining the minimalist, spare look of a Japanese tea house.
Sacrificing the Sentimental
The ever-efficient Ms. Kondo swears by her method, which she's been perfecting since childhood, and claims to have tackled decluttering assignments of all sizes in a single bound. But to my mind, although she does not entirely overlook the sentimental, she gives it short shrift.
Don't get me wrong. I credit Marie Kondo with helping me tackle the challenge of moving our mountain of stuff into a relatively small space, making the place tidy and organized and wonderful to be in. I also owe her plaudits for planting the habit in my head to put everything in its place as soon as I'm done using it. This is no mean feat. But the bottom line is, I ultimately failed her test, and there are two reasons why: I couldn't do it in one go, and couldn't let go of certain things whose sentimental attachment was so strong they stuck to me like permanent tattoos.
In the end, we got rid of multiple mounds of clothes and shoes, dishes, vases, kachina dolls, books, CDs, sports equipment, artwork and a few antiques. But there were just some things that neither my wife nor I could part with, even if it cost us the monthly storage fee, and the times we'd see them again would probably be extremely rare. In this category were photos of our mothers, our wedding and honeymoon pictures, albums of our travels, and hand-written scorecards from the backyard basketball tournaments my friends and I played in our teens. There was also a small bag of things I'd been given by my mentor, the medicinal chemist Dr. Leo Sternbach, who invented Valium and gave me my own personal stash of yellow, five-mg. tablets in a glass vial he'd personally autographed, its expiration date long passed but its grip on my heart eternal.
The Greek Guitar
But if I had to choose the one most symbolic item among all the memorabilia that resisted discarding, it would have to be the small stringed instrument whose battered neck peeked
out from an old gunny sack in the back of the storage cube. It took me back to the summer of '73, when I graduated from college and invested my bar mitzvah money in a backpack, roundtrip air fare to Europe and a Eurail pass.
Away from home for the first time, and in a foreign land, no less, I missed many things, but none as much as my guitar – the one source of solace I could always turn to when my emotions needed comfort. On the Greek Island of Corfu I had searched the ancient streets for a music shop that might sell me one I could afford on my meager budget, but the closet thing I could find was a pear-shaped lute-like instrument with 11 strings called an oud.
Dejected, I walked back to my cheap pension, passing the dock, where a down-and-out traveler was selling a beat-up, midget-sized guitar to pay for his trip back to Athens. He sold it to me for a few hundred drachmas – around 15 dollars. It became my constant companion for the rest of that unforgettable summer, going to sleep with me at night on the wooden decks of the tourist boats I'd take from island to island, gliding into a different village of azure and white every few days.
I wrote a few songs with that guitar that I still know by heart. Together we'd entertain new friends on sun-drenched beaches that turned to star-studded planetariums at night. In August we made the long journey home, where I reunited with my American guitar and put the Greek one in the closet, where it morphed from an active musical instrument into a concrete manifestation of nostalgia made of metal and wood.
Marie Kondo most likely would have had me sing it "Thanks for the Memories" and cast it into a Good Will bin. Minus the serenade, I was planning to do just that. It had served its purpose as a life-enriching accessory in a formative period of my development. But many decades had passed, I had no room for it, and it was not worth a whit for playing anymore anyway. But I kept it. Because as much as I wanted to, I couldn't let it go.
Sorry, Marie Kondo. I failed your test. For me, the magic of a living memory that I can still see and touch and feel and grow old with was stronger than the magic of letting go of everything without a current, practical purpose. My home is a lot neater now, though, and I'm meticulous about keeping things in order. How about giving me partial credit?