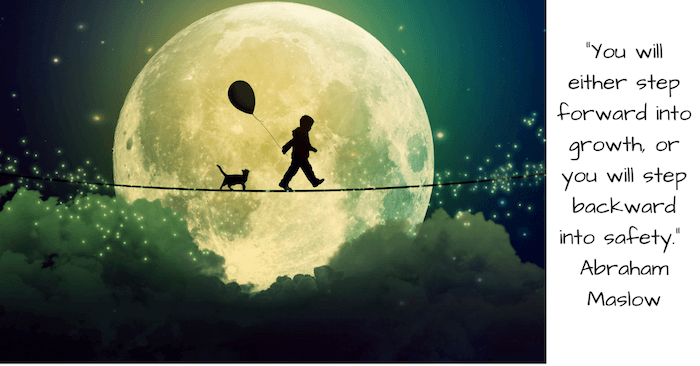 Benjamin Franklin has a famous saying,
In this world, nothing can be said to be certain, except death and taxes.
  – Benjamin Franklin 
I would amend his quote to include change. Change happens whether we want it to or not. It is necessary for growth, and without it, there can be no life.  A seed is planted, the seeds shell breaks open, and a shoot pushes its way out of the soil.  The shoot becomes a thriving plant through continued growth.  With the right amount of water, nutrition, and sunlight, the plant produces a bountiful harvest. 
Growth only comes from adversity and from challenge – from stepping away from what's comfortable and familiar and stepping out into the unknown.
  – Ben Saunders
The seed stepped into its destiny by not remaining dormant in the ground.  It did not let fear keep it from cracking the hard protective shell.  It pushed itself out of the limitations of the seeds shell.  It pushed itself past the fears that resided in the darkness of the soil, thrusting up into the light.
Stepping into your destiny really is the only real, true, authentic way to live.  Fear is all that holds you back and holding on to that is really what keeps us stuck in the dark.
  – Unknown
Growth and change can be painful, but they do not have to be. You have a choice in how you react to it, and how it affects you.  Change is the law of life.  But all change is not growth.  That is because change isn't always forward movement.  Sometimes change takes us backward, instead of forward. 
Knowing others is intelligence.  Knowing yourself is true wisdom.  Mastering others is strength.  Mastering yourself is true power.
  – Lao Tzu
Having an open mind is necessary if you don't want the growth that happens when you change to be painful. This is because if the mind is closed, then you are forever being controlled by the things that the mind refuses to give up.  Wisdom is knowing ourselves so that we spot our patterns of self-sabotage.  Mastering ourselves is when we spot the self-sabotage and instead step through the gateway of transformation.
Your vulnerability is a powerful gateway.  Stepping into it invites growth, freedom, healing, your greatest love.  It is a pathway born from courage, connecting your truth + being to the magic already living within you.
  – DanielleDoby+Tribe
Think of a baby bird. It is a soupy glob inside the egg. It transforms into a baby bird. If it doesn't transform, the egg goes bad and never has life. Once it transforms it still needs to peck its way out of the eggshell. If it doesn't get out of the eggshell it will die. Then once it is out of the eggshell it grows to the point that it needs to use its wings and learn to fly. All are components of constant change and growth.  The prize of growth is in the freedom of flight that the mature bird has.
None of us are perfect, but I value those who make growth a priority . . .  They push things forward, they show us that it's better to die in your truth than to live by what cowardly people deem to be "right" . . .  You'll always be crazy to people too scared of reality to dream . . .   Your mistakes will always be dumb to those who fear trying anything new . . .   But there's always a prize for those that persevere . . .   Greatness is infatuated with those that have the discipline to stay focused and the work ethic to consistently get better . . .
  –  Rob Hill Sr.
This is a great illustration of change. Some of the changes are beyond the control of the bird. it has no say about changing from the soupy glob and into the baby bird. Instinct has it fight and peck itself out of the shell. The bird could fight against the changes, but doing so would lead to its death as it needs to eat to survive. It goes through change and transformation after change and transformation.  It has the freedom of flight.  It has the wind beneath its wings lifting it up into the sky.  The reward is in the fulfillment of its destiny.  
Personal growth is not a matter of learning new information, but of unlearning old limits.
  – Alan Cohen
What it comes down to is how the attitude that we have about change and life, speaks to the kind of life we have. The attitude of survival actually fights against change, because our focus is on avoiding what we don't want. We avoid disease with drugs, we try to avoid war by creating better faster ways of killing our enemies so that we aren't killed by them. Weapons of mutually assured mass destruction.
All change is preceded by crisis.
  – Soren Kierkegaard
A different attitude would be to focus on thriving. In thriving, we seek out ways to live a happier, healthier way of life. We seek the good things we want in our lives, instead of avoiding the bad things we don't want. We seek to cooperate with others in love and peace, connecting heart to heart. We become pioneers of a better future.   Assumptions need to be cleaned out of our thinking process because they serve as blinders and we miss vital information.
Be the change you wish to see in the world.
  – Mahatma Gandhi
Growth and change are very scary. You will trip and fall and bruise yourself. Others will make fun of you, stating that you can't change the world (you are a pipe dreamer). They will say that you can't trust others. They will say that the bad guys will win if you act in this way. They will say you won't be safe. They will say a lot of things, to push you backward. They will push you back into the cage of safety. 
Laugh at what you hold sacred and still hold it sacred.
  – Abraham Maslow
Goals are what we reach for, but the real prize is how we change to achieve them.  I always think of Imagine by John Lennon. What if,…. we all really do have infinite potential? What if we really can do anything? What if we can make our dreams come true? What if, changing you, really does change the world? 
That is the kind of world I want to live in, and what I find is that the more I create that space inside of me, the more I find others who are doing the same. I really do believe that someday we will be living life in peace, and sharing the world with each other, and the world will really finally be "one".