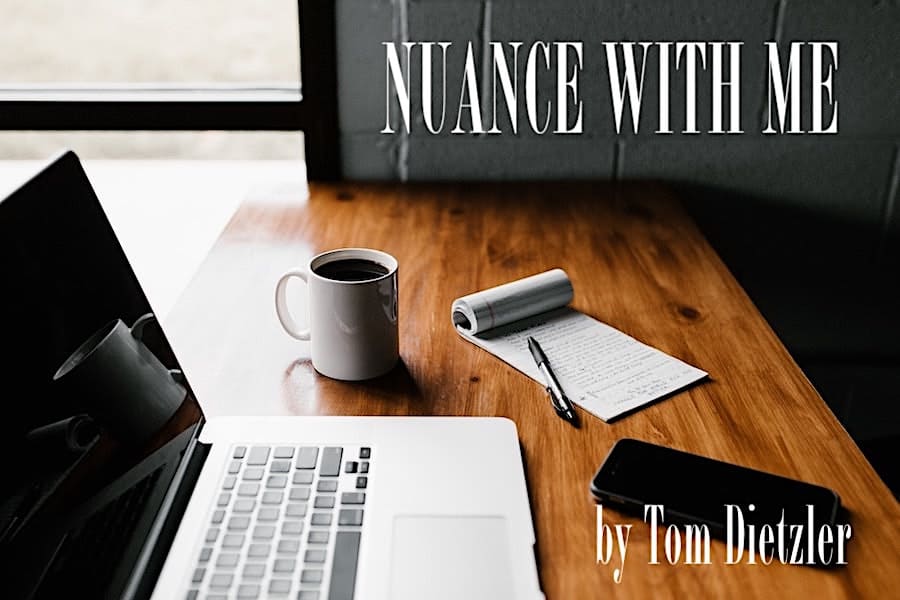 This is something from the outer reaches of my brain, and normally those knock around in there like pinballs until they get replaced by the next thing that comes along. This one is fresh, and therefore it may never make it onto any kind of publishing platform. I'm kind of surprised right now that I am giving this thing this much headspace to actually type it out. Strap in, folks, this could get interesting.
That was the first paragraph of a diatribe that I was going to launch into some event that happened in a nearby community. I was writing with a full head of steam and had fashioned some wonderful rhetorical flourishes that would've certainly brought the full force of my ire upon whomever I had decided to unload both barrels toward. (Forgive my metaphor involving firearms, I was only speaking in terms of verbal bombing throwing… ouch, looks like I did it again…).
While the shards and shrapnel of my outrage were still winging their way from the keyboard to this piece, I decided to grab today's local newspaper and do some fact-checking. I actually read the article that was fueling my ire and indignation. That was enough. I could still toss out some tersely worded denunciation of the facts as they were presented and give the guy who took the action that ticked me off a good ol' piece of my mind.
That fact check was the pressure relief valve.
Except it wouldn't matter what I said about it. I love passion and I love it when someone stands up and paints lovely word pictures of a wrong that needs to be righted and makes our hearts sing in support of the cause that has been detailed in a stirring call to action. The thing that had me bent out of shape was about a guy who had a nice idea and it benefitted others and wasn't hurting anyone. It was a tad bit of coloring outside the lines and someone who had his business closed and couldn't provide that service made a big hairy squawk about it and so the good thing got shut down.
It would've been a writing exercise, and though I can use those, it wouldn't have changed a thing.
My rhetorical flourishes wouldn't have impacted anything but my own mush head. I might have felt, for a couple of minutes that "Well I told him…" and I might have gotten some comments about how "that was well played…" or "you really laid waste to that guy…" It would've been a writing exercise, and though I can use those, it wouldn't have changed a thing. Maybe it would've drawn some negative attention to my home state, or the area that I live in and maybe would've caused people to give me a wide berth if they ran into me in public.
I used to send pithy tirades into my local newspaper. In the last few years, maybe I have mellowed. More than that, I think I have decided to channel my energies into positive. I will not pillory that guy in the public whipping post of the Letters to the Editor. I admit it, I do miss getting anonymous form letters in the mail that try to lobby me with the details of my mental illness and drug addiction for feeling the way that I do. Tomorrow, instead of reading the paper and anxiously looking for the Pulitzer worthy excoriation of a guy who doesn't deserve another couple nanoseconds of bandwidth… I'm going to take my frustrations out in another way.
When Oliver and I set out tomorrow on our tour of this sector of the Grand Chute Township, I will bring a garbage bag with me and clean up along part of our walking route. With each piece of garbage that goes into the bag, I'll grumble "Take that, Idiot Stick," or "Here you go Butt Face…" and I'll really mean it. My editorials will be to myself. I'll clean up my neighborhood, and not befoul our public discourse with whining and negativity. That's my call to action. I feel much better.