Key App Opportunities, Challenges, Industries, and Trends to Remember when Leveraging IoT
According to Gartner prediction, more than 75% of global companies will start using IoT container apps by 2022. This reveals how fast industries and businesses are adopting IoT apps for their operation. IoT is no longer limited to smart home automation and trendy home appliances allowing smart interaction for personal comfort.
In the years to come almost every useful mobile device is likely to turn smarter allowing interactions through mobile devices or taking part in the ecosystem of connected objects. In this revolution, mobile apps are already playing a central role.
The IoT apps are not only just developed by the device manufacturers to help their users operate the devices, but advanced IoT apps are being developed to connect a multitude of connected devices, sensors, and machines in various environments including healthcare, manufacturing sector, public transport, workplaces, public places, and others.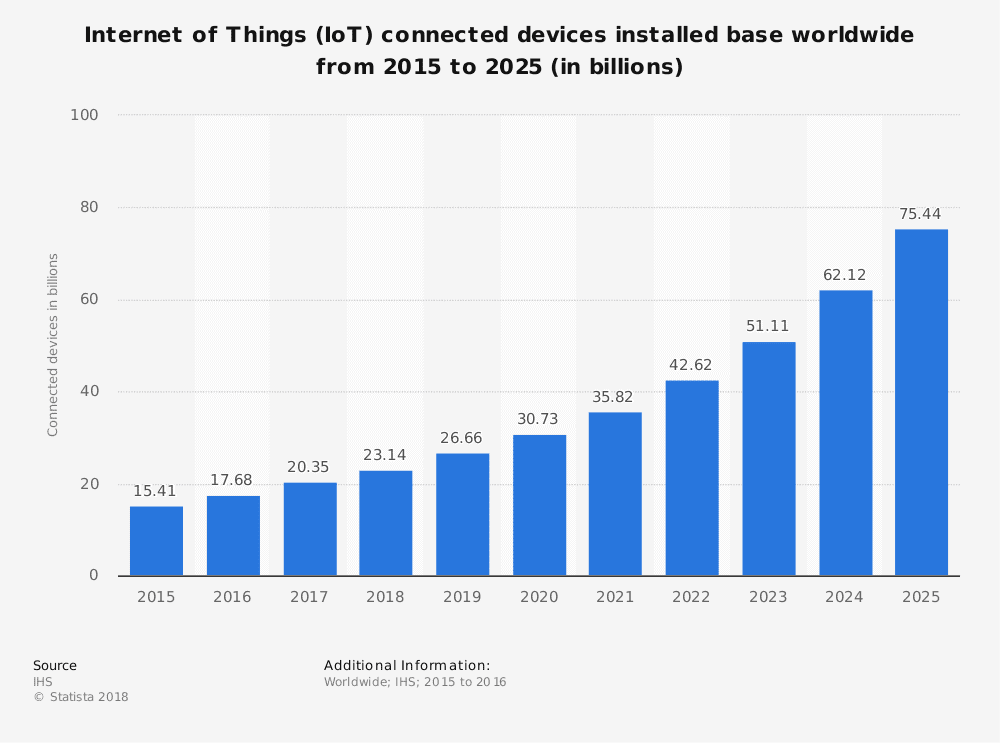 Source: Statista
According to Statista, by 2025 the number of connected devices is estimated to cross 75 billion. This clearly shows the exponential growth of connected devices across all sectors and industry niches. Definitely, there will be a lot of new startups to take advantage of this IoT revolution in a never-before manner. When you try to find the perfect mobile app developer for your project of an IoT app, you should have a comprehensive understanding of the following opportunities, challenges, industries, and trends.
IoT Mobile App Development Opportunities
Internet of Things offers awesome opportunities to mobile app developers in terms of better user experience, app security, audience interactions, and costs of app development. Let's have a quick look at these opportunities.
Innovative user experience: An app that integrates location signals from remote sensors for a more context-driven experience to the ease of operating connected gadgets through mobile apps, IoT apps offer a great scope of innovations.
Intelligent interactions: Thanks to IoT app interactions can be more context-aware and intelligent. The integrated artificial intelligence (AI) and smart sensors like Beacons can allow more contextual and personalized interactions.
Location-independent experience: Most IoT apps rely on remote cloud servers for storage and access to important computing functions and this helps IoT apps to remain completely free from location constraints.
Facilitating convenient automation: The biggest value proposition of IoT apps is obviously facilitating automation that guarantees optimum ease and convenience. Devices and gadgets by automatically interacting with one another through a remote app can make our homes and workplaces smarter and nimble.
IoT Mobile App Development Challenges
Along with the plethora of opportunities, IoT apps also pose serious challenges for developers. Let's have a quick look at the key challenges that IoT app developers need to keep in mind.
Processing huge amounts of data: IoT devices and apps spread across vast networks need to handle huge amounts of data inputs growing leaps and bounds. This poses the additional challenge of incorporating sophisticated data analytics technologies.
Data Security: Since the connected devices in an IoT network comprise a multitude of touchpoints, the data passing through them remain often vulnerable to security breaches. The personal usage information of the users is also exposed easily making bigger privacy concerns.
Hardware and operating system compatibility: Many IoT devices and their corresponding apps are compatible with certain OS platforms while remaining incompatible with others. Ensuring seamless compatibility across all devices and OS platforms is still a challenge for IoT apps.
Performance bottlenecks over time: IoT apps and gadgets updated frequently to accommodate the latest security patches and compatibility solutions can suffer from performance issues over time.
Let's now describe three most promising sectors for IoT app development.
IoT Apps in Healthcare
If we need to mention one critical sector that is continuously seeing the best impact of IoT apps it is none other than the healthcare sector. From remote monitoring of vital stats of patients to real-time tracking of health inventory to connected medical billing systems to streamlined reporting and patient information sharing through connected devices and apps, IoT apps have made an era-defining impact on the healthcare industry.
Remote Patient Monitoring: Connected medical devices by streaming vital patient stats and information to the caregivers, doctors and medical fraternity can allow remote diagnosis, continuous care, and timely care for critical as well as chronic patients.
Workflow Automation: In major healthcare establishments where the demand of treatment and care continues to be high, connected devices and apps transferring patient information among the departments and doctors can ensure smooth workflow automation.
Medical inventory control: Modern medical equipment and supplies coming with scannable QR codes, barcodes and similar technologies allow IoT apps to process faster and smooth billing, tracking of equipment, and timely ordering.
Healthcare data analytics: Multitude of healthcare equipment and gadgets sharing and syncing patient information through cloud platforms create the scope of advanced healthcare data analytics resulting in better diagnosis and medical research.
Power of connected wearables: Connected healthcare wearable gadgets like the health and fitness tracker bands, smart headbands, etc can generate a lot of data-driven insights on the patient's health condition and ensure more individual specific and effective treatment.
Smart and Connected Workplaces
Another sector where the impact of IoT will have a huge bearing is the smart and connected office and workplace environment. While the value proposition of smart homes is mainly convenience and comfort through the output of connected devices, the key value proposition of a smart office environment is smooth workplace automation to ensure great efficiency and business process output.
Remote collaboration: Smart workplaces now operate beyond the boundary of brick and mortar walls and facilitate real-time collaboration, communication, and teamwork among multiple on-premise and remote employees through connected gadgets and apps.
Intelligent automation: From smart employee register systems with automated timestamps to the smart inventory and energy tracking within workplaces to smart automation in document processing, IoT gadgets powered by cloud platforms are allowing intelligent automation in workplaces now.
Smart vigilance: The connected security camera systems, connected smoke detectors, and other equipment are increasingly ensuring safety and security from unwanted fire accidents, security breaches, and other types of threats.
Empowering business intelligence: The smart and connected devices at workplaces by generating a lot of data-driven insights on employee behavior can actually empower the business intelligence of companies.
Smart IT Maintenance: Connected ecosystem of gadgets in modern workplaces can also notify maintenance requirements, various hardware issues and give malfunction alerts from time to time. This ensures timely maintenance without requiring much human monitoring.