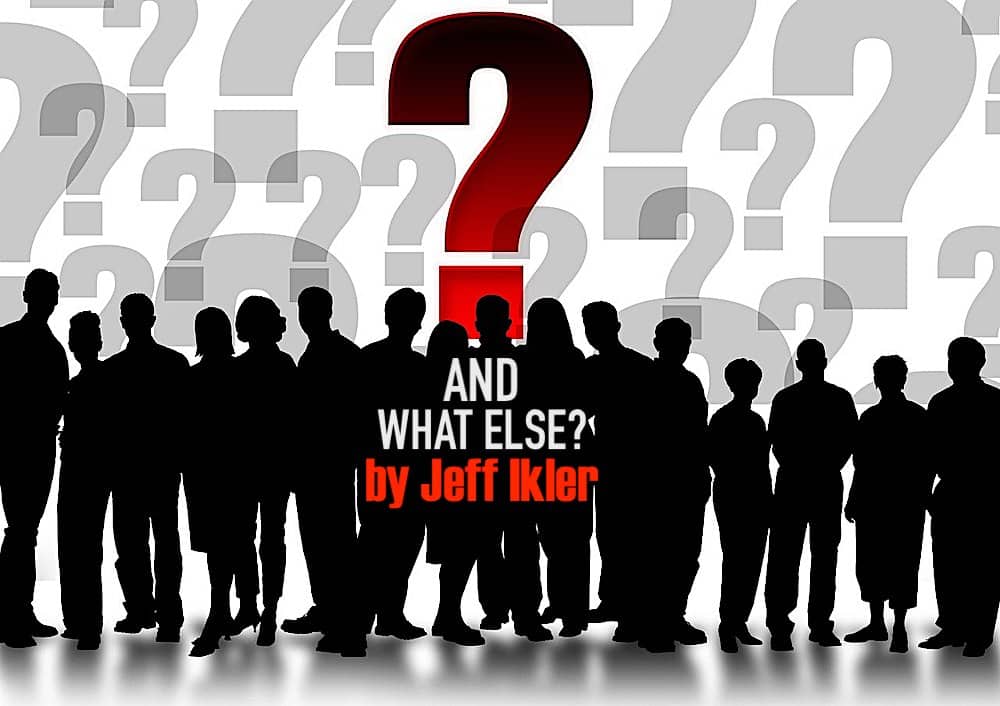 Thoughts for Thursday, October 1, 2020. ON THE "GETTING UNSTUCK – EDUCATORS LEADING CHANGE" PODCAST
Anthony Martignetti died recently. Yeah, I know: "Who?" If I hadn't seen the headline and his picture in the obituary, I wouldn't have remembered either.
Anthony Martignetti ('Anthony!'), Who Raced Home for Spaghetti, Dies at 63
Anthony's major claim to fame in life was that as a 12-year old, he starred in the Prince Spaghetti commercial that had him running — for 14 years! — through Boston's North End in response to his mother's leaning-out-of-an-open-window call-to-dinner: "Anthony! Anthony! Anthony!" If you've never seen the commercial, I've included the video at the bottom.
OK, I know what you're really wondering: Why is Jeff reading obituaries? I'd like to tell you that I read them because they give me character ideas for the screenplays I write, or because writing really good obits is truly an art – like all good story writing. But those aren't the only reasons.
I read them on occasion because my dad used to read them, especially as he got along in years. I never asked, and he never told me why. But interestingly, there's quite a bit written about why people read obits, and it's not just to find out when and where a wake will be held. The common driver is that readers want to know: What have I accomplished in life compared to this person? Has my life mattered — like his or hers did?
My dad came of age as a young man during the depression and led an award-winning factory effort during World War II. He and my mom would eventually have five (hungry) kids, so all he ever really knew was struggle, work, and parenting. It's quite likely that when he was sitting there at the kitchen table with his Chicago Tribune open to the obits section, he was reflecting on those very questions.
And this idea of reflective curiosity brings us to this week's podcast guest, Dr. Robert E. Quinn. Bob's research, writing, and teaching focus on purpose, leadership, culture, and change. He is one of the co-founders in the field of Positive Organizational Scholarship and a cofounder of the Center for Positive Organizations. He is the author of 18 books, one of which, The Best Teacher in You, we explore in this conversation.
One of the major conclusions of that book is that the best teachers – the top 1% – do something that most teachers don't do: they constantly engage in a self-evaluation process. There, they reflect on how their actions and resulting student performance align with their educational purpose. And they literally engage in this type of reflection on a daily basis. Simply put: "Am I being effective? Is my teaching helping kids learn? Am I making a difference?"
At one point in the interview, Bob compares students collaborative solving problems to the functioning of a cohesive basketball team. In both cases, the coach/teacher is off to the side having done their job to prepare individuals to work as a team. That reminded me of what has been written about the teaching principles and practices of the legendary UCLA basketball coach, John Wooden: "You Haven't Taught Until They Have Learned."
If you made it this far, thank you. There are now more than 850,000 podcasts you can listen to. If you listen to ours, well, that makes us feel like we just shot a basketball from half-court that hit nothing but net.
"SWOOSH!"
Prince Spaghetti commercial: