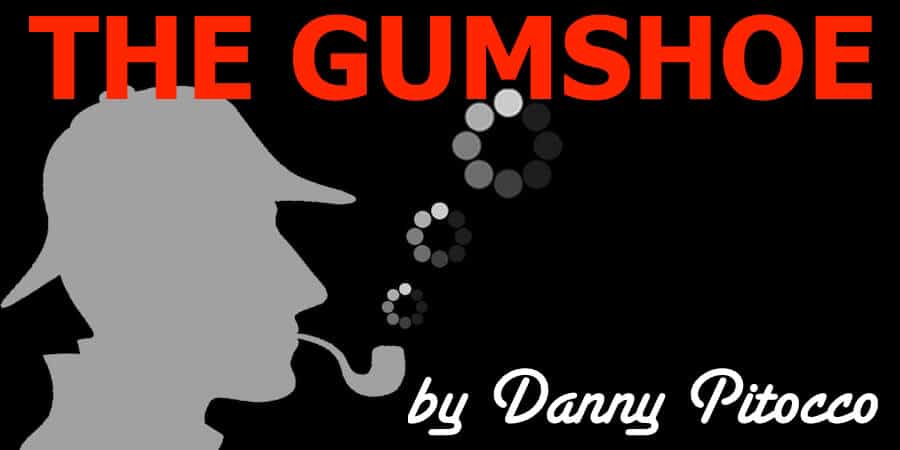 A seasoned veteran street beat cop knows that anyone, and Gumshoe means anyone buckaroos, regardless of their shape, their size, their sex, their age, their race, their color, their creed, their mental state, their emotional state, their status can kill you if you let them.
No permission to die or be killed on Gumshoe's watch! Thus, a healthy fear of our fellow humans is necessary for street survival.
Love your neighbor, but pat them down and always watch their hands. Handcuff hands to the rear. Find one weapon, look for the second weapon. Just because they are down does not mean they are safe or out of the fight.
Just because you are down does not mean that you are out of the fight.
"Live to survive and survive to live" was a sticker on the inside door of Gumshoe's police locker.
Situational awareness was also a big must. A cop's mental mantra, "Nothing is ever routine" in police work. "Routine", routinely kills cops. Gumshoe would religiously preach it and practice it. Trainees were my captive audience inside the black and white classroom as Gumshoe echoed this command.
"Learn to expect the unexpected," Gumshoe would repeat and repeat this Infinitum into the trainee's ears until it reverberated within their tender young skulls until it stuck.
A cop's rationalization along with his or her mind-numbing complacency are the fellow travelers with deadly "routine". Being bored to death has a very true ring to it.
Gumshoe would admonish the trainees that even "paranoids" have enemies. A healthy sense of paranoia is your best mindset. Homosapienphobia at its best until that fellow human has been completely rendered safe.
Follow your "gut instinct" Gumshoe instructed this God-given factory-installed survival mechanism that will send emergency signals to your brain. "Danger, danger Mr. Robinson!" Gut instinct will also immediately activate those little hairs on the back of your rookie necks that will in turn serve as a threat broadcasting message. 10-4?
Wake up! Be alert! Act! Gumshoe admonished his trainees, "You nor your loved ones need a street named in your honor, nor a cold granite memorial containing your inscribed name, or a neatly folded triangle-shaped Old Glory presented to them.
There are no "John or Jane Waynes" in police work who survive for long on the streets.
The hard ugly truth in police work is that cops get themselves killed. One of the best officer survival books ever written in Gumshoe's opinion was "Officer Down, Code Three" by the late LAPD Homicide Detective Pierce Brooks. Captain Brooks was the primary lead investigator in the homicide of Officer Ian Campbell. The kidnapping of two LAPD Officers, Ian Campbell and Karl Hettinger, by two street thugs Powell and Smith. This kidnapping resulted in the execution murder of Officer Campbell and the attempted murder of Officer Hettinger who survived by escaping.
The events leading to this crime were later written about by author and retired LAPD Detective Joseph Wambaugh, in his critically acclaimed non-fiction book, "The Onion Field", which was also later made into a movie. Captain Brooks wrote "Officer Down, Code 3" because he strongly believed that the murder of police officers could be prevented by the victim officer themselves. No blue cone of silence, just the cold hard facts.
Captain Brooks investigated multiple instances where cops lost their lives and he documented the cause and effect in each of these tragic cases. He then wrote the guide for officer survival that was learned by the hard lessons by the spilt blood of the dead coppers.
Gumshoe made this a mandatory read for every rookie trainee under his charge.
The bible will save your soul, but Pierce's book will save your life. Both books, "The Onion Field" and "Officer Down, Code Three" are highly recommended for cops and even civilians alike. The truth never has an expiration date.
Okay then, that's it until next time folks. Always remember to love the ones who love you and even try to love the ones who don't.
Coram Deo!
Note: Captain Brooks help pioneered along with the FBI, the profiling and the tracking of serial killers.
Police Trivia: Captain Brooks was personal friends with Jack Webb of "Dragnet" fame. His name, Captain Pierce Brooks was mentioned in the opening dialogue scene of Dragnet as the boss of Sgt. Joe Friday and Detective Frank Gannon. Dum, Da Dum Dum, Da!