Home has been a topic for a while for me. I didn't feel home on this planet for a while and felt more home with my head miles up in space than here.  But as I grew older, more and more in my own space and time, I found home. Home within. Home wherever. Peace no matter where. We are all part of the oneness and so oneness is part of me. I have been and I am everything, everyone, and everywhere. So home is not a place "out there".
"I have travelled so much I had forgotten what home is"
During my search for home I wondered: Had home become a concept we made very important? With magazines full of cozy home interiors. Tons of Instagram accounts of tinyhouses, big houses, huge houses, interior design? Did a fireplace determine a home? A carpet on the floor? A husband? Children, pets? Having my own stuff?
I have travelled so much I had forgotten what a home like that is. Without a home, I have been sitting at the ocean for hours, months, years, and felt home. One with the drops in it, the waves on and on touching the shore and leaving again. One with the little wild rabbit that accompanied me on the beach early in the morning. One with the tiny birds that not seemed threatened by me at all. Or maybe I had become so one with the place they didn't see me.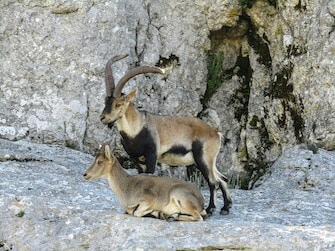 I felt home in the mountains of Malaga, where I stayed for weeks. Just me and the rock I sat on. Listening to the silence in this lonely air feeling so happy and alive. The wild Ibexes and fox so close to me I could photograph them with my phone. One with the clouds that took away all sight, one with the sun, the stars and the moon.
"When I truly found peace with that magic happens"
I felt home in a 41-year-old campervan, where I did nothing but reconnect with the oneness and nothingness that we are at the same time. When I truly found peace with that magic happens.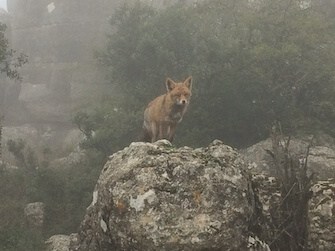 One morning I walked from my van to the supermarket to get a banana and some water. Did I imagine it or did a little bird flew with me? I carefully peeked and to my surprise it really did! Joyfully it hopped from pole to pole all the way to the supermarket! My heart burst open and a tremendous joy and love came in. (Or did it come from within going out?) When I came back from the supermarket it was there waiting for me and flew the same way back. I couldn't believe it, but as it started to happen regularly it became one of my little joys that ultimately attracted more.
I could tell you many more magical moments that happened after that, but I will save it for another time. Bottom line is for me the cliché "Home is Where The Heart Is" is true. Home is not a place "out there". My hometown is here and I can bring it anywhere.
Love,
Eyra
HOMETOWN – by Eyra Moon