The positive state of mind that brings a deep feeling of appreciation for everyday living.
Through gratitude, we cultivate the ability to look at life through the lenses of abundance, seeing the positives instead of defaulting to negativity.
"Grateful thinking" is a powerful practice that opens the door to a more joyful and fulfilling life.
Decades of scientific research and, more recently, findings in the field of social science, show that the practice and embodiment of an attitude for gratitude can be life-changing. Being grateful, and sharing gratitude, is proven to positively support greater health, as it heightens the feeling of connection, trust, and awareness.
Gratitude increases happiness, strengthens the immune system, regulates sleeping patterns, enhances social relationships, and boosts performance at work.
The practice of gratitude is a worthwhile pursuit with many long-term happy returns. Gratitude is amongst the many gifts that mindfulness practice can offer. As we tune in and quieten the mind, we consciously move the focus on the sensations that arise as we recall images of things and people that enrich our lives in many ways and at different levels.
Whatever our individual troubles and challenges may be, it's important to pause every now and then to appreciate all that we have, on every level.

–Shakti Gawain
Robert Emmons, Ph.D., professor of psychology at the University of California, and one of the world's leading experts on the science of gratitude, writes that "…gratitude is one of the most neglected emotions and one of the most underestimated of virtues…"(The Psychology of Gratitude)
❓ How does the state of gratefulness awareness support well-being? Through a mental process known as "Positive Recall", that strengthens the regions of the brain associated with reward, trust, and pleasure which accentuate feelings of happiness, optimism, and positive emotion. When we express gratitude, the brain releases dopamine and serotonin, two hormones that make us feel lighter and happier.
You will agree that there is more to Gratitude than meets the eye.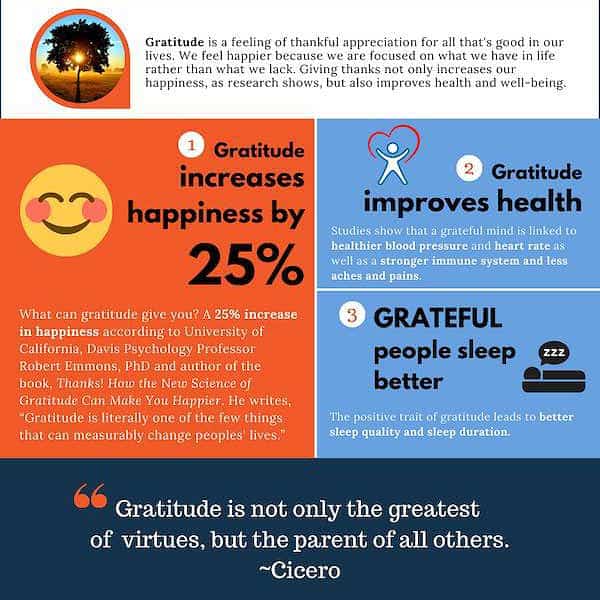 Here's to how to start tuning into gratitude, every day. Whether you are at home or at work, make time for a Gratitude Ritual.
☀️𝑯𝒂𝒑𝒑𝒊𝒏𝒆𝒔𝒔 𝒃𝒓𝒆𝒂𝒌: 5 𝒎𝒊𝒏𝒖𝒕𝒆𝒔 𝒐𝒇 𝑮𝒓𝒂𝒕𝒊𝒕𝒖𝒅𝒆. ☀️
☀️ Carve five minutes out of your busy daily schedule.
☀️ Find a comfortable place where you can sit away from distractions.
☀️ Start by grounding yourself in the moment through conscious breathing.
☀️ Then, think of 10 things you are grateful for today. Keep a journal for them. Revisit the notes to strengthen the practice as you continue offering gratitude to yourself and those around you.
Creating and reinforcing the habit of gratitude within your Team is a key dimension of a culture of recognition where effort, at the individual and collective levels, is rewarded each step of the people journey, resulting in long-term company growth and sustainability.
Share the practice with your people. You may want to start your weekly meetings by opening with twenty minutes dedicated to celebrating and acknowledging the positives, inviting each person in the Team to contribute, by verbalising three things they are grateful for. The space you intentionally make for this exploration, will not only enhance the feelings of connection, but will also enable people to maintain a positive outlook that is receptive of new ideas, which can strengthen collaborative decision-making as the meeting wraps up with everyone being offered the opportunity to take an active part in it.
"Gratitude is not only the greatest of virtues but the parent of all others." ~Cicero
If you are interested in exploring more, you will find some useful resources in the links that follow:
Mindful: The Science of Gratitude

HBR: Use Gratitude to Counter Stress and Uncertainty
Infographic credit: VirtuesforLife