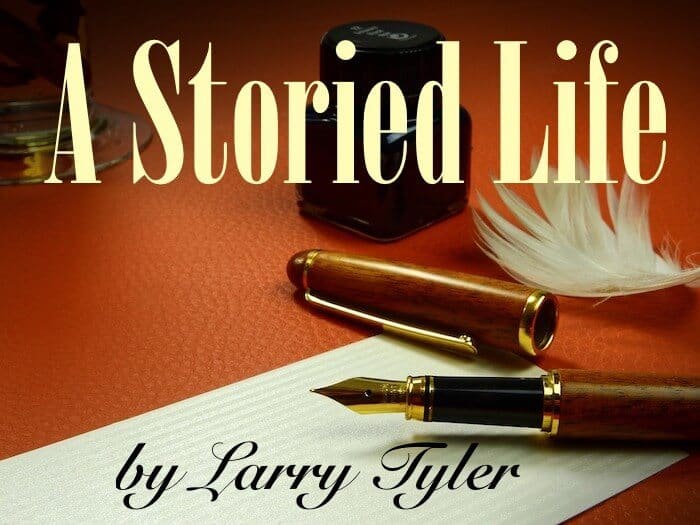 Granddaddy was a wood carver for fun and a farmer by trade.  At the end of a long workday, you would find him sitting on the front porch steps carving on his walking stick.  It was a tree branch with a big knot on the top.  He would always try to find a few moments out of each day to carve something new on his walking stick.
The stick was about shoulder high in length and he would carve things he would see during his late afternoon walks in the tall trees along the perimeter of the farm.  There were all kinds of animal trails to walk and a narrow logging road connecting the farms.  He would carve a dog or an owl.  Granddaddy was Irish so he also carved Celtic symbols and charms to ward off the evil.  He was extremely superstitious and loved telling us folklore with a bit of whiskey.
We would gather round him on the front porch in the cool of the late afternoon.  My memories of him are few but I remember with clarity the stories he would tell.  He would talk about the hounds that lived in the swamps near Fair Bluff and the old hermit that had a cabin up on stilts and would come to town by boat to buy ink and paper.  Legend had it that he came from Ireland exiled and forbidden to ever return home.
Granddaddy would take him food from time to time and a new set of clothing.  It was rumored that Granddaddy was hiding and protecting him and maybe he was, but we knew that Granddaddy was often kind and given to helping folks.  He carved all the grandchildren walking sticks with their image on the top near the knothole.
On Sundays, after church, we would eat a big meal of ham, corn, mashed potatoes with two-handed biscuits and sweet tea.  After the meal, we would retire to his workshop and he would teach us carving so that we could carve our memories onto our walking sticks.  The grandchildren were his pride and joy in life.
On a cold November morning, several of his sons took him away, heads hanging down and a sadness filled the air making it hard to breathe.  My Daddy was never the same after that day.  The grandchildren all cried somehow knowing they would never see him again and all I have of granddaddy is a faded photo and his old walking stick.
Point Of View
I remember very little about Granddaddy only rumors and speculation.  I know that for a brief moment in time he was kind to me.  He had sandy red hair and a walking stick.  He smiled often until the end and they say he was haunted inside, and the shine was what killed him.  I know now that he had Alzheimer and he lays to rest in a quiet place by the river and all his sons rest with him.
I miss the Granddaddy that I never knew.  I know I would have loved him, and had he lived I would have carved my own walking stick.