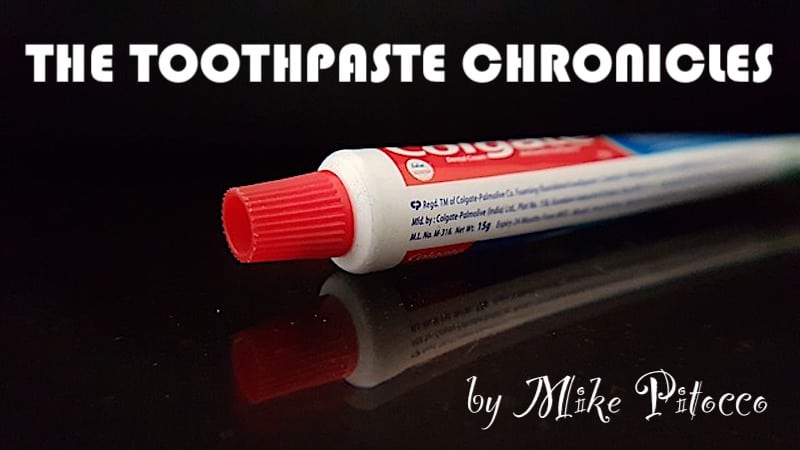 What life events will transpire from the time of the first twist of the toothpaste cap to the last squeeze? The mundane, often monotonous, the surprising, spontaneous, joyful, sad, and sometimes hurtful things of life. Our stories are diverse but similar because of our common thread, the thread of human emotions. My story is your story. We're in this together. Whether spoken or written, our stories are meant to be shared. It takes courage and vulnerability to do so. Like love, sharing involves risk. But also, like love, the risk is always worth it. I share my stories with you in mind.
I've never doubted my wife Sharron's love, but if I had and lingering concern, it was completely eradicated when she followed me onto a maximum-security prison yard in the middle of the California desert. Some time ago she and I had the wonderful opportunity to plant the seeds of a recovery ministry (Celebrate Recovery, CR) at several correctional facilities. One of those facilities was Centinela State Prison in Imperial, California. There we met with groups of prospective inmate ministry leaders on each of the prison yards; minimum, medium, and maximum security. Our goal was to present the CR ministry, explain leadership roles, challenges, and responsibilities, and ask each man to pray and consider whether he felt called to be a part of the CR leadership team.
If you're working on a crossword puzzle with the clue, "An all-inclusive, two-word description of a California prison maximum security yard", the answer is 'gray cement'. Walls, towers, and ground-level….all gray cement with a splash of barbed wire thrown in for contrast (containment also I'm sure, but I'm talking aesthetics here). The appearance alone would be punishment enough. Nothing green in view but the uniforms of the Correctional Officers. No vegetation. This is where they invented words like 'stark', 'bleak', 'cold', and 'harsh'. Each of the inmates we met with on the max yard was serving life terms; known as 'lifers'. All 'lifers' are not created equal, their sentences vary… some serving 7 years to life, others 12, 15 or more years to life.
Short of a miracle, he would never venture beyond those gray walls. But now he had hope.
As we completed the training on the max yard we formed a circle and closed out the session with prayer as we usually did. I couldn't help but notice one of the men, a young guy who looked to be in his early to mid-twenties, who was sobbing profusely. Prior to leaving I made it a point to ask him if he was alright. His response is one I'll never forget. It's one of those things we're blessed with now and then in ministry — something God uses to remind us we're exactly where He wants us to be, doing what He's called us to do. The young man said, "I finally have hope, I have purpose, I know God wants to use me right here on this yard." As we left the area, the chaplain informed Sharron and me that the young man who had been so emotionally impacted was what is known in prison jargon as an 'LWOP' — his sentence was Life Without the Possibility of Parole. Short of a miracle, he would never venture beyond those gray walls. But now he had hope. Hope of being used by God to impact other men on that yard, many of whom would eventually be released.
Imagine being trapped for a long time and then, finally you're free! People who have had those types of experiences often say, when asked what kept them going, "I never gave up hope." It's been said we can live about forty days without food, about three days without water, about eight minutes without air…but only for one second without hope." I believe that. We fade fast when we feel there is no hope.
The Bible describes the hope of believers as the "anchor of our soul" (Hebrews 6:19). It enables us to remain steadfast in the midst of a storm. Real hope does that. Not wishful thinking or "Gee, I hope it's a nice day.", or "I hope I win the lottery!" kind of hope, but real hope.
Do you have an 'anchor of your soul' kind of hope? Hope not only for this life but hope beyond the grave? The answer hinges on the object of your hope.  Isaiah 40:31 says, "those who hope in the Lord will renew their strength. They will soar on wings like eagles; they will run & not grow weary, they will walk and not be faint." Quite a promise!
Biblical hope has been described as a confident expectation. In Romans 5:3-5 Paul says, "we exult in our tribulations, knowing that tribulation brings about perseverance; and perseverance, proven character; and proven character, hope; and hope does not disappoint." Paul is not talking about a 'roll of the dice', 'pie in the sky' kind of hope, but a hope that will not disappoint!
In speaking about spiritual warfare, Paul says in 1 Thessalonians 5:8, "put on the breastplate of faith and love and as a helmet, the hope of salvation." Notice that the breastplate of faith and love protect our heart while hope is described as a helmet that guards our mind. Hope affects how we think which, in turn, determines how we live. Hope is a powerful force!
Though most won't admit it, the world is desperately looking for the kind of hope that Christians have.
Sadly, many people have left the church having only been inoculated against the gospel. They saw or heard something they didn't like and hit the exit door…never fully understanding or committing… and now they want nothing to do with God. Their response, if the subject comes up, is "Been there, done that". Trouble is, they were never really "there". Maybe they were turned off by legalistic, judgmental attitudes, or by all those hypocrites in the church, or whatever, and now they hold God responsible for the shortcomings of man.
God wants us to find Him, to know Him. He is not playing a cosmic game of hide and seek. He tells us, "draw near to Me and I will draw near to you (James 4:8). He's as near to us as we want Him to be. Again, in Jeremiah 29:13 He tells us, "You will seek Me and find Me when you search for Me with all your heart." God desires to be in relationship with us. He is where our only true hope lies.
I was 30 years old before I heard the gospel. As a result, I never assume everyone knows what God's plan of salvation is. The first time I heard it, I knew in my heart I was hearing the truth. I believed there was a God. I believed there was a place called heaven. I just didn't know what the Bible said about how I could go there. I thought what most of the world thinks; if you're good outweighs your bad, you're in. That is a very common and also very unbiblical belief. Jesus said to the crowd asking what they should do (works), "This is the work of God, that you believe in Him whom He has sent." (John 6:29)
Here are a few Bible verses that address the topic of salvation:
We must have a spiritual birth: John 3:3, "…unless one is born again he cannot see the kingdom of God."
We cannot earn our way into heaven: Ephesians 2:8,9, " For by grace you have been saved through faith; and that not of yourselves, it is the gift of God; not as a result of works, so that no one may boast." (also Titus 3:5, "He saved us, not on the basis of deeds which we have done in righteousness, but according to His mercy….."
Good works are not how we are saved, but they are evidence of our being saved. "…faith without works is dead" (James 2:26)
There is only one way to God: John 14:6, "Jesus said, "I am the way, and the truth, and the life; no one comes to the Father but through Me."
Believe with your heart, confess with your mouth: Romans 10:9,10, "if you confess with your mouth Jesus as Lord, and believe in your heart that God raised Him from the dead, you will be saved;  for with the heart a person believes, resulting in righteousness, and with the mouth, he confesses, resulting in salvation."
The world is full of fake news, and not just in the political realm. There are a number of common expressions that many ascribe to the Bible which are nowhere to be found in the pages of Scripture. One is, "We are all children of God." That sounds nice, but it's not Biblical. This is what the Bible does say, "But as many as received Him to those He gave the right to become children of God…" (John 1:12)
My prayer is, if you have not already received Him — made the decision to invite Jesus into your heart, that you will do so today. I also pray, as the Apostle Paul did for the church at Rome and Ephesus, may the God of hope fill you with all joy & peace in believing, so that you will abound in hope by the power of the Holy Spirit. I pray that the eyes of your heart may be flooded with light by the Holy Spirit so that you will know and cherish the hope to which God has called you.
Even in the middle of pandemics, violence, politics, turmoil, and whatever else might be going on in your life, remember…..there…is…hope.