Col Lewis
Have you ever just gone with the flow and things seem to just fit together seamlessly like pieces in a puzzle? Col Lewis is a man of courage who has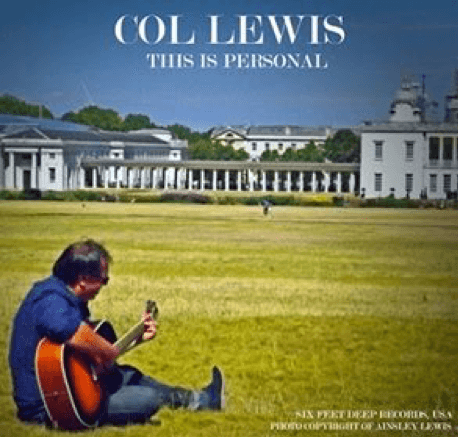 settled back in life, watching the amazing unfolding of his dreams, as if a magic wand has been waved. Although he has endured the clutches of cancer, through his perseverance and desire to live life to the fullest, Col triumphed, giving him the opportunity to pursue his passion in music.
As a result of going with the flow, extraordinary life events have come together allowing Col to see his dreams come to reality. He will be performing at the International Pop Festival that runs from November 8th -11th at Piano's NYC,  in New York City, NY. The journey has included a connection with David Bash, founder of the International Pop Overthrow Festival New York City. David has booked Col for gigs in New York and the Cavern Club in Liverpool, home of the Beatles. Samantha Beeson and Col will be joining together to record the song, "Something I Said," which has won two music awards.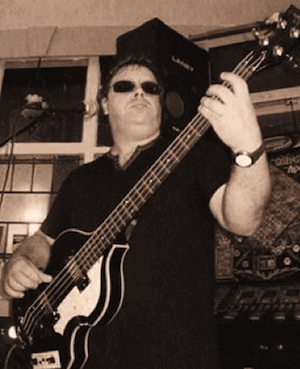 Fran Ashcroft (Happybeats Records), a producer in Liverpool, worked with Col on four solo records. Dave Kaufmann, of International Radio New York City, has been promoting Col's records for over a year. Mike Badger, co-founder of the famous Liverpool band, The La's, has been an influence and role model for Col throughout his music career. If you follow Col's path, you will find out that in addition to his own enthusiasm for music, those with whom he has included in his journey, find Col to be an exceptional person who deserves the success he is now experiencing.
"I have had Col at some IPO festivals in Liverpool, and we'll have him this autumn in New York.  As the Liverpool festival has had hundreds of bands play over the years, I must confess to not knowing Col's music intimately, but I will say that he's a very good pop music singer/songwriter and a very solid performer as well.  I definitely look forward to having him play IPO New York in November."
Best,
David Bash
International Pop Overthrow

Fran Ashcroft: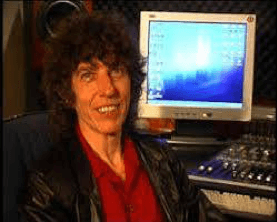 You have worked with Colin Lewis on four records. What stands out the most for you about Colin's passion for music and his ability to connect with his audience?
Endless enthusiasm and positivity – Col's a bit of a whirlwind if truth be known. He'll make something happen, that's for sure. That enthusiasm is catching, and I suspect why he's built his fan base so effectively over the last year or two.
What is unique about Colin's style and how do you feel this is part of his success?
He's a strong writer, pure and simple, with a flair for melodic songs with the best of influences, most notably The Beatles, so he knows how to structure an attractive radio friendly song. I especially liked when we did the All Sold Out/Too Soon sessions, they have a simplicity that really highlights how good a writer he is and a lovely vibe to the recordings too.
Working with Colin and producing the albums have led to his getting signed in the States and on ITV. Sometimes it is synergy that creates a winning combination. How does your production work and Colin's energy work together for a successful outcome?
Col says I'm a hard man! Or rather, I do tend to be very focused in the studio sometimes and push a little bit at times. But I do that with everybody! He's a sweetheart for letting me get away with it, but he knows I have his best interests at heart. I hope my input encourages and occasionally inspires him. As for energy – he's got bucketloads, without any help from anyone!
Please share any insights you have about Colin, your time with him and his future potential.
I don't work with anyone I don't like or admire, and over the years Colin has overcome some very significant challenges and come out smiling and more determined than ever. So, I'm thrilled about his recent successes in the USA in particular. After living there for many years, I know just how difficult it is to make headway there. Hats off to him, Col will make his own future, and I think he knows it. It's always been a pleasure when we've worked together, and I'll look forward to the next time!
Mike Badger: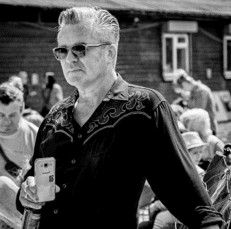 How and where did you and Col first meet?
My band was on the same bill in the Cavern Club, in Liverpool, as part of the IPO.
You have been a huge influence for Col in his music, both on and off stage. Please share your own impression of Col's passion for his and music and his journey towards success.

Really enjoyed them! They were dynamic live and had a hatful of tunes.
Every song has a message and Col puts his heart and soul into his writing. What would you say is his key message in his music?
He is very honest and passionate. Without these things there's nothing. He is also very talented…so great combination!
You are Co-Founder of The La's. What advice would you give to up and coming musicians, such as Col, regarding perseverance, courage and doing what it takes to reach the success desired in the music industry?
Persevere….if you don't believe in yourself, you can't expect anyone else to. Stick at it and if you can get a hook on a good lyric, anything can happen. But, the creative industries are so fickle! One man's fruit…and all that…there's very little justice and heaps of talent goes to waste.  Anyone who thinks the cream rises to the top, HA!! Listen to daytime radio for half an hour if you can! Sometimes tho, there is that moment of perfection that is life-affirming.
Please share any insights you have about Col and his ability to overcome, what could seem like an insurmountable challenge, to pursue one's dreams.
All you can do is all you can do. None of us are superhuman. Some overcome immense challenges and others fall at the first hurdle. I respect Col and I know he has been through a lot. Sometimes, that is when you dig in deepest to pull out the gems. I wish him luck and success in living the dream.
Samantha Beeson: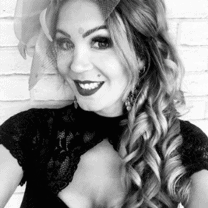 How did you and Col meet? What was the turning point at which you two decided to work together?
Col and I had been working the same event for the last two years and this year he asked me to join him. I love to harmonize, so I couldn't wait.
You will be recording an award-winning song, Something I Said, together. What do you find to be exciting about this opportunity?
Harmony. As a solo singer, I love to duet. Also, I love his style, very county and emotional.
If you were to describe Col to someone who does not know him, what would you say?
Lovely guy, great talent!
Col has a strong drive and an amazing passion for his music. How does this affect your desire to be a part of his success?
I am super excited to work with him!
Please share any insights you have about Col, his music and your connection with him.
Col is a great musician. We are going to jam the song in different keys….can't wait to work with him!
David Kaufman: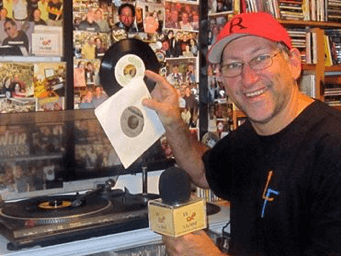 I understand you have been promoting Col Lewis's records for a year. What do you feel is special about Col's music?
I host a worldwide internet radio show and have been doing it for 11 years. I am constantly seeking out new music, my independent artists that fit the pop or power pop format as well as jazz and blues. Col has a passion with clever hooks and lyrics as well as a catchy melody.
Have you received any response from listeners regarding how his music has an impact on them? Perhaps a deep connection from the lyrics, or an emotional attachment due to life's experiences.
After reading Col's story I was inspired by his passion and quality of the music. Listeners have often commented back to me about the music and have requested Graceland to be played.
What do you love about Col as a person and his passion for following his dreams?
The singing bus driver Ha!  About a year ago I was able to book a live gig at a power pop festival in Brooklyn, NYC. Unfortunately, Col was under the weather and was unable to make the trip to the states. Col's talent and dreams are to be commended and they are backed by the fine singing, playing and songwriting.
Best to Col!
Cheers!
Dave THE Boogieman
Please share any insights you have regarding Col as a performer and his ability to capture his audience, whereby you are able to keep his music on the airwaves.
People respond positively to his music and ask information about the artist. I tell them he is coming to New York City for the International Pop Overthrow Festival in the Fall of 2018.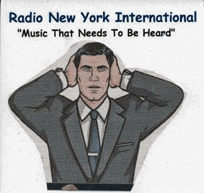 Radio NewYork International (RNI)
From NYC to the world via the Internet
"Music That Needs To Be Heard"
Notable past guests: Robert Gordon * Dwight Twilley * Marshall Crenshaw * Paul Collins Beat * Denny Laine – Wings & Moody Blues * Alan Merrill – I Love Rock & Roll * Genya Ravan * Palmyra Delran * Garland Jeffries * Tommy Keen * Arthur Lamaonica (The Shirts & Rome 56) * Michael Eppy Epstein *
My Fathers Place & WLIR * Ian Gomm * Tommy Stinsen * Frank Sesich – Stiv * Baders Band & Blue *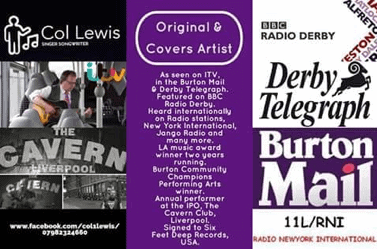 Ash John Borack * Author Denny Laine * Pat Dinizio * Smithereens * Dave Rave * Mimi Betinis * The Pez Band * Jordan Oaks * Author David Bash * International Pop Overthrow Festival Vinnie Zummo * Joe Jackson Band * Arthur Alexander * Sorrows & The Poppies * Jonn Savsnnah (The Sinceros & Squeeze)
More about Col…..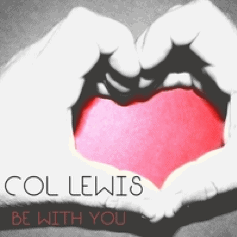 New single release, Be With You, from Six Feet Deep Records, USA
https://store.cdbaby.com/cd/collewis5#.W2NQd9kFzfo.facebook
https://www.facebook.com/col1lewis/videos/263268277638813/
New video and track from new album, This Is Personal:
https://www.facebook.com/col1lewis/videos/954672951407094/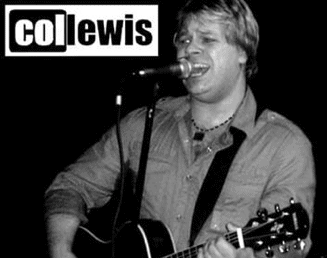 https://www.youtube.com/channel/UCmdClxmL5YDtoqpSB4HRhQg
https://www.facebook.com/col1lewis/videos/237324563623521/