If you're the type of person that can't sit still for too long, then why not transport this personality trait to the world of business? What's stopping you from changing course on your career road map and starting a removal company?
Start a removal company
Removal companies are those types of businesses that are likely to never become out-dated, because everybody needs to move their world belongings at some point in their life. Starting your own removal company may stem from a desire to help those everyday people who need help, which is why you would prefer to do this than, say, start a limousine company. It may also be born of a personal trait of yours: sociability. If you're a people person that loves helping others and loves driving, then starting your own removal company is a no brainer.
However, just being good with people and enjoying being out on the road isn't enough to start a removal company — like with all businesses, starting up one is difficult. At the same time, though, it is the type of company in which you can get the wheels rolling even before it is officially declared as a business. You can do this by finding and purchasing an appropriate van — it doesn't have to be brand new, it just needs to be reliable. As it's your biggest advertising campaign, it also needs to look presentable; if it looks unreliable, potential customers will think that your service is unreliable too. You should also seek to purchase materials that will help protect any fragile belongings and items so that any potential customers can be rest assured that you will do a good job. And when it comes to customers, it would be even better if you could have some lined up for when you begin!
Make sure items are protected
And, if you find that you are on the road to success with your company, why not expand your venture and further your reach to new locations? If you have garnered enough of a profit from your company, then you should consider expanding in terms of getting more vehicles in and making them readily available to customers in other areas. This would mean that you could deal with a higher demand for your product, and at the same time would mean a wider scope of people are going to see you and your vans, meaning your marketing campaign expands also. However, bringing in more vehicles, brings with it more outgoings in the forms of vehicle costs and the cost for their maintenance. What doesn't have to cost a lot, however, is the insurance — that is, if you invest in fleet insurance. When dealing with multiple vehicles within your business at one time, this type of insurance is the best and most cost effective road to go down. You can see options at BlueDrop Services, who are fleet insurance specialist and experts and will make sure you receive the very best service on offer in this particular market. And, rest assured, if your transportation service ever finds itself expanding even further and travelling miles past its original borders, this kind of insurer offers policies that are flexible to change, so you can add to or change your vehicle.
Make sure all of your vans are covered
There is one more thing to remember when starting a removal company: you will need at least one member of staff to help you because you can't move all those sofas by yourself!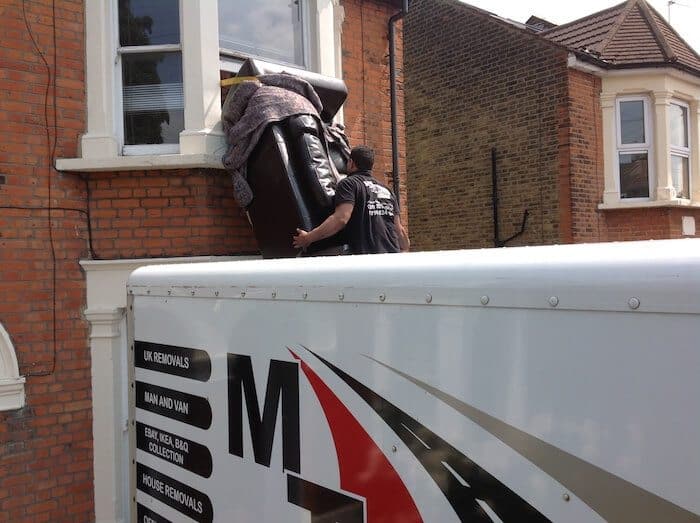 Don't move the sofa alone, it's bad for your back