T

here are currently 59,000 special needs children in Hillsborough County alone. Families with a special needs member have higher rates of poverty and divorce. It's difficult for these families to find suitable services that meet their unique needs in an accessible setting.
Quantum Leap Farm is a comprehensive equine-assisted therapy center serving children and adults with special needs, military service members, veterans and children with cancer and their families. Using horses as therapy partners, Quantum's staff provides a variety of equine activities to promote physical, mental and emotional well-being.
Similar to the "special relationships" formed between horsemen and their horses are the remarkable special relationships enjoyed by

Quantum Leap Farm

across the Tampa Bay Community and beyond. This trail has now led to the forming of special "Pegasus Partnerships"  – bringing value to the Farm and to each special Partner, as presented below![su_spacer]
[message type="custom" width="100%" start_color="#F0F0F0 " end_color="#F0F0F0 " border="#BBBBBB" color="#333333″]

Making A Meaningful Impact
B-G Holmberg is a Tampa resident and has been a Realtor at Smith & Associates Real Estate for over 20 years. Consistently the top solo agent at the brokerage's South Tampa office, B-G has a passion for guiding clients with expert knowledge & insight to make sound real estate decisions. Not only is B-G passionate about his work, but also his family & giving back to his community..
B-G is a long-time donor to Quantum Leap and first got involved as his son, Kevin, became an active rider around 2010. His wife, Jennifer, has also committed her resources to impact 
Quantum

 Leap, and together the entire Holmberg family has come to see the true impact the organization has on many different levels over the past several years.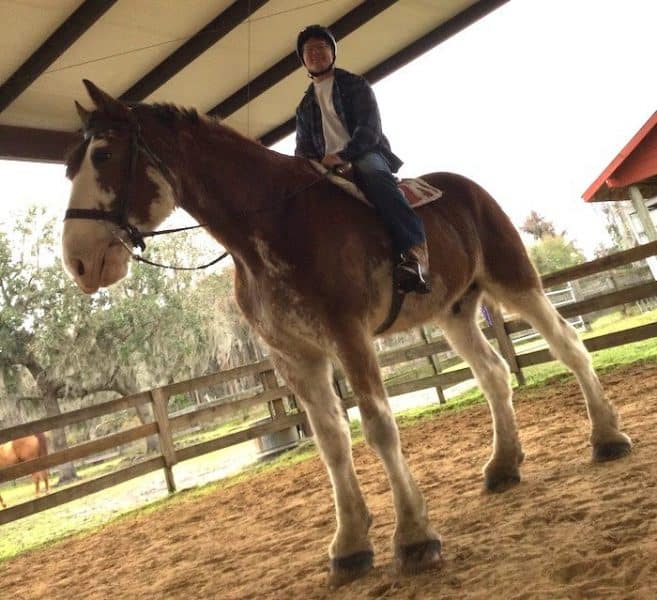 "The opportunity to make a difference through my involvement with 

Quantum

 Leap is an honor," said B-G. "I've witnessed just a fraction of the multitude of lives that 

Quantum

 Leap impacts for the better, and I am humbled to play any role in their mission."
B-G looks forward to continued partnership with 

Quantum

 Leap, and the opportunity to help more people in the community experience the organization.
[/message]
---
[message type="custom" width="100%" start_color="#F0F0F0 " end_color="#F0F0F0 " border="#BBBBBB" color="#333333″]

Easels Aid The Quantum Mission

R

yan West has lived in the Tampa Bay area for over 30 years. A graduate of Tampa Preparatory School, Ryan went on to the College of Charleston and Florida State University. Prior to founding Easel Aid in 2012, Ryan spent 10 years in Sales and Marketing for the Tampa Bay Lightning/Tampa Bay Times Forum. His goal for Easel Aid is to offer a unique product that also lends support to local charities in every sale.
Easel Aid is a company that partners with hotels, restaurants, and retail stores to host weekly sealed bid auctions of high quality framed moments in sports and entertainment.  In partnership with Buffalo Wild Wings, Ryan displays new memorabilia in select restaurant locations. 

A portion of every auction is donated to charities across Tampa Bay including Quantum Leap Farm. 
[/message]
 [su_box title="EXPLORE YOUR PARTNERSHIP WITH QUANTUM LEAP FARM" box_color="#023569″ title_color="#ffffff" radius="0″]To explore how you can partner with Quantum Leap Farm as a PROUD SUPPORTER or for more information about services, visit Quantum Leap Farm or contact Sarah Page, Donor Relations & Communications Manager.[/su_box]