"Because we are pioneers of the new human blueprint, the existing ways of coping, living, and thriving don't work for us. How could they? We are coded differently. It's like trying to plug a three-prong plug into an old two-prong outlet. In the end, we are forced to throw out the old formula for "living a successful, productive, and fulfilling life" and design a new one that fits our speed and values. Which is no small order, I know! Many of us have a similar life lesson of learning to love ourselves and believe in our own worth and trust our own inner compass, regardless of what the external world says or does. Moving from external validation to internal validation is a foremost opportunity for all humans to experience on this Earth school, but exceptionally more challenging for empaths.
EDITOR'S NOTE: SEE PRIOR PARTS IN THIS SERIES OF EXCERPTS HERE ⤵︎
​You are not crazy, but you must stop the madness of trying to fit into a system that is unwittingly designed to invalidate, suppress, and pervert you. It's not personal, but that makes it no less harmful. You don't have to stay enmeshed in it. Quit justifying yourself to people who don't understand. It is time to fearlessly create a lifestyle and relationships that support and enrich you. We are a growing pack, and you don't have to continue living as a lone wolf."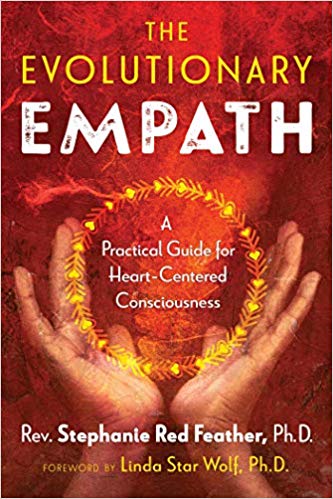 Are you a highly sensitive person or empath? Do you struggle to figure out where you end and the next person begins? Do you take on everyone else's emotions and problems? Is it easy for your nervous system to get overstimulated or overwhelmed? Are you seeking to understand why you are this way and desiring tools to help you thrive?
My brand new book, The Evolutionary Empath: A Practical Guide for Heart-Centered Consciousness hits shelves in just a few short days on November 5. I thought I'd share some excerpts with you so you can get a feel for the book and decide if purchasing it would support your journey or the journey of someone you know. Pick up a copy through your favorite bookseller online or in stores.