You find the 3 C's everywhere. The 3 C's of leadership, the 3 C's of communication, the 3 C's of trust, the 3 C's of motivation, the 3 C's of Credibility, the 3 C's of customers, the 3 C's of purpose and the list goes on.
Leadership complexity reflects in the varying perspectives on what makes a good leader and the variations of the selected 3 C's. Let me explain by examples. One reference selected Confidence, communications, Character. Another reference opted for Communication, Confidence, Commitment. A third reference selected Competence, Consistency, Care. A fourth reference decided for Courage, Change, Communication. Still, a fifth reference chose Chemistry, Character, Competency. A sixth reference decided for Clear vision, communication, culture. A seventh reference nominated Competence, Caring, Communication. In an interview conducted by Fatima G. Williams, the interviewee Lynda Spiegel mentioned her 3 C's of leadership as Caring, Charismatic, Credible. This reference assigned the 3 C's of Competence, Consistency, Care. The 3 c's of confidence, communication, character is assigned by this reference. An alternative set of 3 C's is Communication, Confidence, Commitment. Competence, Courage, Compassion are the 3 C's of leadership according to this reference.
The differences extend to engulf the attributes of the 3 C's. For example, we may notice from above that communication is a frequent trait of great leaders, but then what are the 3 C's of communication. A quick survey of literature revealed the following. One reference nominated Communicate, Collaborate, Commit. A second reference selected Clear, Concise, Consistent. A third reference chose Clarity, Consistency, Confidence. A fourth reference decided for Clear, Concise, Compelling. A slightly different version was suggested of Clear, Concise, Concrete by this reference. A different variation of Commitment, Consistency, and Courage was called for by this reference.
You shall find the same variations of the 3 C's on each attribute of what makes a great leader. This is a highly complex issue because one attribute feedback to another. For example, commitment affects our confidence and our ability- once we upgrade one we may upgrade the other non-linearly. I decided to try to put these triangles of 3 C's on a fractal form to visualize them better and allow for more consistent comparisons and discussions. I started with my own version of a good leader from a previous post that I wrote more than two years ago. Unfortunately, it doesn't have 3 C's, but it is still triangular. Purpose is highlighted because purpose, among many other definitions, as the reason for which something is done or created or for which something exists. Why do we exist and why companies exist? The quality of the purpose defines the quality of life itself.
I used this definition of a great leader to build on what a fractal leader is. The image is color-coded so that we know which attribute belongs to what triangle. The largest triangle has the Desirability, Ability, and Purpose in black letters. From each of these attributes, we have the 3 C's that define it. For example, communication skills are defined in red colors by Clarity, Consistency, Courtesy. The same applies to the rest.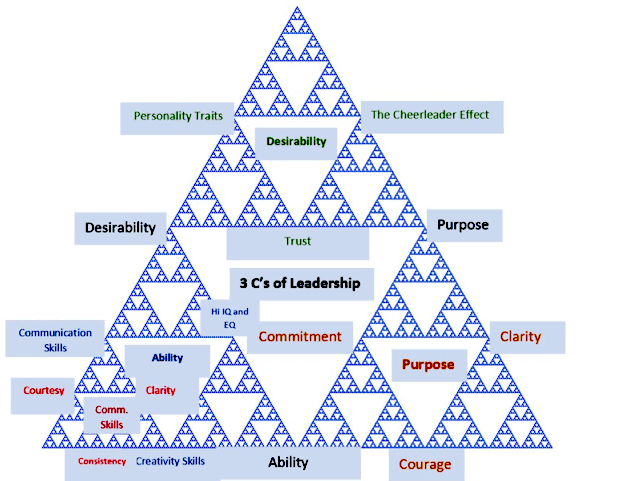 I hope this buzz explains why we haven't still arrived at what makes a great leader. However; I hope the buzz helps in standardizing our approaches.
What makes a great leader in your opinion?
Very respectfully I dedicate this buzz to Fatima G. Williams who has been a Caring, Committed, and Courteous friend.