Give us back our suffering, we cry to Heaven in our hearts — suffering rather than indifferentism; for out of nothing comes nothing. But out of suffering may come the cure.

– Florence Nightingale
I remember a book of poetry written by a relative on my mother's side. In the book, there was a reference to being related to Florence Nightingale.
My first 2 real girlfriends were nursing students studying in London Ontario. I was thinking of ways to impress her and her nursing student friends. I told them I was related to Florence Nightingale.
They laughed and did not believe me.
"Florence Nightingale, OM, RRC, DStJ was a British social reformer and statistician, and the founder of modern nursing. Nightingale came to prominence while serving as a manager and trainer of nurses during the Crimean War, in which she organised care for wounded soldiers."     Source: Wikipedia
What I didn't know that I didn't know about my yet to be verified ancestor was that Florence Nightingale was a statistician, 200 years before we heard of Dr. Athony Fauci of the US and Dr. Theresa Tam Chief Medical Officer of Canada.
Florence Nightingale, Statistician
"She became the first female member of the Royal Statistical Society and was named an honorary member of the American Statistical Association." Source: History Channel
It was her work analyzing and the graphical depiction that determined that 16,000 of 18,000 deaths were not from the battlefield but preventable diseases. And her conclusion that through proper sanitation in hospitals including hand washing to prevent death.
Oh, dear Florence Nightingale, you were so ahead of your time and who knew that hand washing at home and work would save so many lives.
Florence Nightingale, Nursing
Not since the Crimean War when Florence Nightingale introduced modern-day nursing has become so critical, They have eclipsed our military and sports heroes. They become our new places, warriors, on the frontline of the Covid-19 Pandemic.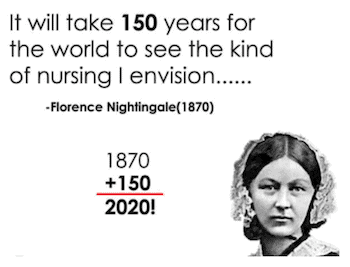 And no I didn't marry either of my first nurse girlfriends, but my wife is a nurse. I am not sure she believed me either about being related to Florence Nightingale, but she married me anyway.
Nursing Superhero
And this week I honour her and all the other superhero nurses. The World Health Organization has declared 2020 as the year of the nurse.
The progressive world is necessarily divided into two classes — those who take the best of what there is and enjoy it — those who wish for something better and try to create it.

–Florence Nightingale