It was July 28, 1979, a hazy, humid Saturday in West Medford, Massachusetts. I was sweeping the floors of 34 Wyman Street, a thirteen-room yellow shingle, 1890s Queen Anne Victorian. As I went from room to room, I'd occasionally put down the dustpan or broom and go downstairs to get a screwdriver or a hammer to make a home repair I'd been meaning to attend to for months or years. I'd sweep, tighten a door knob, pick up some dirt and dust, screw down a window latch, get a new garbage bag for the dust, take off some obsolete window hardware, and clean the smudges off the mirror in the bathroom where I was washing off the dustpan.
This flurry of harried activity was actually the culmination of more than a year of a focused campaign. After nine years as a successful booking agent for lecturers and performing artists, I had decided to go to business school. I was thirty-one, a bit old for such an adventure, and I'd reasoned that if I was going to make this worth it, I should go to a really good business school. I researched and applied to eight schools with all that entailed – GMATs, essays, and recommendations. I got into five of them, much to the surprise of my friends and (I think) the mother of my two small children. Ultimately, I turned down Harvard and accepted the London Business School's offer. We sold everything we owned, including 34 Wyman Street, and prepared to move across the Atlantic.
My wife had gone to visit her mother in Kentucky, not being especially happy to give up that house. I had closed the sale the previous day and now was imitating Mr. Clean, getting the house "broom-clean" to turn over to my neighbor Jock, who had bought the manse for more than list. I tore around the house, interrupting one task to start another, half-finishing that one before beginning another.
My mother Nan Culler arrived to help. She followed me from room to room, asking what she could do. I was at a loss to offer any direction or even to think of anything she could do.
Nan was an amazing woman. She had gone back to work as a math teacher when I was eight. Sometime later a church member asked her if she would be willing to try something new and so she became a computer programmer in 1956. I still remember the tour of the three-story former shoe factory in Lawrence, Massachusetts, where she and others at Raytheon worked on the space program. I can hear her telling me about "looking for bugs," literally looking through rows of vacuum tubes for the places where a cockroach had crawled across two contact points, shorting out a part of the program. She ultimately was on the team that programmed the operating system for the IBM 360.
When I bought this house I was nervous about the payments. My mother had calmly asked my mortgage amount and rate and taxes and then spit out my monthly payment to the penny. She had calculated thirty-year compound interest in her head with a smile and said, "Don't worry. You can afford it."
Back at the house, Nan quietly observed my hysteria for about ten minutes and then said, "Alan, STOP!" She was a quiet woman, rarely raising her voice, but she did know how to get my attention. I stopped.
"Alan, what is the one thing that you need to do? What is the one thing that you cannot get on the plane tonight without doing?"
"I dunno, Mom. I guess . . . pack?"
She had that astonished look on her face – the one that said, "How can someone so smart be so dumb?" She set her lower jaw forward, half-smiled with her look of benevolent-determination-that-will-not-be-denied, and said, "Alan Cay Culler, give me that broom, put your tools away, and go pack!"
It was a very successful intervention. I packed. I turned the keys over to Jock, who was renovating almost everything in the house anyway. I made my flight, moved to London, got an MBA, and began a lifetime career in consulting.
In later years, some of my work involved helping those who were stuck to prioritize and focus. Sometimes it was as simple as asking my mother's question, "What is the one thing . . . ?"
Sometimes I used this question with others (and, if I'm honest, with myself) to help move from insight to action, to start the change-ball rolling, or to impose a chronological order on a series of tasks. Even now it still helps me to know where to start with my page-long To-Do list so I can at least cross something off – even if I have to write something new on the list that I've already done just to have the "It's-all-about-the-checkmark" gratification.
Often, however, helping someone prioritize or focus is much more complex.
I saw this when a leadership team wanted to do all the possible strategies that they had brainstormed. I saw this when an innovation team couldn't choose which product to prototype. I saw this when a continuous improvement team couldn't decide what problem to tackle or which solution to pick – the dead-easy one or the one with the highest impact.
It turned out that the inability to prioritize and focus was one of the largest leadership problems I ran into in thirty-seven years of consulting.
If leadership is about ensuring direction (we lead toward something or away from something), how can we do that if we are unclear about what is most important? If leadership is also about getting others to follow us – to become leaders in their own right – how can they do that without a focus?
But lack of prioritization is a very human failing. We all get stuck not knowing where to put our focus from time to time. Because it happens to me so often, I've tried to examine why. Let's go back to my summer of 1979 cleaning frenzy. One reason I was so unfocused was that I was overwhelmed by options. I'd go into a room and see "something that needed doing" and put it on my list and start it. I hadn't set a context for what I was doing, and, without a context, every task was equally important and should be done immediately, with disastrous results.
Context for my tasks was that I was turning over the house to the new owner that day and flying off to start a new life. Context for the leadership team struggling with strategic options should be the vision and purpose of the organization, what customers know about you and what they expect from you.
Context for a continuous improvement team that is choosing solutions rests in the question: What problem are we trying to solve? It leads to evaluation of each solution with a tool like the Prioritization Criteria Matrix.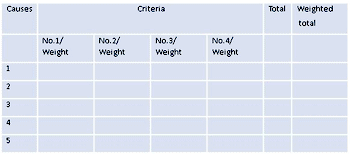 The Criteria Matrix might also be useful for the innovation team choosing what to prototype. These folks, however, often have difficulty in prioritizing because there are just too many unknowns.
For me, in 1979 the unknowns were paralyzing. Would I find an apartment? Would I succeed at business school? If I did, could I actually get hired by a consulting firm? Would Jock reject the house if a doorknob fell off?
For the innovation team, the unknowns may be just as paralyzing. Prototyping is expensive. New technologies often don't work the way as expected. For this team, the answer may be in reducing unknowns by prototyping component parts.
On that hazy, humid day in July many years ago, what was really going on with me afflicts many who have trouble prioritizing. In addition to all the unknowns, there were many unspoken and conflicting emotions wrapped up in my decision. I wanted to turn over the house in the best possible condition to my neighbor and friend Jock. I felt guilty that I hadn't maintained the house as I should have and there were many repairs that I had put off. I had mixed emotions about selling the house, where we had put our heart and soul into renovating, and which my wife loved. I entertained second and third thoughts about my chosen path and career change at a time when the decision was made and my plane was (almost literally) waiting.
When working with leadership groups these unspoken thoughts, opinions and emotions were often what bogged down prioritization. Underlying discussions about how to make a decision or who will make it were unresolved conflicts and unspoken disagreements. Sometimes it was my job to ensure that the unspoken was voiced so that the group could move to action and focus on getting results.
Sometimes that's as simple as pointing out that a decision has already been made, to let go of your ambivalence, quit revisiting the decision, and take action ("Go pack!"). Truthfully, it was rarely that simple in my clients' lives, nor was it in my own. But when I'm flummoxed, I think of Nan Culler's question:
"Alan, what is the one thing you need to do?"