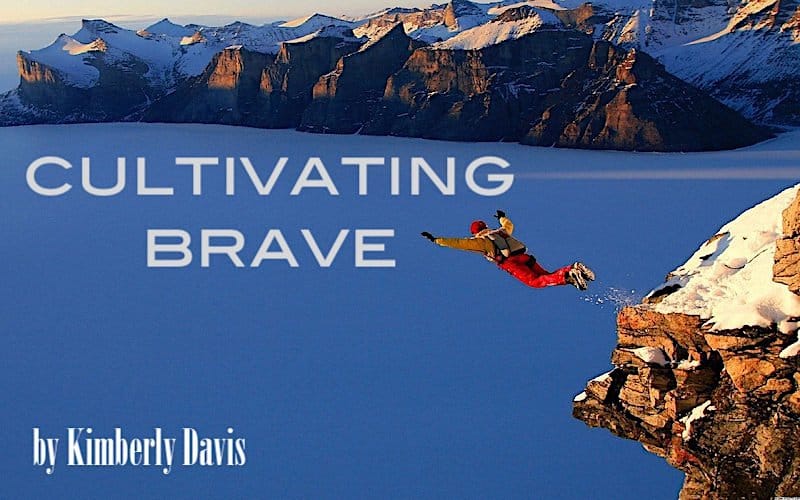 "No words." I wrote when my friend Louisa shared her story on Facebook. Her heart. Her experience. My beautiful, talented, kind, vibrant friend Louisa. Who is also black.
I didn't have the words. I still don't. I never have. I want to find them.
I told my husband, "How can I talk about brave and stay silent? It seems wrong." He replied, "It's our turn to listen, not to talk." Yes, listen. I wanted to hear. To see. To shed my whitewashed lens, to crawl into someone else's experience and truly understand. Not a check-the-box, cursory understanding, but get a deep, change-my-life awakening.
But in that quiet space in my heart, I confess that I liked his answer because it let me stay safe. I could observe but not act. I could remain numb and comfortable in my discomfort. But it felt wrong. My insides were telling me that brave doesn't live in silence.
"When you find the words, you will speak them," Louisa said. After immersing myself in a world I've been too privileged to see unfolding before me, I seek to find my words.
I grew up in a small town in northwest Montana. It was not a "melting pot." Skin color was something we only saw on TV. Everyone I knew, as far as I could tell, was white. The only diversity in town was represented by the one Jewish family (the dad was the town's psychiatrist) and the foreign exchange students who I always fell in love with.
My mother had grown up in Kentucky and my father in Texas. They talked about racism in hushed tones. It was bad, they made that clear, but that's all that was said. They were uncomfortable with the subject so the subject was rarely, if ever brought up. It was easy to live that way because everyone around us looked just like we did.
It wasn't until I was 17 and went to college that I saw my first black person. I remember walking on the "mall" at the University of Arizona, the long grassy area on the north side of campus, and a tall, beautiful black man walked past me. I stared at him with wide eyes. I had never seen anyone like him before! It was both thrilling and uncomfortable.
I couldn't help but remember that experience when I took my first trip overseas to Japan and the school children would stare at me and ask to touch my hair.
I was a good girl. A nice person. I cared. I wanted to get things right. What was the "right" way to talk about race? I didn't want to hurt anyone. But since nobody actually talked about it, it was hard to know what was right. We would just pick up cues, through TV and movies. My college in Arizona was almost as white as my hometown, so, at that time, I still didn't actually know anyone who was black. Even as I write this I can feel my own discomfort in writing the word "black."
Somehow I got the message that saying "black" wasn't right. "Good people" were color-blind. "African American" was the right thing to say. But I wasn't sure. I didn't know how to say it or think about it. Since "right" wasn't clear, we just didn't say anything. I didn't mention color. Ever. I wanted to do things right.
I remember when my son was little, and by that time I had many dear African American friends (because I didn't think I was supposed to think of them as black or call them black) and he would talk about his new friend with the "dark skin." I remember telling him, "It's not nice to refer to someone by their skin color," successfully passing on my awkwardness and discomfort to the next generation.
We don't know how to talk about it. We don't know how to think about it. Hiding from our not knowing doesn't make the problem go away. We become the problem.
I want to immerse myself to see what I haven't had the courage to really see. To peek behind the curtain into the backstage of people's pain. To find the stories that the media ignores. To listen. To learn.
I read a story of a black mother who told her athlete son to run in the backyard where it's safe, instead of in his own neighborhood. I can't imagine fearing for my son's life for simply jogging down the street.
I listened to a well-educated, articulate black women's story about being pulled over for simply having a graduation tassel hanging from her mirror. She felt she had to narrate every move she made so the officer would know she wasn't a threat ("Officer, my hands are on the wheel…I need to get my license and registration out of my purse. My purse is on the seat next to me. It's blue. I'm reaching into my purse…Can you see my hands?…"). When I juxtapose my own frantic pull-everything-out-of the-glove-box traffic stop that took all of 7 minutes to her 45-minute interrogation, I was incensed.
I had no idea.
I am blessed to have many remarkable people in my life, who are also black. Many Latino friends. Friends who are Muslim. Asian. From India. Friends who are very different from me but are just as American and friends from across the globe. Sometimes I feel ashamed of my whiteness.
I still don't have the words. I wish I did, but I don't. I don't feel brave. But I do believe that our path to brave begins with truly wanting to understand. We have to come out from behind our discomfort and awkwardness that forces a blind eye to see.
We must deal with what is real for all of us. Envision a future that allows everyone to win which includes everyone at the table. It is time to rebuild a society in which all people feel safe and free. Now.
©A Thoughtful Company, LLC