I was recently asked why I put Belly Dance and Meditation together and I nearly wrote a whole eBook on it! However, I felt called back to an essay that one of my students wrote during the pandemic who suffers from a physical disability that leaves her in immense chronic pain. A woman in her 50s vivacious, wild, and funny; I was captivated when I met her through a friend. She was so intrigued with the idea of Belly Dance, but she never thought she could physically do it, and she feared she wasn't "feminine enough" for it.
I guess I was waiting for the "right time" to share her story, and when Dennis Pitocco asked me why I developed the program, I thought it was the perfect time to share Carlie's experience. This is her story of transformation in just four weeks, and how she not only fell in love with life again but awakened the divine feminine life force within her.
Here is her story:
Allison Kenny danced her way into my life via Facebook Live, showing up in my feed one day and capturing my attention. Her poise and grace as she ebbed and flowed through her mini routines took me on a journey with her, and when she put out the call for a month-long Belly Dance immersion experience called, "The Happiness Package," my heart was instantly engaged.
I never imagined myself as a belly dancer. See, I'm about as uncoordinated as they come, as in I trip up the stairs, bump into walls, and stumble over my own two feet. I also have a myriad of chronic physical conditions that result in immense pain, so much so that I have a spinal cord stimulator implanted. Would I be able to keep up, to learn a routine, to dance my way through life?
The answer is a resounding YES.
The Happiness Package took me on a sensual and fun journey as I learned a "Luscious Lebanese" routine. It gave me the chance to step into my divine feminine—where I let my femininity take control and use that softness, that allure to take over, and then let the music take control to lose myself in the world of dance. For four weeks of live classes via Zoom, I learned the moves step by step, and she prerecorded videos to show the moves in more depth, all to guide me on my journey.
The experience began with a 30-minute one-on-one Zoom call with Allison where she engaged me in meditation and gentle discussion around our mutual expectations and the spirit of the dance. It grounded me, making a true commitment to myself as well as to Allison, helping me to receive the experience. She also went over meditation and breathing techniques to support me.
One of the questions she asked me, which the answer would differ for everyone, is my definition of the divine feminine. For me, it's softness, gentleness, allure, and sensuality. These are sides of me long-repressed stemming from this mindset I had carried from childhood that femininity was weak.
Believe me when I tell you that it is not, that there is a strength and fierceness about it that cannot be equaled. More of that to come as I take you along on this journey with me where I fell in love with life again.
I hadn't intentionally left my camera off at the beginning of my first class, but perhaps it was a subconscious thing, a side of me that knows my shortcomings and was afraid to be on display trying to learn this routine. Once I turned it on, I saw that my fears were unfounded. There was no judgment, only direction and praise for what I was able to pick up on.
I needed the direction to help me do my form correctly. When shimmies are done correctly, they take the pressure off of my lower back. This was an unexpected gift, one that I now use at the sink while washing dishes or while I'm folding and putting laundry away. I'm getting ahead of myself, though… this first lesson, which was full of knowledge and wisdom with encouragement to help along the way, brought the first section of the Luscious Lebanese routine to life.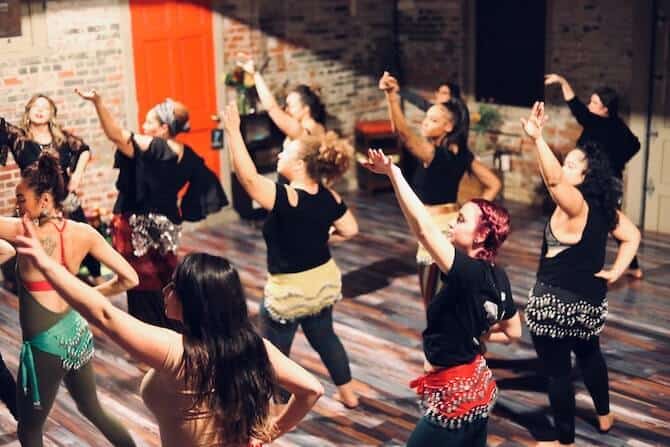 After the live Zoom class, several lessons were opened up in the online portal, breaking down the moves even further in pre-recorded videos. These videos were essential in helping those of us who had never danced before being able to see each of the moves step by step with the ability to stop and re-watch at any time. This was true of each week, where just a little more was opened up for us to learn.
In addition to this, I was able to convey to Allison that there were times when I was just 'off' and couldn't seem to pick the routine back up and continue. She in turn offered another slower piece of music for me to learn the moves to so that I could perfect them and speed them up with the music that goes with the Luscious Lebanese dance routine. What a game-changer! In a matter of a few tries, I was dancing.
Me.
Truly dancing.
It was magical.
Allison mentioned to us to use the music. Musicality, she called it. Learning how to listen and let your moves go along with the music. It's vital in belly dance. As I practiced from then on, I listened for the cues in the music. They're there, and they're important while learning.
Gone was the bashfulness that had come from ingrained insecurities. I was open and receiving, and it was magnificent.
Come week two, I had far more confidence even with the slight anxiety over learning new moves. More of the routine was added in on this night, and I was ready to dive in. Again, I was grateful for the video feed so that Allison could correct me when I was going the complete wrong way, and instead of feeling mortified, I laughed at myself. This was the change in one short week that I was already becoming, already evolving, already embracing myself in all my imperfect glory. Gone was the bashfulness that had come from ingrained insecurities. I was open and receiving, and it was magnificent. For example, later in that week, I was in a parking lot, and for some unknown reason, a man was staring at me. Instead of my usual quickness of trying to hide, I busted out a shimmy right there. This is two live lessons and a few portal lessons in. I also learned that I can do a modified version of this dance to Funkytown.
Week three arrived and the live lesson was a huge surprise—we did the entire routine! It was marvelous. Allison's entire being is so inviting and open that learning from her is easy. Not effortless, because you must put the work in. Every turn, every hip bump, every jump shimmy is worth the feeling of euphoria that overcomes you when you get it right. She lets you know when you've nailed it and getting to celebrate this along with your sisters in dance because it truly is a sisterhood.
At the end of the third practice, we'd asked for another pop-up practice in between to help us really accomplish getting this routine down. I was delighted when she agreed, and together with those I was forming a true sisterhood with, we agreed on a time. This practice ended up being an hour-long, and I was overjoyed when I held on and danced the entire hour—me, who had once needed a break after shimmies, danced for an hour. Parts of this were filmed for a spotlight on the news about the help given to women-run businesses in the Columbus area, which was exciting. Allison was able to tell the reporter about how her shimmy classes are designed to help pull women out of depression, out of boredom with life, and even to helping them heal from the emotional wounds of divorce.
After the pop-up practice, all of the lessons in the portal were opened. We were able to go over the musical interlude pieces and learn proper hand movements along with getting our jump shimmies on. I cannot stress the importance of this portal. Yes, the live lessons are also in a private Facebook group to practice along with, but the portal is the perfect companion.
The fourth and final class was upon us before I knew it. Going through the entire routine the week before was one thing—now I knew it, I knew the music better, I knew when to anticipate the moves and how to execute them. Allison took her time breaking down the parts of the routine that we seemed more unsure of, and that final dance through was exhilarating.
I'd done it.
I'd learned an entire belly dance routine and had performed it.
No… more than that. I'd embraced it, let it transform me from the shy girl who subconsciously left her camera off the beginning of the first lesson to the woman now embracing her sensuality with open arms. My only regret is not dancing to Funkytown with my dance sisters, but I do dance to it frequently in the confines of my living room even now.
I'm still dancing.
Honestly, the entire month of The Happiness Package was a time of transition, of rebirth for me. I feel more alive. I listen to music differently, think of what moves I could be doing, find the change within the chords and beats. My confidence level has soared to heights I wouldn't have dreamt of only a few short weeks before. I hold my head up high and move with a grace I'd never thought I would possess. The Happiness Package with the amazing Allison Kenny is all that it promised to be and so much more. I encourage you to take the first steps to falling in love with life again and begin your own journey today! –Carlie Yates, Author of the Entangled series and the Time Stands Still series
Editor's Note: See Bellydance Meditation Simplified: A Yoga Teacher's Guide to Mastering Goddess Flows