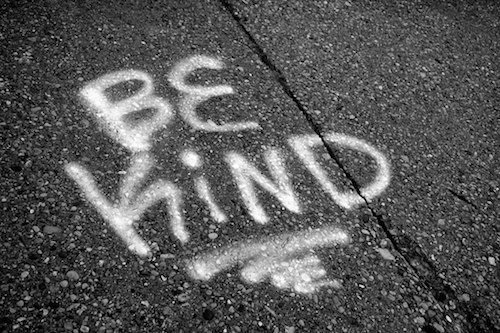 "Some believe it is only Great Power that can hold evil in check.  But that is not what I have found.  I have found that it is the small ordinary folk that keep the darkness at bay.  Small acts of kindness and love."
–Gandalf

In a culture that often makes one feel the golden rule really means the person with the gold makes the rules, it is easy to feel helpless to make a meaningful difference in the world.   Like Gandalf, however, I know better.  I know it doesn't take monumental acts to change the world.
Over the past few months, we have seen riots, name-calling, vitriol, road rage, and a myriad of other examples of social discord.  Even the "most wonderful time of the year" was marred by greed and self-interest.
Sometimes, it makes me sad to see people treating one another with such disregard.  After all, there is more that binds us than divides us in the great big dysfunctional family we call humanity.
From time to time I find myself fantasizing about moving to the wilderness and living in a cave with no access to the media, no malls full of pushing and shoving customers, and no highways with drivers unconcerned with anyone other than themselves.
Then, just as I'm about ready lose hope in the human race, I see your smiling face, and I, once again, find a light in the darkness.  That's why this month, I'm highlighting you.
Perhaps you are the person who jumped out of his car to pay for me to get out of the parking garage when I was in the cash only line and all I had was my credit card.  You might be the delightful teenager at the ice cream place who sings when she gets a tip.
READ MORE AT WOMEN'S VOICES MAGAZINE