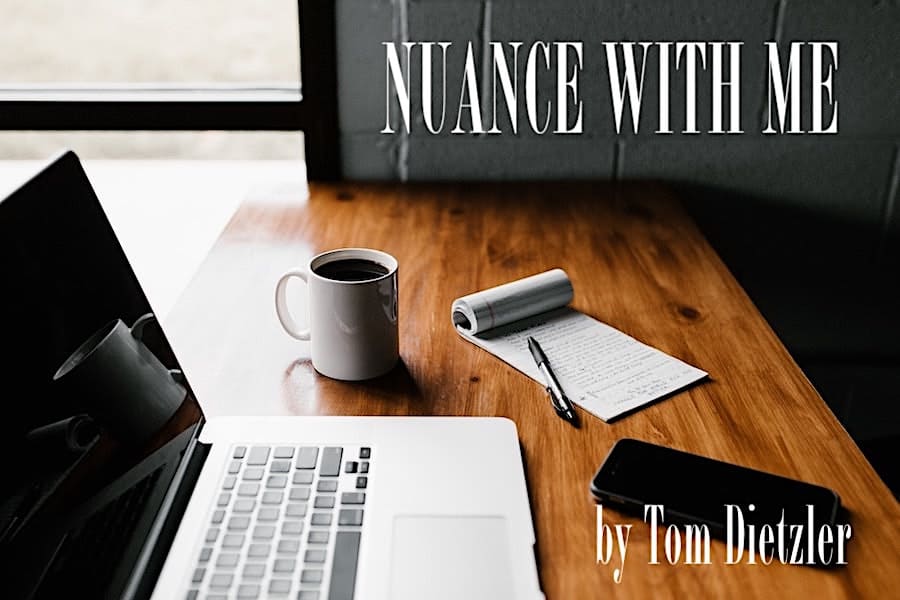 Two weeks ago today, my expectations were running high. As I sit here writing this, turning the clock back exactly two weeks puts me about 30 minutes from when my brother came and picked me up for a three-hour drive to Chicago. Why were my expectations high? I had waited two years to attend a get together of some of my heroes and friends. To be accurate, it's been referred to it as a "conference." That's not even close. It's called NLV – which stands for "No Longer Virtual."
In the flicker of time since this outbreak, not being virtual is being treated by some as irresponsible or akin to a death wish.
Not being virtual with these people was a tonic, a breath of fresh air, a needed boost in a time of pulling back, digging in, retreating. These people were present.
Sarah Elkins, the founder, architect, and person responsible for #NLVChicago2020 – first dreamed up this event a number of years ago. The Chicago incarnation was the 4th annual gathering. On her website, Sarah calls it an "event."
As this was right near the tipping point of Coronavirus going from a fairly prominent discussion topic into a world and life-changing event, it hadn't quite hit my radar as "that big of a deal" yet. We are talking Wednesday, March 11 here. My apologies for not being all that plugged into the minute by minute breakdowns to this worldwide pandemic.
The easy thing would be to say "I was busy." The more accurate thing would be that I was otherwise focused on other stuff. The trip down to Chicago, which is three hours south of where I live in Appleton, Wisconsin was the kickoff to an 18-day absence from the land of cheese, winter, and home. On Friday, March 13, my wife was due to swing through Chicago and pick me up as we headed south to Florida. I'll deal with those expectations later.
I hadn't been able to attend the 2019 version of the gathering that was held in Atlanta. Thus the uptick in my expectations. I had met some great people when I had been to the event that was held in Denver in 2018. I had met some other people virtually since that 2018 gathering, and I was looking forward to meeting them in the flesh.
It might embarrass a certain person to whom caused my expectations to soar. We had corresponded in many different ways, and we had developed a bond. Sometimes, people just mesh in ways that there isn't an explanation for. #NLVChicago2020 was going to be our chance to finally meet in person.
As we shared pizza at a wonderful Italian restaurant Wednesday night, I started to learn how things were unraveling. With the news of the drop-offs in attendance at the NLV, which was designed to be an intimate opportunity to really get to know people – the number in attendance was never intended to be more than 50 people. Registrations for this one had topped out at 38. By Wednesday, March 11, that number had fallen into the low 20's.
Ok, that is a non-controllable. Who comes or who can't come is mostly out of my control. And in the back of my mind, that ONE person was still going to be there, yet, and that was kinda my "thing one" about this year's event.
And we all know how these things work. The event came and we gathered on the 80th floor of the AON building in Chicago, with killer views of the Chicago skyline, the Chicago River right below us, and Lake Michigan off on the horizon. My PERSON ONE wasn't there, she had realized very late that she might have been exposed to the Coronavirus and thus chose not to attend, for the health and safety of the others in attendance. It was the right thing to do.
Besides her, a number of other attendees whose presence there would've made for such a grand and wonderful time and a chance to connect and reconnect in ways that being in person can only do, also decided to not attend.
They weren't there. And it caused me some pause. When I found at noon on the first day that the one who I had most wanted to see was not coming, I actually left the room. I had to gather myself and give myself a chance to process it. When I had a chance to talk to Sarah, I had to let her know how sad I was to hear that piece of news. Moping and pining over who wasn't there would be a huge disservice and slap in the face to the ones who were there.
And here's a news flash: I loved that conference. I loved having time with those people, I loved learning all that was presented. I loved getting to know people who I hadn't met before and reconnecting with some that I had met before. I never regretted for a second that I went and will do all that I can to be in attendance for future events.
Sarah has been an inspiration to me in how she lives her life and conducts herself and the awesome resource that she has become to people far and wide. I am so thankful for LinkedIn for providing the platform that allowed me to meet her and so many of these people. Expectations may have built to a high level before the event, and they certainly took a hit in the hours before and after they started.
But in no way was there any kind of letdown, or was I disappointed. When what I looked forward to didn't happen in the way that I had imagined, I allowed myself to be open to what was actually happening, to the people who were there, and not let myself be sucked into a vortex of regret and remorse over what was not. I actively engaged myself in reveling in what was.
I hated to have to grab my stuff and scurry out the door as things wrapped up on Friday. My wife and I were tracking each other's progress toward our meet up spot at a transit center, and I was going to be running behind if I didn't get my butt hauling toward a train. I said my goodbyes, and though none of us knew what lied ahead of us, no one could take away the genuine connection and friendship. My expectations bore little resemblance to an excellent experience. The hug with Sarah will stay with me for a very long time.
And here I am, two weeks further down the road. We're still on vacation. It's become much more of a working vacation than either of us could have ever imagined. We did get to spend a lot of time on the beach last week, and we truly cherished that time. The night before we checked out of our resort on the Gulf of Mexico, the county authorities closed the beaches.
We've been in the mountains of East Tennessee since last Saturday. More time than we would've thought possible has been spent crouched over laptops and in video conferences plotting out next steps and trying to figure out where we are and what's next. My wife and I both work for a church, so there are a lots questions to be wrestled with, and trying to balance the needs of our people versus the likely dissipation of our resources.
If you had told me two weeks ago that we were going to spend so much time working and trying to figure out what to do in the midst of this pandemic, I would've made my best sour face and said… "I'll pass." But we've had this time together, we've been able to be part of solutions, part of our team, part of a strategy and a way forward. During this "all hands on deck" time, we are thankful for the technology that allows us to contribute.
It's a strange and surreal time. Being away from home during a worldwide crisis is a bit of a disorienting experience. I don't want to say that expectations aren't necessary, but give yourself the chance color outside the lines during this time. It's a great time to hit the reset button, open your hearts and minds to the possibilities of what is and what you can do, and let go of "what if" and "if only…"
Normal is overrated. What matters is what is and what you can do.