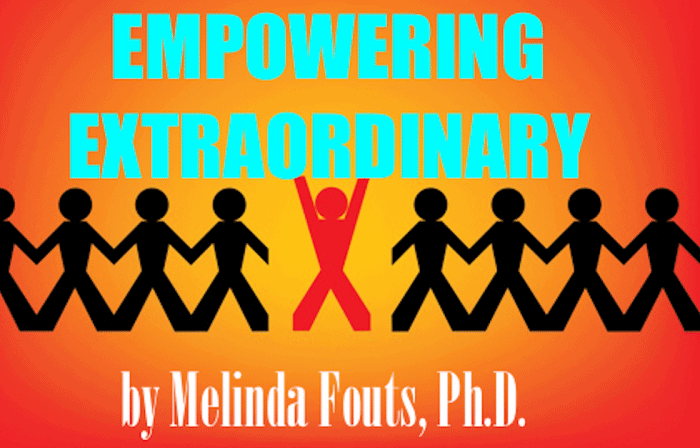 In matters of truth and justice, there is no

difference between large and small problems,

for issues concerning the treatment of people

are all the same.
  ~ Albert Einstein
THE OTHER DAY, a young college student sent me an email and asked if she could interview me about leadership. She stated that there were only three questions:
What characteristic does a leader need to be a great leader?

Who in our community is a great leader?

Who internationally is a great leader?
As I pondered these questions, I rummaged through my mind going over the list of characteristics that are in most articles and discussions about what makes a leader exceptional. While all of the traits I considered are fundamental for leadership and for setting a leader apart from the rest, I wanted to give her what I call, "a never before thought of answer." Her class on leadership had probably covered the basic qualities and her essay could regurgitate that information unless I came up with something she had not heard before. What, then, could I tell her?
Before coming up with an answer, I started contemplating on "who" both locally and internationally are great leaders. Immediately, I thought of one man in our community that is always gracious and attentive whenever I meet him. He is James Horowitz, the owner and founder of JasCafe.
Jim found his passion in jazz. From this passion, he turned his energy into bringing jazz groups to Aspen and created a bistro like setting in the basement of the Little Nell to attend performances. His presence in the community is one that I consider exemplary leadership from the groups he finds to perform at the Cafe to how he treats his patrons. A typical experience of Jim at JasCafe looks like this:
When we arrive for the concert, Jim is walking around, greeting everyone with a welcoming smile and handshake, helping with seating the patrons, engaging in dialogue, and is exuberant when introducing the unique jazz groups he brings to the venue. Even when there is a problem with the sound system, his smile never waivers and he handles the situation with his calm graciousness knowing the problem will be solved. His contribution does not stop there. He raises money to support music in the community and schools.
As I reflected upon his demeanor, it came to me that everyone matters to him, from the staff at the bistro, to the artists, to the patrons. He treats everyone equally and with "authentic caring." Bob Chapman, in his book, "Everybody Matters: The Extraordinary Power of Caring for Your People Like Family" wrote about authentic caring:
[message type="custom" width="100%" start_color="#E6FEFF " end_color="#E6FEFF "    border="#BBBBBB" color="#333333″]"This is a story about the power and impact of "truly human" leadership. It is about bringing our deepest sense of right, authentic caring, and high ideals to business. It is about achieving success beyond success, measured in the flourishing of human lives. It is a story of an approach to business and leadership that emerged only in the last twenty years or so in the life of a 130-year-old company, but that has already built a strong track record of enriching the lives of team members and creating extraordinary shareholder value at the same time."[/message][su_spacer]
Here was the answer I was searching for to share with this young woman.
[message type="custom" width="100%" start_color="#FFFFFF" end_color="#FFFFFF" border="#fb7200″ color="# fb7200″]"An exemplary leader approaches everyone involved with the business, from shareholders to staff to clients and customers equally and that everyone matters. When everyone matters, there is a humble dignity that emerges within the leader that reveals itself through their smile and eye contact that says, you matter to me and right now, you are the only one in the room as I shake your hand." [su_spacer]

~ Melinda Fouts, Ph.D.[/message][su_spacer]
Reminiscing about Jim's smile and how powerful it is to lead with the value that everyone matters, the international leader that came to mind matches this same quality of Jim's that can be summed up in these two words – Everyone Matters. While there are many great people that I could have chosen, Richard Branson was the person who I decided to mention during my interview. Here again, Sir Branson excels in everyone matters. He has achieved "success beyond success, measured in the flourishing of human lives." Both Jim and Sir Branson cherish everyone, modeled through their sincere connection and cultivate that throughout their organizations. They are in service to each and everyone they meet.
Forbes Magazine published an article on the Top 10 Qualities That Make a Great Leader:
Honesty

Delegate

Communicate

Confidence

Commitment

Positive Attitude

Creativity

Intuition

Inspire

Approach
These are all fundamental qualities that a great leader should possess. However, the perspective is about the self and not necessarily focused on the other. If the focus is on the other we have the following characteristics to add to the list that perhaps top the top 10:
Everyone Matters

Authentic Caring

In Service to Others

Attentive
Consciously or unconsciously, everyone of us does render some service or another. If we cultivate the habit of doing this service deliberately, our desire for service will steadily grow stronger, and it will make not only for our own happiness, but that of the world at large.
~ Mahatma Ghandi
Jim and Sir Branson have made conscious their service in cherishing the other which has contributed to their ongoing success. This deliberate act where everyone matters has permeated throughout their careers and have made them exemplary leaders.
[bctt tweet="Cultivating exemplary leadership qualities is a journey that can be facilitated by executive coaching. " via="no"]
Please contact me for a complimentary coaching session.
It is a pleasure to share these ideas and I welcome all likes and comments.