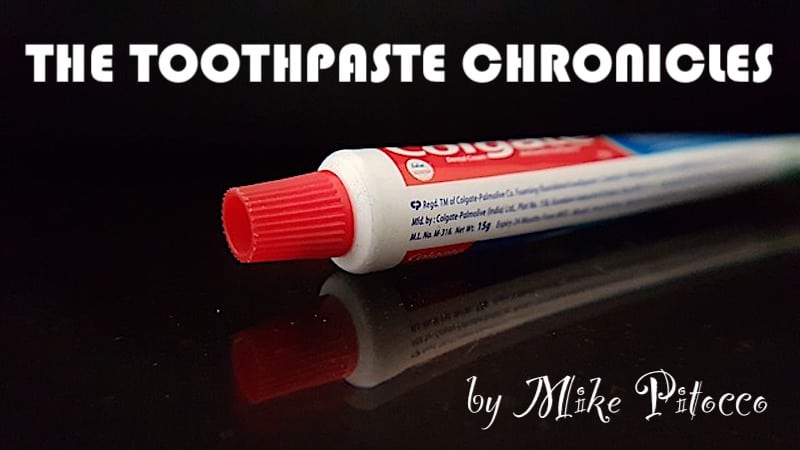 Whatever other events took place while I was working my way through this tube of Crest, or Colgate, or whatever brand I used at the time (or for that matter – all the tubes that would follow) would pale in comparison to these…
EDITOR'S NOTE: SEE MIKE'S INTRODUCTION TO "THE TOOTHPASTE CHRONICLES" BELOW:
I was stationed at Forbes AFB, Topeka, Kansas, my first assignment out of basic training at Lackland AFB, San Antonio, Texas. I'd been there for over a year of what would become a 2 1/2 year assignment. Hickam AFB, Honolulu, Hawaii would follow – many tubes later – but allow me to digress for a moment… Toward the end of that 2 1/2 years in Topeka, I would be on the phone with mom as she informed me that my brother Dennis, who had just completed USAF basic training, was to be stationed at Hickam AFB, Honolulu, Hawaii –yes, Hawaii!! What!! Here I sit, 2 1/2 years in Topeka with no end in sight and Dennis gets orders to Hawaii right out of basic training!! Who's running things anyway?? What's fair about this?!! Who do I talk to?! I love Dennis, but where does he get off?! Mind you, I had grown rather fond of Topeka by now….but HAWAII?? REALLY?!
The very next day, sitting at my desk (not in my F-111 fighter jet; not everyone in the Air Force is a pilot) my 1st Sergeant calls and says he has my orders to – you guessed it – Hickam AFB, Honolulu, HAWAII!!! Yes!! He wasn't messing with me (as he was known to do) I had orders to Hickham AFB! Before going any further, I want to take this opportunity to thank whoever it was in USAF Personnel Headquarters that, I am convinced, saw the name 'Pitocco' and thought it would be really cool to station two airmen brothers at the same base. And thank you also for making that same base Hickham and not Forbes!
Meanwhile, back in Topeka… my best buddies were Jack and Joe. Jack was from my hometown of Pittsburgh, PA,… Joe was from Philly. That made us immediate comrades. Away from home for the first time, 17 years old, and 3.2 beer… oh my, what a combo!
Jack and Joe were the wild bunch compared to the quiet, shy, unassuming, lacking-confidence-in-every-area-of-life guy I was in 1968.
Topeka would be the place where I would learn to drink and dance; two of the three or so things that made Topeka quite memorable for me. And boy did we dance. The music of the 60's… nothing like it and never will be again. Like so many of the dancers on Dick Clark's American Bandstand would say when asked to rate the song, "It has a good beat and is easy to dance to." Touch of Gold was the name of the nightclub about 10 miles or so outside of Topeka. That is where you would find Jack, Joe and Mike (me) on any given Friday night. Jack was the unofficial leader of our trio. Jack also had a VERY low tolerance for alcohol; he would literally get wasted on two beers (yes, 3.2 beers).
Can I get up? Can I move at all? Am I broken?
One particular Friday night it was just Jack and me. Jack had finished his two beers, it was after 1:00 a.m. and time to return to our barracks. I don't know why I let him behind the wheel of his very fast red car that night (I'm not a car guy or I would give you the year, make, model and engine size), but I knew I had made a terrible mistake 2 minutes into the ride. Jack bragged, pointing at the speedometer as the needle raced past the 100 mph mark, the next half second the highway veered left but we continued straight… metal railings ahead… Jack was not going to correct in time….we're going to crash…..I reached over and turned the steering wheel to the right …. we're out of control…. I put my head down…. I feel the sensation of weightlessness (being thrown out of the passenger side window)… then my body slides at high speed until finally coming to a halt. I lay there in the pitch black, face down in the median between the East and Westbound lanes of Interstate 70, spitting grass and dirt out of my mouth. Can I get up? Can I move at all? Am I broken? I breathe a prayer, "God help me" as I slowly begin to move, expecting an arm, a leg, or both to crumble as I apply weight and attempt to stand. I'm surprised as I make it to my feet. No car… no Jack… complete silence. I turn around and there's the car, about 20 yards away, sitting upright (the Kansas Highway Patrol would later confirm we had flipped at least three times). I slowly approach the car…still no sign of Jack… as I approach the passenger door I see him, slumped to his right, still behind the wheel. The passenger door is crushed inward so I go around and open the driver's door…. a rush of relief hits me as Jack sits up.
Highway Patrol officers arrived at the base hospital expecting to find fatalities or at the very least, two seriously injured prior occupants of the car; they find neither. Miraculously Jack and I walked away from that crash with no broken bones, no loss of blood. Jack had a sore neck and I had a sore left calf, having hit it against something as I exited the vehicle.
Note: If you google "What are your chances of surviving a crash if you are thrown from your car?" you will find the response, "Among drivers and front-seat passengers, seat belts reduce the risk of death by 45%, and cut the risk of serious injury by 50%."
I don't suggest not using seat belts, but that night I believe being thrown from the car may well have saved my life.
I could have easily died on a Kansas highway in 1969. What an idiot! The trio became a duo the very next day.
No longer would I allow myself to be a follower. No longer would the coincidence of being born in the same geographic area to dictate who my friends were.
More than that, much more…that crash confirmed two things for me beyond any shadow of a doubt: there was a God and He had a purpose for my life. No, I did not then and there commit my life to following God – I didn't even know what that meant at the time. I would not hear what is commonly referred to as the 'gospel' until 12 years later. Let's just say that prior to the crash I had an intellectual, head knowledge of God, now it was a heart belief.
Flash forward 12 years. I'm a Youth Counselor at El Paso De Robles School, a California Youth Authority (CYA) youth correctional facility in Paso Robles, California. It's a really good job that I like a lot. Good pay, plenty of overtime, great benefits. My wife Sharron and I had just purchased a nice home on an acre of land just outside of town and close to work. My stepson, Sean is 10 years old. Life was good – on the surface.
I make it a point to not ever disparage another person's belief; based on my experience earlier in life, the Catholic faith simply held no interest for me.
Sharron and I decided it would be a good idea to plug into a church to expose Sean to some sort of religious upbringing. I was raised in the Catholic faith, though my parents were not strict adherents to all things Catholic. They would often send us to church on Sunday without going themselves. Other than a visit to St. Patrick's Cathedral in New York City years later (as a tourist), when I left home for basic training I no longer went to mass or followed the Catholic faith. I was working on Sundays at the time, so Sharron took Sean to attend services without me at First Baptist Church in Paso Robles one Sunday. My only request was that she try anything other than a Catholic church. I make it a point to not ever disparage another person's belief; based on my experience earlier in life, the Catholic faith simply held no interest for me.
What do you mean a pastor is coming to our house!? When I arrived home from work and asked Sharron about her impressions of First Baptist, she informed me that the Pastor had spoken with her and she had agreed to a visit at our home that coming Tuesday night. "I asked you to visit a church, not set up a visit with a pastor!" was my response. "You made the appointment, you keep it." I had no intention of being around for the visit…I was going bowling. I never went bowling, not alone, but I was going bowling on Tuesday night!
Tuesday night arrived. The visit was scheduled for 7:00 p.m. It was 6:45 and I headed down the hallway to grab my bowling ball and make a quick exit ahead of Pastor Red's arrival. Okay, I know how this sounds, but there's no other way to say it…
I heard something from within me say "What are you running from?", just as clear as if someone were in that hallway with me.
I could not answer the question. I knew at that moment I had to stay. After all, what was the harm? I was definitely uneasy about the visit, partially because I'm not the 'life of the party', social kind of person, and partially because my total lack of Biblical knowledge might be embarrassing. But I stuck around. Sharron's life and mine were radically changed that evening, December 2, 1980.
"Do you think you would go to heaven if you died tonight?" After a few quick introductions and friendly greetings Pastor Red looked me square in the eye and fired that question at me, to which I glibly replied, "Yes, I think I would. I'm a nice guy and I haven't robbed any banks lately." I believed in God (as noted above), and I believed there was life after this one, and that there was a heaven and a hell. At that time I also believed that going heaven was based on my 'good' outweighing my 'bad'. After all, how could a loving, kind, gentle God send a nice, loving, kind person like me to a horrible place like hell? That just wouldn't be right.
The Truth shall set you free. Pastor Red asked if he could show me in my own Bible (which I dusted off prior to his arrival) what Scripture had to say about this thing called salvation. He had me; I was genuinely interested and intensely curious. Whatever other verses he read that evening I don't recall. Two verses in the Book of Ephesians, Chapter 2, verses 8 and 9 changed my life. They turned the light on for me. They read, "For by grace you have been saved through faith; it is a gift of God, not a result or works, that no man should boast." Wow, a gift… not a result of my good works. I wasn't even aware that I had been carrying a weight… but something was lifted from my spirit that evening. Pastor Red and the two other men with him prayed with Sharron and I that night as we began a personal relationship with Jesus Christ… we affirmed that we were in need of a Savior, that we believed Jesus was Who He claimed to be – God's Son, that He died on the cross for our sins and that He rose again on the third day. We became part of God's family, followers of Christ, Christians. We didn't join a religion that night, didn't become official members of a church, we began a relationship that continues to grow and change who we are to this day and will take us into eternity.
I had absolutely no idea what was to follow…